Four events down (Skills, Time Trials, Circuit and MTB), and we prepare for the final event of this year's Club Champs series: Track Races on Saturday 19th November.
This year, we have an evening slot meaning it will be dark outside, but the orange glow of the Calshot Velodrome will be casting its light on the Slipstreamers on track! Remember, the Club Champs Track Event is only open to those who have completed Calshot training at least twice and are at least in the U8 category.
There's still time to book if you haven't already – fill out this form to let us know you're coming. The booking deadline is Friday, 18th November, at 4pm.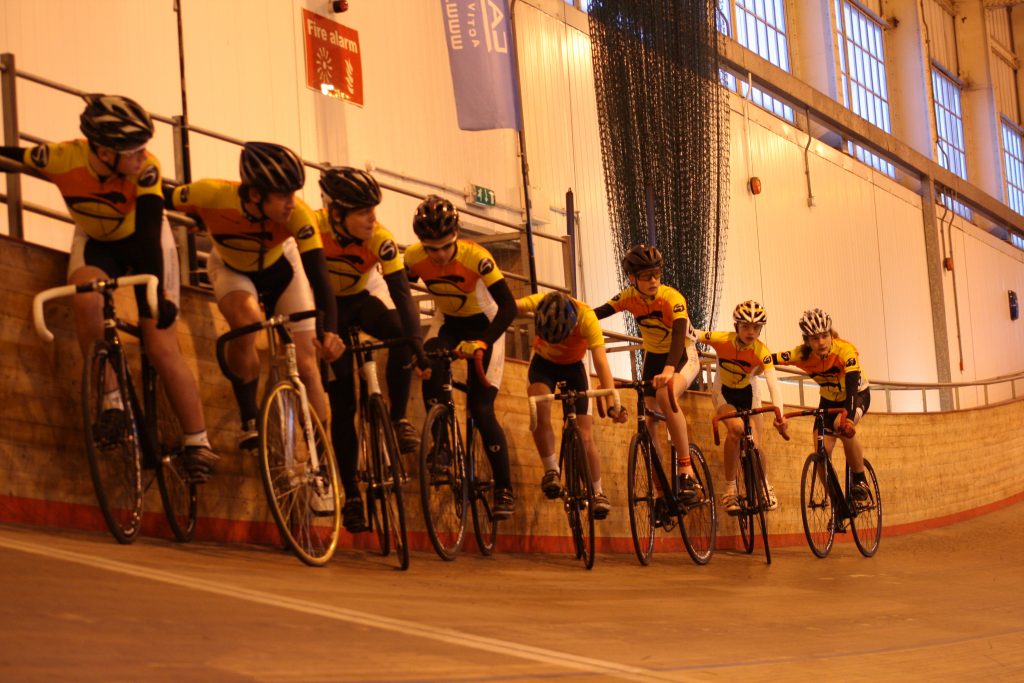 Remember every Club Champs event gains you some points – even just for taking part – and it's all in the interest of healthy competition and FUN. There is an FAQ page here on the Club Champs you can refer to if you have any questions, but for those of you coming along on Saturday, read on to find out a bit more about what you can expect when you compete in the Track event… Check out our Flickr album here to enjoy a few photos from last year's exciting race meeting!
As ever, please do read on right until the end of this blog to make sure you are clear on the time slots and what to expect, and parents do kindly pass this information onto our members – they are the ones who need to know what is happening!
Track Champs (Provisional) Schedule:
Everyone attending must be signed on and ready to go by 4.30pm sharp – Track Champs is an Omnium and timing will be tight. Riders need to ensure enough time is allocated for sign on, bike and shoe hire, and getting ready for the Coach's briefing at 4.30pm. If you are late, you may not be able to race…
SESSION RUNNING ORDER




Sign On: 4pm – 4.25pm


Please plan your journey with contingency for traffic, and arrive in good time so members can sign on and get ready with minimal fuss. This is not a coaching session, race times are  tight, and unfortunately latecomers will not be allowed to sign on. If you are running late for reasons beyond your control, please email or call Asti with an ETA – please remember if you are very late you may miss your race so it's best to set out early and prevent unnecessary stress before the race.

Riders…

Sign on will commence in the Calshot Cafe from 4pm  – payment of £10 will be taken and race numbers will be issued when you sign on.
Everyone attending must be signed on and ready to go by 4.30pm sharp – Track Champs is an Omnium and timing will be tight. If you are late, you may not be able to race. Please plan accordingly, and expect to be there until 8.30pm that evening.
NOTE: Do not enter the velodrome until called down. Dave and Steve are coaching a Prime Session beforehand, and it might look like they are ready for Slipstreamers, but they won't be!

Parents/ Guardians…

You are also expected to ALL sign on – please do so once your children are settled and grouped. This is necessary for health and safety reasons, so we would appreciate your co-operation

Coach's Briefing: 4.30pm


ALL riders need to be ready for the briefing inside the velodrome by 4.30pm. Get dressed, have your snacks, sort out your bikes and be ready to listen on time. At the start of the session, you will be briefed by your Coaches and arranged into your respective race groups.

It is very important you pay attention to the racing order and where your group will be gathering before each race – make sure when it is your turn to race you are ready to go. This is not a training session, which means time is very tight and your coaches won't wait for people that are not ready!

Parents: we could do with your help – if a few of you would kindly volunteer to be in charge of each group so that the children are ready to ride promptly, that would be very helpful.

Running Order Of Events


Event 1: Flying Laps
All Age Groups
Gear Checks

There WILL BE gear checks. Please read the information provided here. Over geared riders will be disqualified.

Bike & Shoe Hire

Please make sure you sort this in good time. In the event you can't find a bike in the correct size, please talk to fellow members and help each other out by sharing. Note that pedals are NOT allowed to be changed on hire bikes – please don't attempt to do so.

Riding Up

Riding up will NOT be permitted so please don't ask to do so. If you'd like to understand why, read this.

Remember It's Cold Inside

Wear a base layer, bring extra jackets, don't forget the rollers – it will be cold inside the velodrome!

Everything You Need to Know…

regarding parking, bike hire, what to pack, rules of participation are noted on this page here.

Event 2: Sprints
All Age Groups


Event 3: Scratch Race (15 laps)




U8/

U10

Boys & Girls
Event 4: Scratch Race (20 laps)


U12

Boys & Girls
Event 5: Points Race (40 laps)


U14

/ U16 Girls
Event 6: Points Race (40 laps)


U14

/ U16 Boys

In Between Your Races…

Rehydrate and eat something to replenish energy. you will be working hard.
Stay warm. Layer up or get on your rollers.
Cheer on your fellow Slipstreamers. We expect to hear masses of cheers and shouts for other riders when you are not racing, as everyone appreciates encouragement – plus, it adds to the excitement!
Help the Volunteers. There will be loads to do and every little bit makes a ton of difference. We will need your help with holding riders, working lap counters, recording times – lots to do!  Parents / Young Volunteers who are willing and able to support, please make yourselves known to the Coaches on Saturday so you can be delegated a task to help.

Clear Up Before You Go Home


We would be grateful for your cooperation in keeping the velodrome clean and tidy. If you don't use the bins during the session, please be so kind as to clear up any cups, food wrappers and any mess on your way out before you head home. Thank you.
Finally…
Good luck to all of you racing. Parents please ensure children taking part are aware of the content in this post and what to expect for their Track event. Have a great race members and don't forget to prepare your kit bag and get to bed early on Friday night! Once this event is over, all the results will be finalised and collated, ready for the Awards Ceremony on the 10th December 2016.
As usual, keep an eye out on Twitter for the latest updates and if you have any questions, please contact the Admin Team (email contacts are in your newsletter).