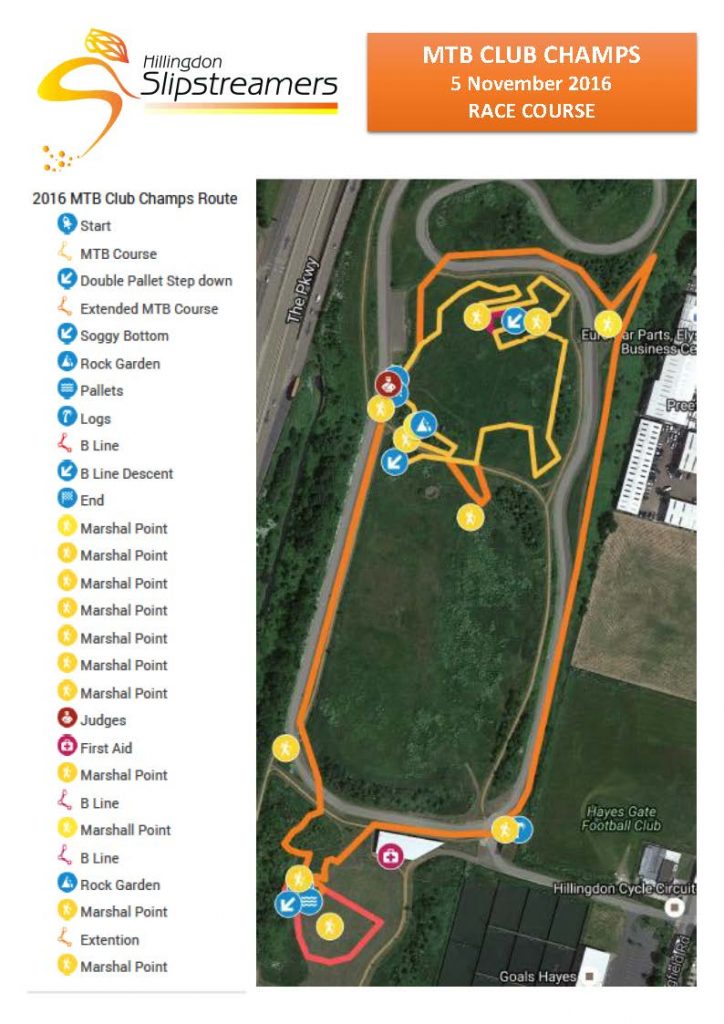 Breaking with tradition that normally ensures our Mudslingers earn the title, the morning of the Mountain Bike Club Champs races greeted us with clear skies and waddayaknow – NO mud (despite the torrential downpours the day before)! Compared with previous years, we saw record numbers of you taking part on the 5th November, and tackling a technically challenging – complete with A and B lines –  and the "most fun ever" course at Hillingdon!
Your MTB Coaches – Marco, Brent and Mark – worked immensely hard to plan and design the course, spending Friday afternoon marking lines, ensuring everything was safe, and not managing to stay dry and mud-free in the downpours! Their key objective for this year's races was to give everyone a chance to test their off-road skills in race conditions; and provide a some fun technical challenges to those new to mountain biking. And boy did they achieve that!
Starting from the Judge's Hut, the U6 and U8 races kicked off first inside the "bowl" area, enjoying a course of single track "soggy bottom" switchbacks, double pallet step-downs and a mini rock garden through the trees! Not ones to hold back, the MTB Coaches threw in log jumps, flowing lines towards the clubhouse, and included the famous mudslingers rock garden complete with ramps and pallet jump for the extended course!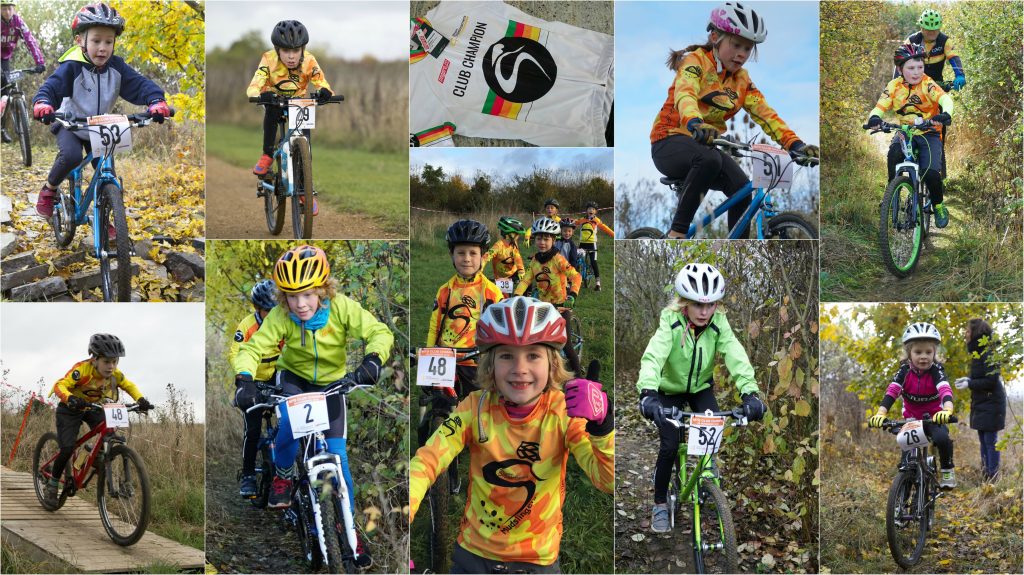 Certainly not the easiest course, what struck us was the absolute focus and sheer joy on the faces of many of you out and about. We saw plenty of smiles, heard shrieks of laughter, and whilst we even dealt with a few tumbles you showed the resilience to pick yourselves up and keep going! We are so proud of all of you. Well done!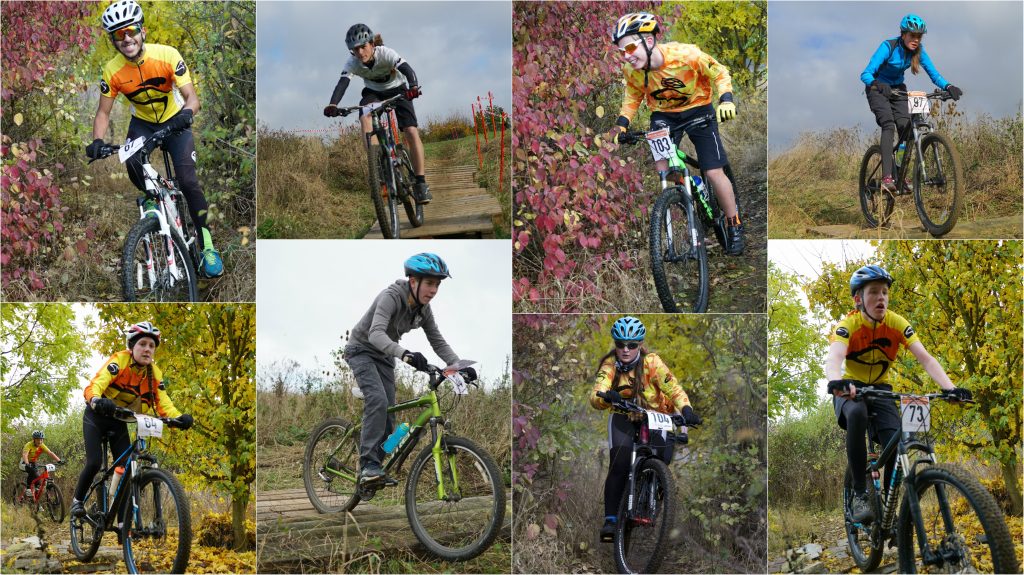 Brining It All Together…

None of this is ever possible without the army of Volunteers who make things happen. Arriving at 7.30am on Saturday, Slipstreamers Volunteers were out in full force to help set up the course and get everything ready inside the clubhouse. Coaches, Parent Helpers and Young Volunteers arrived early to put out the course stakes, barrier tape and mark the A/B lines; whilst Team Admin got your number boards ready, put up course maps and organised marshals; and of course the Marvellous Mechanics made sure all the club mountain bikes were ready to go!  Thank you – you know who you all are.
To the reconnaissance leaders, sweepers at the back, marshals and first aiders dotted around the course, lap keepers and judges, flag wavers and gear checkers! Those of you who stood around and provided support and encouragement to our riders, and everyone who stuck around take the course down and clear up in time for the circuit races at 1pm. A resounding THANK YOU!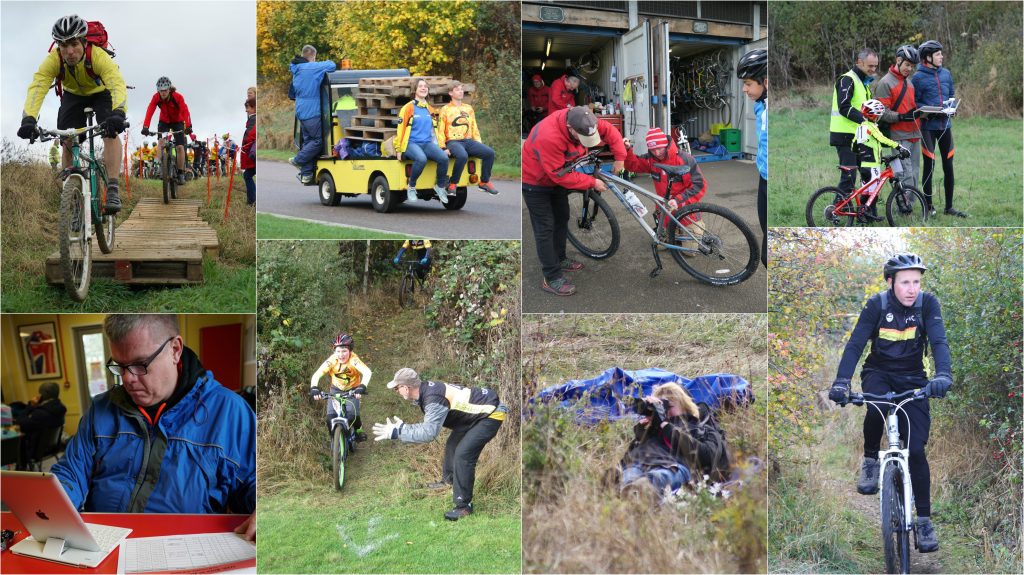 And let us not forget the impact of beautiful photographs and video that capture special moments for all to enjoy in years to come. Our official club photographer Elisabeth went all out to ensure some fabulous shots from very creative angles, parent professional photographer Heathcliff shared some incredible images of you all in action, and parent volunteer snapper Yvonne also ensured some inspired moments were captured – link to full album here.
And for the first time ever, we are so proud of Young Volunteer Morgan for filming some fantastic aerial drone footage and producing a wonderful video of our 2016 MTB Club Champs at Hillingdon Cycle Circuit.
Club Champs – Mountain Bike Races: 05 November 2016 from Hillingdon Slipstreamers on Vimeo.
And Now for the Club Champs Results so Far…
The judges have finalised the results, they have been validated by 3 separate independent volunteers, and you can now view these via the links below. If there are any queries, do get in touch.
Mountain Bike Races Event – 5th November 2016

Road Races Event – 1st October 2016

Time Trials Event – 17th & 24th September 2016

Skills results will follow soon!
Remember…
If you miss an event, you cannot make it up another time – but that doesn't mean you cannot participate in future events so please do make a note of the next ones coming up by visiting this page here. If you want to keep a running tally of your placement in this year's champs, visit this page here to work out how the points are calculated.
If you have any questions regarding the Club Championships, feel free to email the Admin Team or talk to a volunteer; or better yet a previous Club Champion!