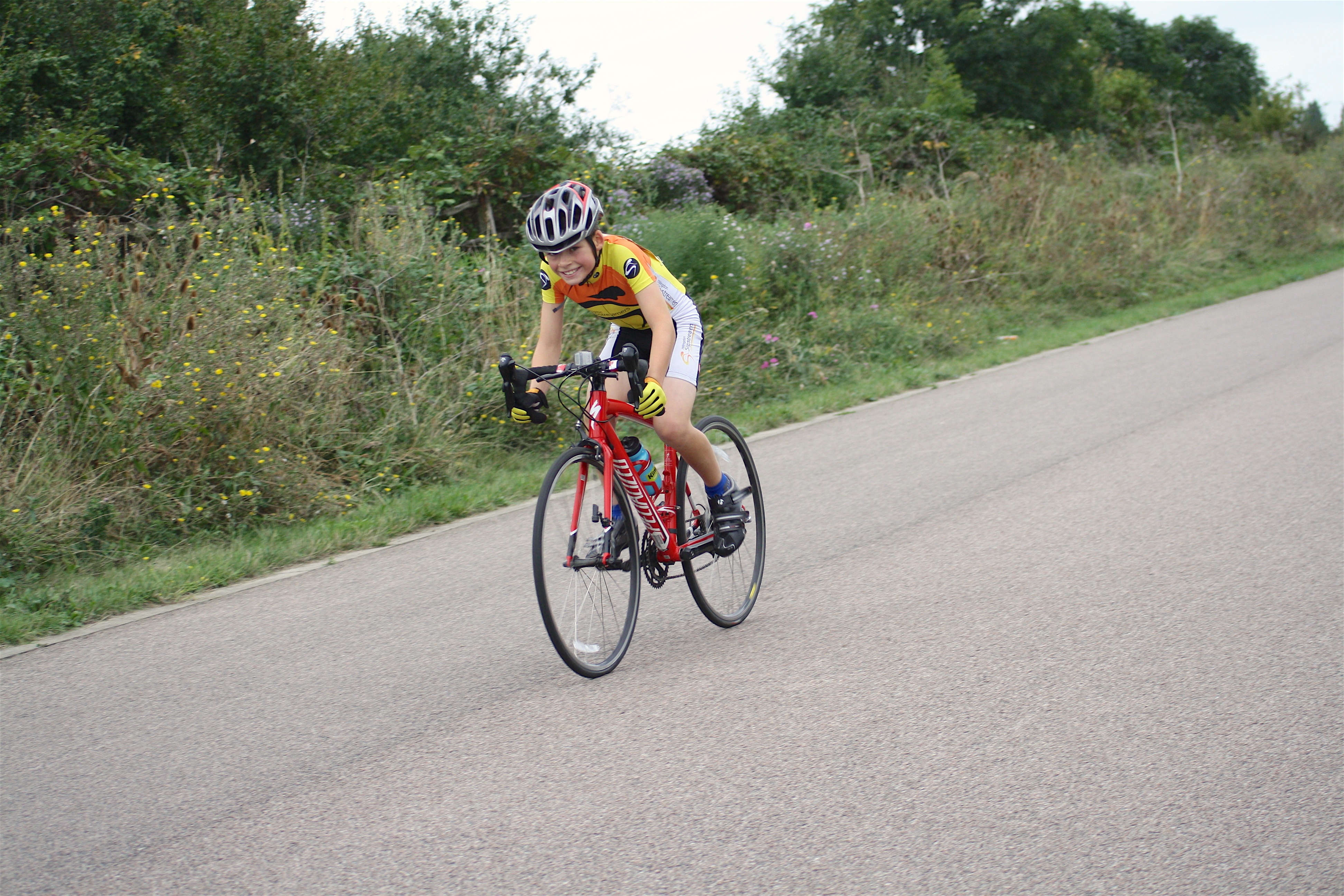 This weekend, on Saturday, 14th October 2017, we will be running round 2 of the 2017 Club Champs events, and this time it's the turn of the Time Trial. The weather is looking very promising, so it should be great day outdoors, and if that's not enough to get you taking part perhaps some visual inspiration may do the trick – check out the Flickr album here for some great photos of last year's competition.
Whether or not you have done this many times before, please ensure you read this post in it's entirety as it contains details that you need to know, including information relating to our new electronic timing equipment that we are delighted to be piloting for the first time at Hillingdon Slipstreamers.
As ever, we would encourage ALL our members to take part in Club Champs, regardless of whether you are a first timer or an old hand at this! Every event gains you some points – even just for taking part – and it's all in the interest of healthy competition and FUN. There is an FAQ page here on the Club Champs you can refer to if you have any questions, but for those of you coming along on Saturday, read on to find out a bit more about what you can expect when you compete in the Time Trials event…
Time Trials Club Champs Sign On Process & Important Info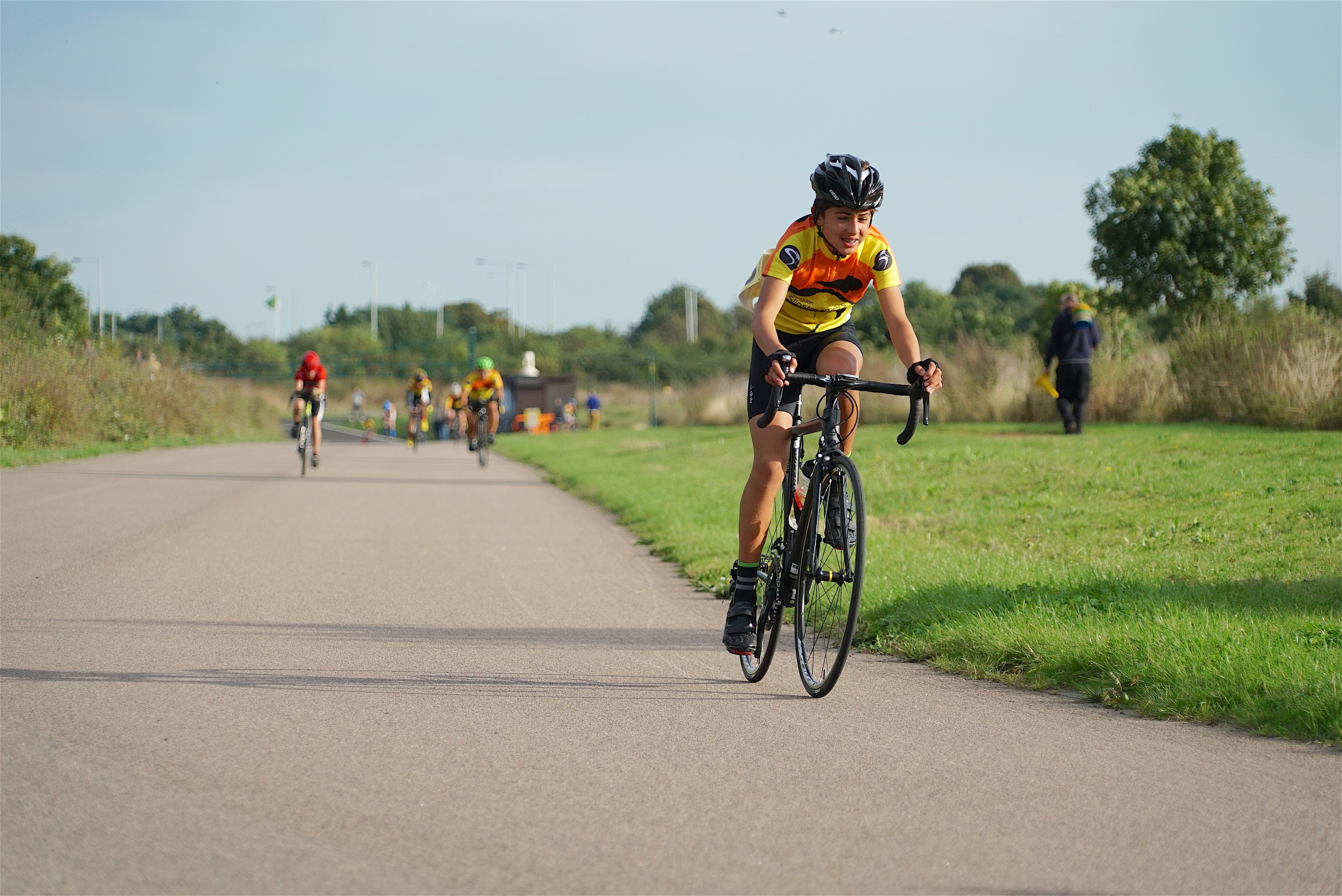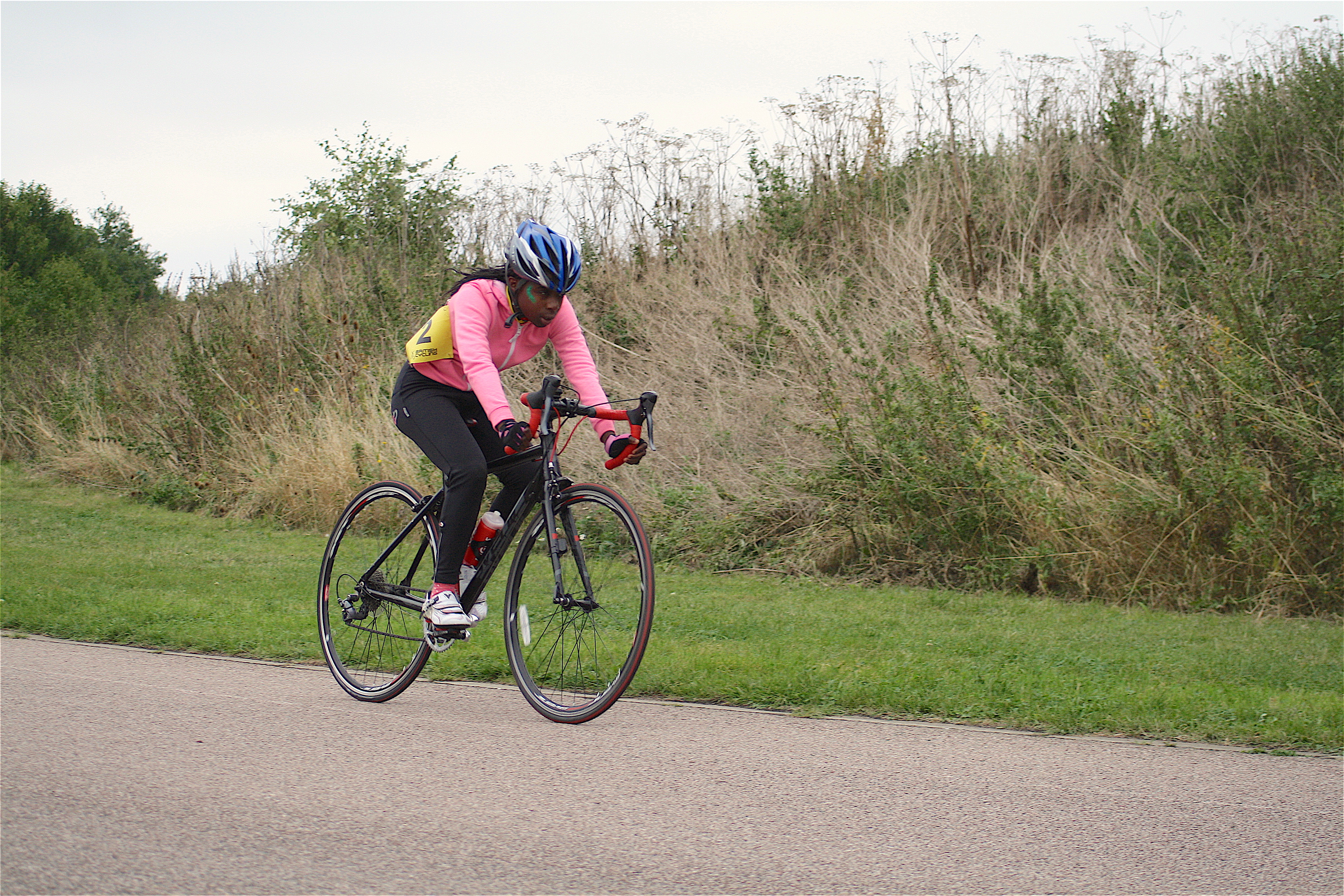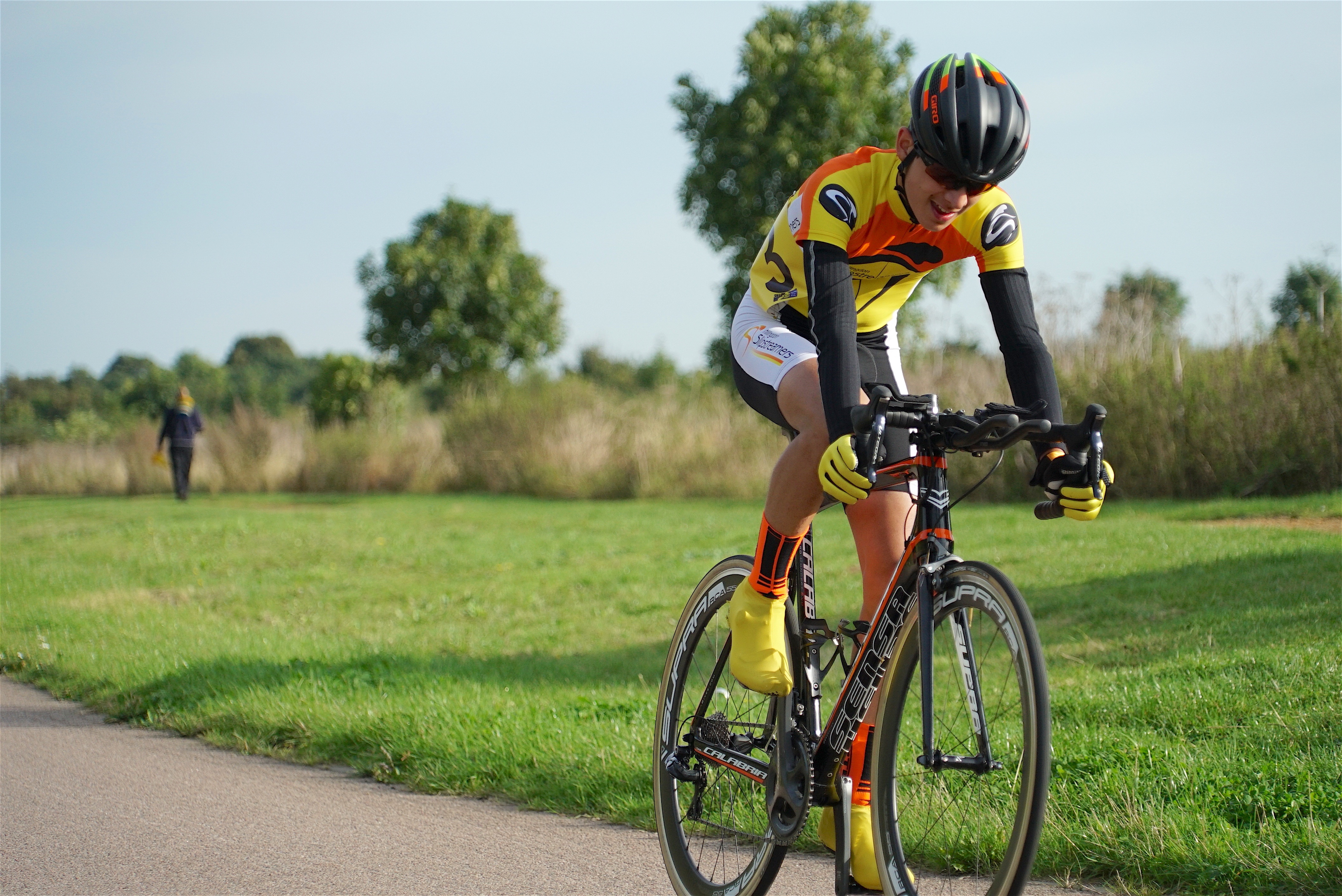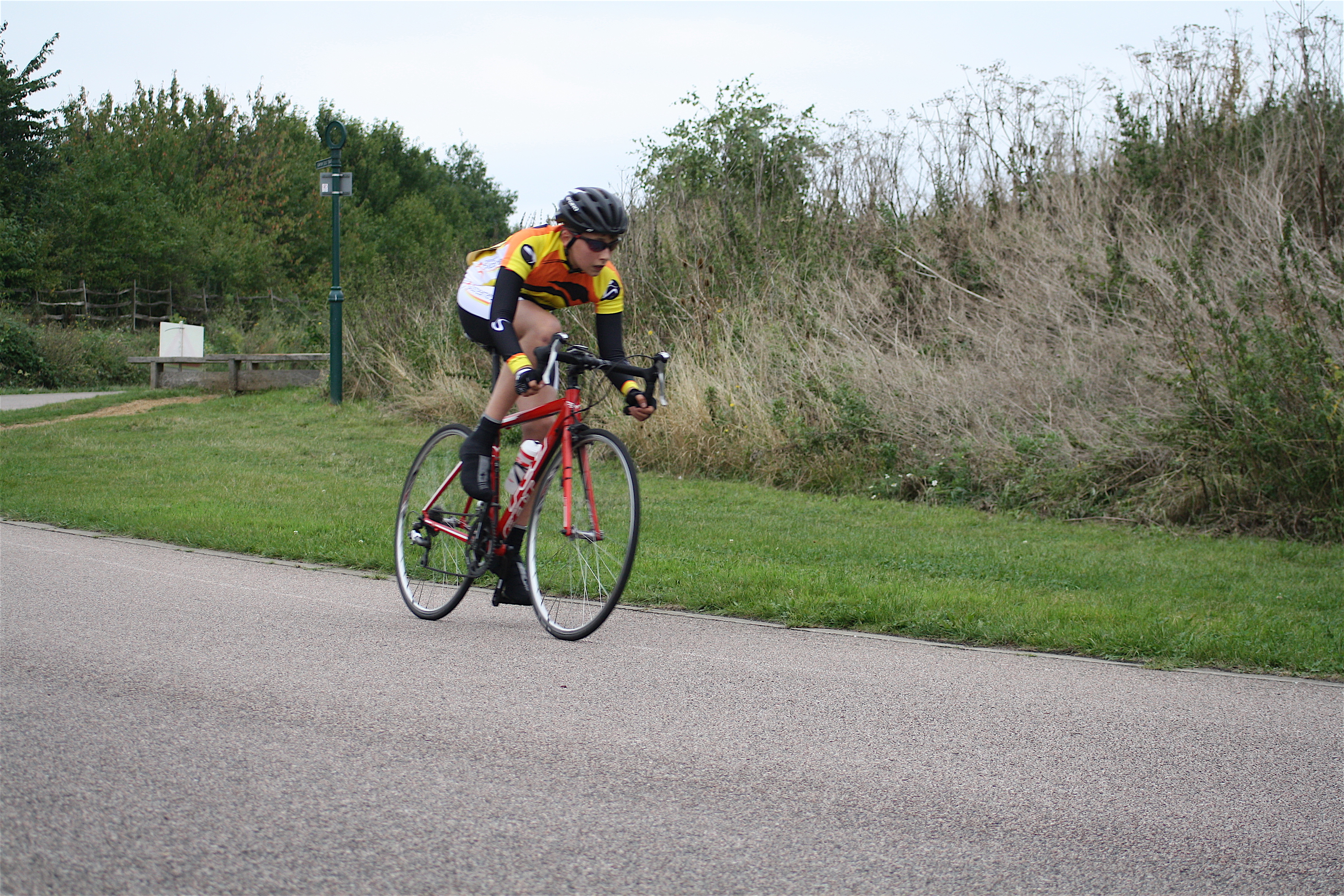 Time Trial Champs
There are a number of things to take note of when participating in Saturday's Time Trial Club Champs. In particular, it is important to point out that this year's event is being run under British Cycling regulations and not CTT. To find out more about what to expect, including the all important rules – some of which differ from previous years – follow this link here to visit our dedicated page on the event.
Early Warm-Up: 8.30am - 9.30am
There will be an early warm-up taking place on the small 500m loop from 8.30am for all ages who are interested before the main start. Be sure you have signed on first before you join in and meet at the front of the clubhouse for set off in a group en masse. If you join a bit later and before 9.15am, you are welcome make your way to the small circuit via the back-straight or pathways to access – please steer clear of the apron and start/ finish line area before 9.30am.
Sign-On: 8.15am – 9.30am
Whether you are competing in the Time Trial event, or joining for the Bronze Dev, Mountain Bike (MTB) or Cycle-Cross (CX) sessions, the sign-on process is the same for everyone. ALL members must make their way to the clubhouse with payment and in good time before sign-on closes. If you are in the U6/ U8 age category and want to do the Time Trial, you will kick things off so you should be signed on by 9.15am – full details are in the schedule below.
The full process will be explained to you on Saturday, but to give you an idea, once you have signed on…
If you are racing in the Time Trial, make your way to the Mechanics Hut to get your bike gear checked, then head to the apron area to line-up on time.
If you are not racing, and instead joining in the MTB/ CX or Bronze Dev sessions, gather in the designated meeting points as noted in the schedule below.
IMPORTANT:  Note that anyone who arrives after 9.30am will not be able to take part, so please be on time to avoid disappointment and ensure you plan your journey with some contingency for traffic, putting on transponders, gear checks, etc.
Gearing
All riders must report to the Mechanics Hut for a gear check AFTER sign on, and any time BEFORE their time-trial start. Do ensure you allow enough time to get this done. Each rider will receive a sticker to indicate that gear checks have been undertaken and these will be checked at the start-line.
Electronic Timing
At sign-on, you will be issued with a number as well as a race-timing transponder /chip. You will need to ensure you take extreme care with this, and parents we would appreciate your support when these are issued. The transponder should be affixed to the rider's ankle using the Velcro cuff, as illustrated.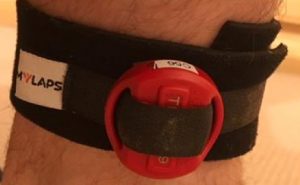 There will be a few printouts available to help you on the day, and of course a few Volunteers on had as well so don't worry if you've never used one before. Once you have completed your Time Trial, you will need to return the transponder immediately to the sign-on desk in the club-house. Riders doing the end-of-session race may hold onto their transponders and return them at the end of session.
IMPORTANT NOTE:  The transponders are expensive (£50 each) and members will not be allowed to sign-on again at the club whilst they have an non-returned transponder recorded.   Transponders are issued on the understanding that the rider is responsible for its care and return and assumes acceptance of liability for the cost of replacement in the event of loss.
Other Activities
You do not need to do the Time Trial if you don't want to. Whilst there will not be regular circuit coaching, the following coaching activities will still be taking place:
Bronze Development skills coaching on the apron as normal. Meet your Coaches at the front of the clubhouse as usual.
Regular coaching for MTB Silver and MTB Gold groups will be in the bowl area doing advanced skills. Meet your Coaches in front of the Mechanics Hut as usual.
An additional Cyclo-Cross session will be held behind the clubhouse to practice off-camber skills, which anyone with an off-road bike may attend before and/ or after your Time Trial. You are welcome to ask the Mechanics for a mountain bike if you need one to save you bringing two bikes along.
What is the Schedule for the Day?
Please make sure you are clear on the time slots and what to expect, and parents do kindly pass this information onto our members – they are the ones who need to know what is happening!
Running Order & Event Times - Click to Expand
Sign On – ALL AGES – 8:15am – 9.30am

Group Warm-Up for all ages interested
Meet front of Clubhouse.


8:30am to 9:20am

All Activities Start – 9.30am




Time Trial Briefing




Meet at the Judge's Hut



9.30am

A Few Reminders




Allow enough time to get signed on, fit a transponder, be gear checked and get to the start line at the judges hut. Plan accordingly.

Be absolutely clear on permissible bikes and equipment – follow this link here for more.


Road and mountain bikes will be on loan from the Mechanics. There is no charge for Club Champs.

All transponders must be returned immediately after your time trial or after the end-of-session race.

Provisional results will be posted in the clubhouse as soon as possible. Please don't distract the time keepers!

Make sure you are well fed and watered before the session, dressed accordingly for the weather, and most importantly HAVE FUN!

Bronze Development Group




Meet Front of Clubhouse



9.30am

MTB Silver & Gold Groups


Meet at Mechanics Hut
9.30am
Cyclo-Cross Skills
Meet Behind Clubhouse
9.30am
Time Trial (I): U6 /

U8


3 laps – 1km Medium Loop

Start-Line: 9:30am
First Rider: 9.45am

Time Trial (II)

:

U10


5 laps – 1km Medium Loop

Start-Line: 10am
First Rider: 10.15am

Time Trial (III): U12 / U14 / U16
10 laps – 1.5km Full Loop
Start-Line: 10:30am


First Rider: 10.45am

End of Session Circuit Race

Start-Line: 11:30am
All Hands on Deck – Volunteers Needed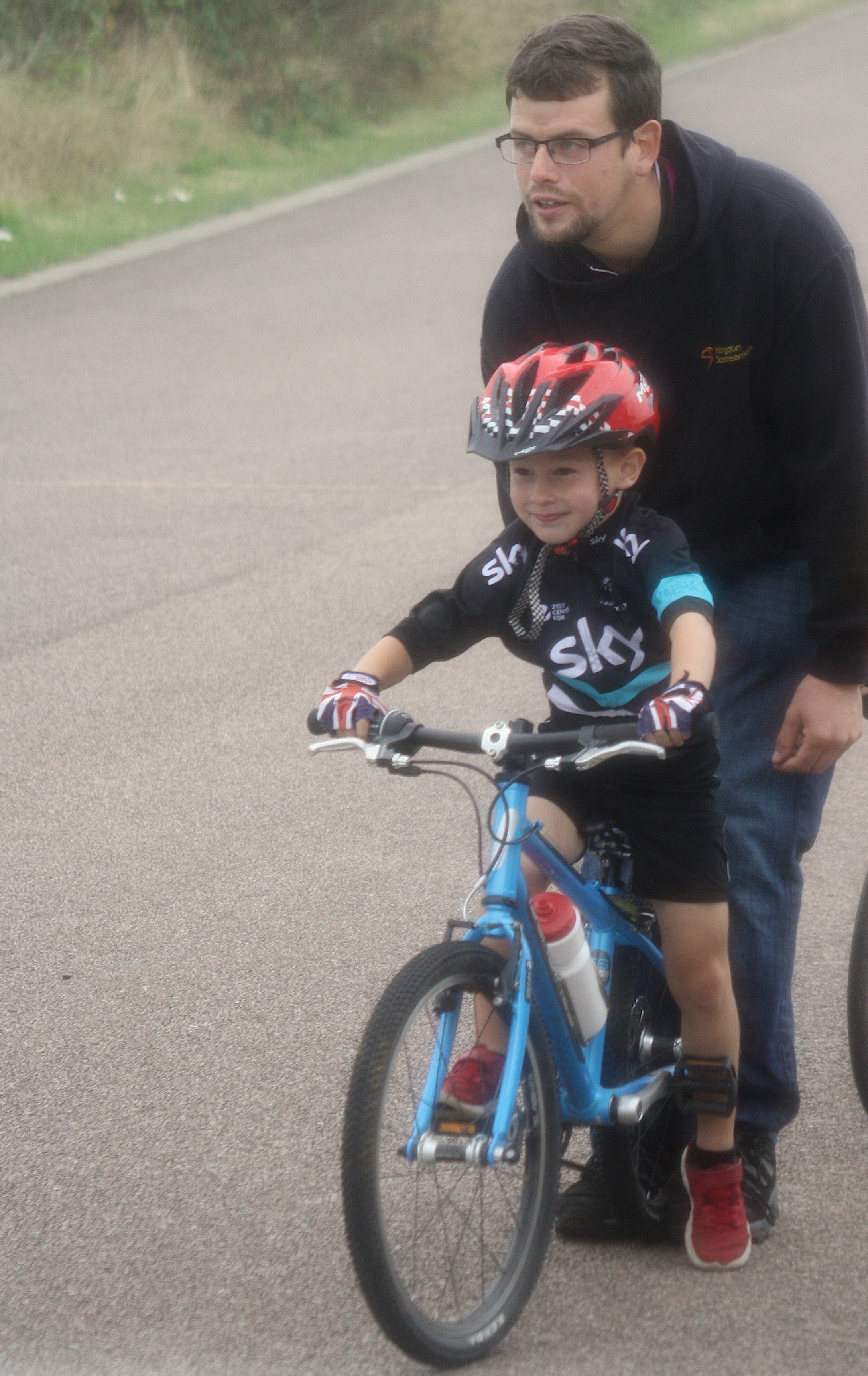 We will need as much help as possible from parents throughout the session to support the volunteers during the morning. We need a few marshals at various points on the circuit, pusherer-offerers to be at the start line and help set riders off, as well as a few folks to carry equipment to and from the judge's hut. There is no need to email us in advance – when you turn up on Saturday, simply let us know you're available to help and we'll delegate accordingly.
Finally…
Parents please ensure children taking part are aware of the content in this post and what to expect for their Time Trial event. If a member misses the event on Saturday, this can be made up next week on Saturday, 21st October, during the early session only – same rules as  apply. However, there will be limited space and we would therefore encourage riders competing in Club Champs to complete their Time Trial this coming Saturday.
If neither of these dates can be attended, don't lose heart and we'd encourage our members to take part in the other events – there is still Road, Mountain Biking and Track racing to look forward to. Do also click here for a reminder of the remaining 2017 Club Champs dates. If this is your first time participating in the Club Championships, be sure to visit this page here to find out more about how the competition works and what it's all about.
We would love to see you all taking part this year – so participate, give it your best, and let's all have a good time!
As usual, keep an eye out on Twitter for the latest updates and if you have any questions, please contact the Admin Team.