Sunday the 22nd March was a busy one for the club with many of our members at Calshot or out and about racing! However, a few Slipstreamers took advantage of the bright and dry sunny morning, and ventured out to Swinley Forest for the monthly family social mountain bike ride.
John Gunn, our inspiring Vice Chairman and passionate mountain biker, reports: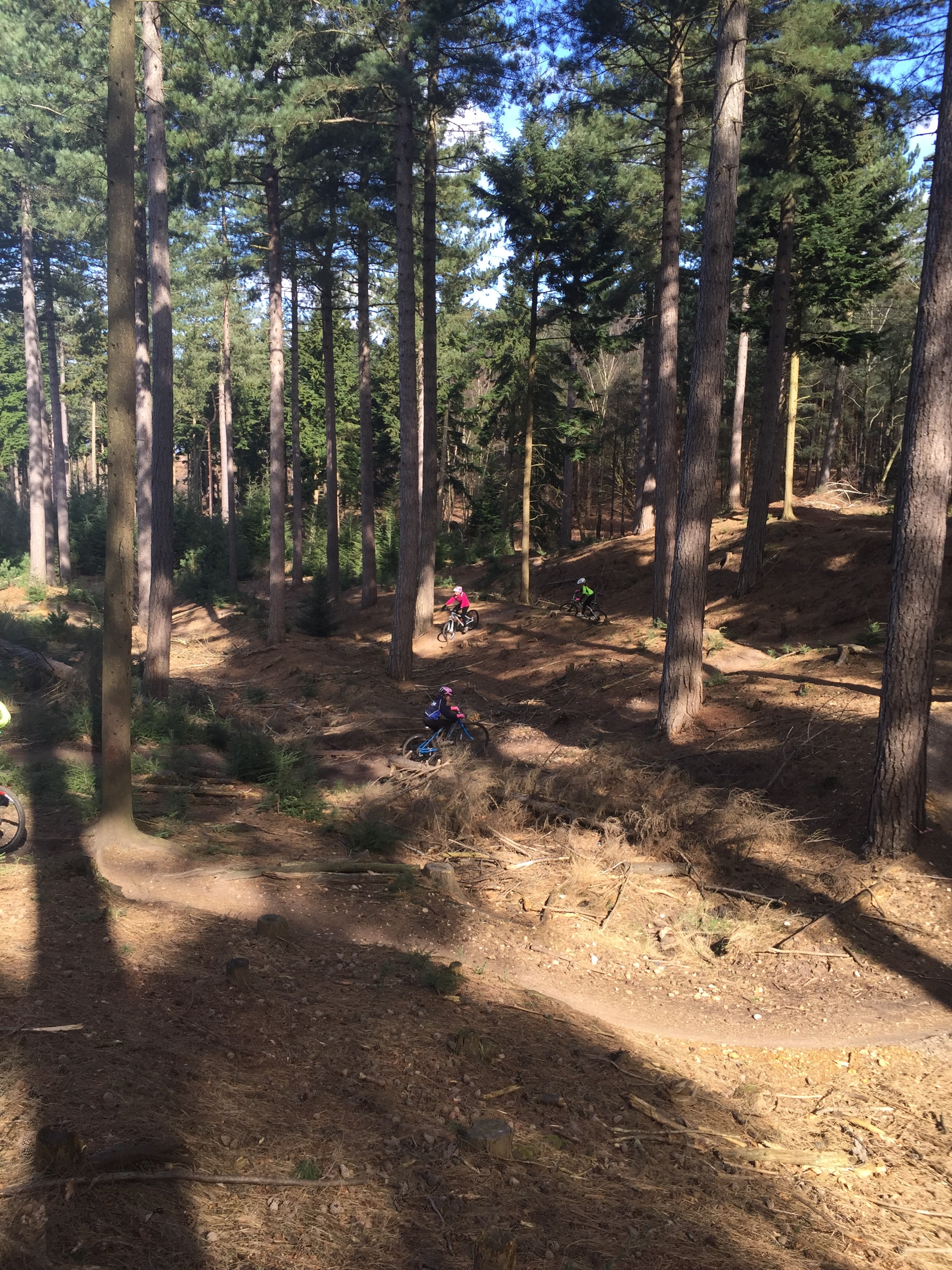 "A strange day at the Lookout this week. The sun was shining, and it was dry – Spring has sprung! After a long Winter of cold and wet monthly rides at the Lookout, the sun finally made an appearance this Sunday. No muddy clothes, no need to wash the bikes when I got home or the car because of the amount of mud that had fallen off the bikes on the way home. We had some wonderfully fast trails to ride as we were not slowed down by any mud this week. For a change I did not have to put on two extra coats to keep warm at the cafe afterwards. I expect Paul was washing his brand new bike afterwards, he was worried about hopping over a little stream in case it got muddy!
Well done to Aimee Wood, first time out on her new bike;
Alice & Grace Whitney
, and Finnlay Weeks for riding with the adults all morning; and Brian for his incredible staying power, fast climbing and all round maturity! He even tried climbing a pile of logs and nearly made it! Frances, Fiona and Ros opted for a fluffy ride and a good natter!
After 11 miles of riding and 250m of climbing, a birthday cake and sandwiches waiting for us at the cafe afterwards – a wonderful time was had by all!"
What did "Lookout" regular Finnlay Weeks think?
"On Sunday we went for one of our mountain bike rides at Swinley. Swinley has several  trails so you can start on the green one for fun and then push yourself on the red ones. My favourite part is always whizzing downhill, although now I have learnt to use my gears properly, I find it a lot easier getting up the steep hills. At one point we all stopped for a break and ran up a mountain of bark, which was fun, especially when we slid down.
At the end of the ride I deserved my usual Mars bar. I'm looking forward to the next ride. Maybe we could do Yogurt Pots in the Surrey Hills as its great fun there too. The good thing about cycling is that road and mountain biking are so different but I enjoy them both."
Thank you John and Finn – click here to read what sisters Alice & Grace thought about the ride…

Don't forget to visit the Slipstreamers in Action section of our News Hub for more fantastic reports from our wonderful young writers and cycling adventurers!

If you would like to join the mountain bikers, whatever your level of experience, do check out the Calendar for future dates and location details, or talk to a volunteer at the clubhouse.