Submitting an Expense Claim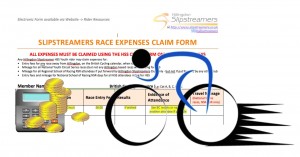 One of the many benefits of being a Hillingdon Slipstreamers member is that if you race for the club, no matter what age category from U6 – U16, you may claim back the race entry fees. However, this may only be done in strict accordance with our expenses claim policy and procedure, as outlined below. Any claims made that do not follow this process will not be processed.
The following criteria apply:
Entry fees for

any

competitive race within the sport of which Slipstreamers is affiliated to the governing body, away from Hillingdon and when racing for Slipstreamers may be claimed. If in doubt, do ask us.
You may only make a claim if you are racing for Slipstreamers as your "first claim" club.
Entry fees for National School of Racing (NSR) days for all HSS attendees riding for HSS may be claimed.
Members making claims are expected to wear Slipstreamers kit when racing for HSS.
ALL claims must be on the approved format claim form available to download by clicking here.
Important notes:
Claims will only be accepted on the official claim form in Word or PDF format – please do not send in photos, BC website printouts, or home made spreadsheets as these will not be accepted, no matter how impressive!
Claims for race entry fees must be sent to the Club Treasurer monthly. If these are not submitted by the end of the month following the month in which the claim was due,

it

will not be processed.

Please note that the criteria for expense claims are reviewed at regular intervals by the club committee and are subject to change at the Committee's discretion.
We appreciate your co-operation in this regard.