All You Need to Know About Becoming a Club Champion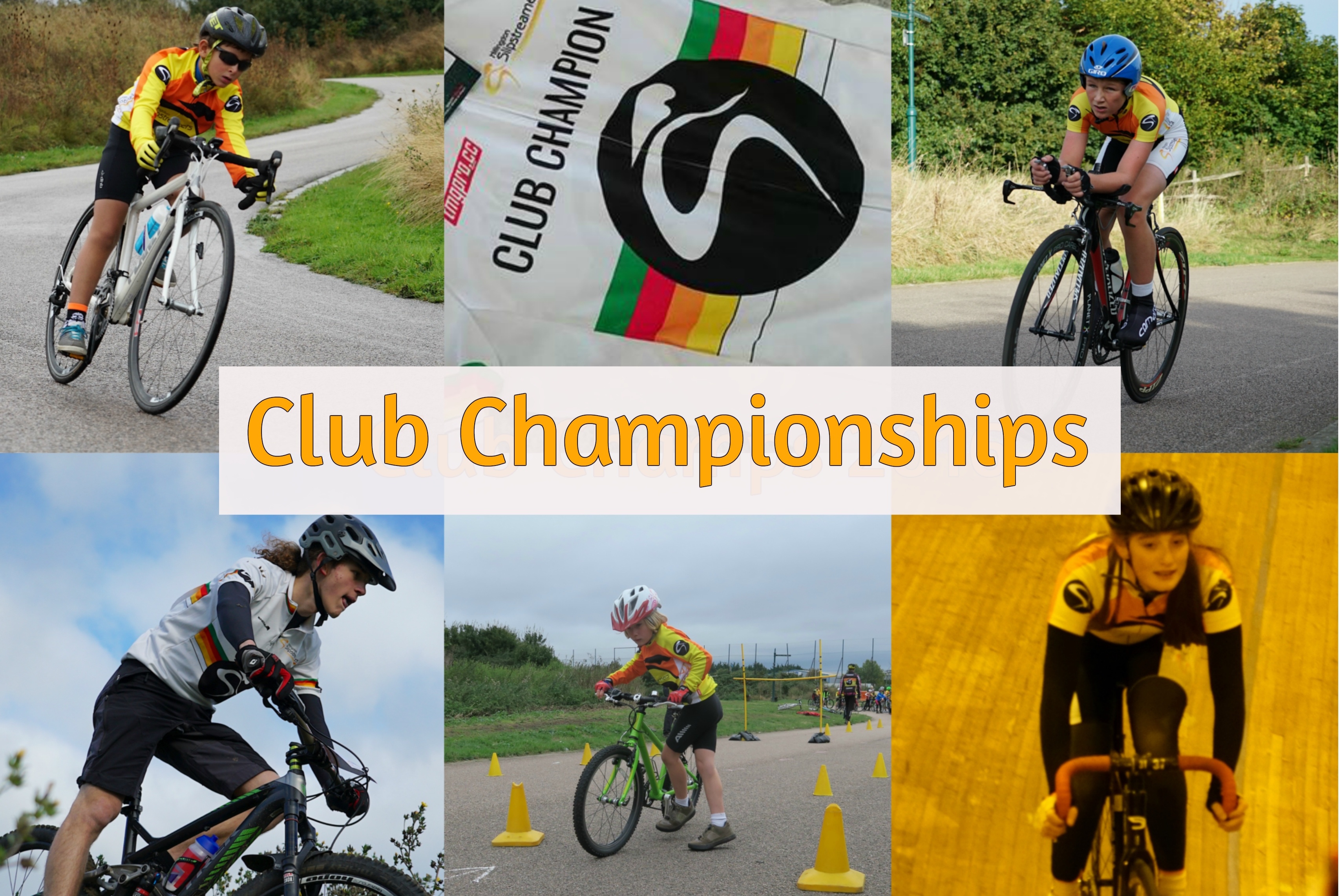 The annual Club Championships is where riders get to test their cycling prowess in 5 categories [Skills, Time Trials, Road, MTB, Track], and compete for some fantastic prizes, including the much coveted Club Champs jerseys for their respective age group! ALL Slipstreamers members, regardless of age or time at the Club, are encouraged to take part; but it is not compulsory, and not all categories have to be entered if members do wish to join in.
The final Club Champions per age category are determined by the number of points accrued, so the more events you take part, the better your chances of becoming Club Champion!. At the end of the Championships, once all events are done and dusted, the results are collated and added up, and those with most points at the end of the five events are deemed to be Club Champions – i.e. 6 boys and 6 girls. 12 Club Champions are announced during our Christmas Party as part of the annual prize presentations for the year. Click to view 2014 winners here and 2015 winners here.
Here are a few of our typical Club Champs FAQs to help you understand how this works…
What Events are Included in the Club Champs?
There are 5 categories in total, as follows:
Skills: This is where you get to show off your bike skills on a timed course. You will encounter slalom, track stands, limbo, and whatever else the Coaches deem necessary.
Time Trials: Riding against the clock, this is your chance to see how fast you can go based on a pre-determined number of laps.
Road Races: Follows the typical road race format on the circuit.
Mountain Bike Races: A purpose built off-road course is constructed to test your MTB handling skills and endurance around the circuit.
Track Races: Held at Calshot, a series of exciting races are put on to challenge your speed and ability to handle a track bike in the iconic velodrome.
I'm New to the Club – May I Enter?
Absolutely! This is open to ALL members, irrespective of how long you've been with us, and we would encourage you all to take part even if you have been with us for a few weeks after your induction. If you are a recent inductee still trying us out, you are also welcome to join in but to be eligible for points you must be a member. Equally, if you are an existing Member but you have never competed in the Club Champs before, regardless of your age or race experience, we would encourage you to give it a go! There is something for everyone – so whether you are U6 or U16, a roadie or a mountain biker, you all have an equal chance of becoming Club Champ for your age group. And of course, if you've done this before we definitely want to see you taking part – perhaps try to beat your personal bests?
How Do You Determine Who is Club Champ?
The Club Champions will be determined by whoever has the most points in 4 out of 5 of the categories – so at a minimum you should enter 4 of the events to up your chances of winning. For each race event you take part in, you gain points as follows: 11 for a win, 10 for 2nd, down to 2 points for 10th – then 1 point for taking part (even if you get a DNF you still get a point). At the end of the Club Champs events, we will collate and add up the points gained per member. In the event of a tie, the better skills time takes precedence.  In total, there will be 12 Club Champions [6 boys and 6 girls] for each age category from U6 to U16. However, it is not compulsory if you don't want to compete, and not all categories have to be entered if you do wish to join in.
To clarify:
To be eligible for a Club Champion podium top 3 place, you must compete in a minimum of 4 events to be eligible for best of 4.
Where there is a scenario of a podium placement with higher points for only 3 events versus a placement having partaken in 4 events, the higher number of events participated in will take priority.
Where all 3 or less podium places have an equal number of events less than 4, total points will take priority.
Placement 4 onwards is based on accrued points and the skills decider
In the event of a points tie, the skills position will determine the higher placement
Hmmm… But I Never Cycle Track/ MTB/ Road…! Why Bother?
Of the 5 events, it may seem that those who only partake in 1 discipline will be at an automatic disadvantage. The point of the Club Champs is to give everyone a chance to try something out, and who knows, you may find you quite enjoy it! To be in with a chance, you don't have to take part in all the events, and this is why we have the best of 4 principle. So if you've never tried Track before, why not join a Calshot session and give it a go? Or if you aren't sure about MTB, talk to the Coaches about joining the mountain bike sessions if you've passed your Bronze. Perhaps you've never been on a road bike and want to give it a go – as long as you've passed your Bronze, have a word with the Coaches and see about trying it out. For Time Trials, test yourself and see how fast you can go. Bike categorisation will, of course, always be at the discretion of the Head Coach.
But I Can't Do all Events – So What's the Point?
We understand not everyone can make all the dates. We also get that some of you will only want to do certain events. We totally appreciate that travelling to Calshot for Track Champs can be challenging for many. Hence the introduction of the principle of best of 4 out of 5 events, which we believe is a much fairer system overall. Indeed, the more you enter, the more points you accumulate – and even if you don't win an event, you still get points for signing on and taking part! If you can only make 3 events, or 2, or 1 – you may not necessarily win, but Club Champs is a great opportunity to try things out anyway so we'd still encourage you to go for it. Plus, you get points for entering! It is important to note that if you miss an event, you cannot make it up another time. But mainly, the point is about joining in the fun with your fellow Members – whether you just enter a single event, do them all, or join us on Family Fun day to cheer on your fellow Slipstreamers!
I'm STILL Not Convinced – Why Should I Take Part?
Nobody says it better than athlete Daley Thompson: "If you're not in it, you can't win it!" The Club Champs is all about giving all our members the opportunity to aim high and challenge themselves in a relaxed and friendly competitive atmosphere. There is something for all age groups, all levels of skill, all types of rider – and everyone has a chance at winning. Go for it!
OK I'm In…! What Do I Need to Do?
Yay! You've taken the first step towards being a Club Champion! First of all, ensure you keep up to date with our various channels of communication – newsletter, Twitter, the News Hub, and of course an eye on the calendar. We will always keep these up to date, and it is up to you read the information and timings provided very carefully, as we will endeavour to provide you with everything you need to know regarding how the champs will be run and what you can expect.

Check out our News Hub area for Club Champs event reports and how much fun was had!