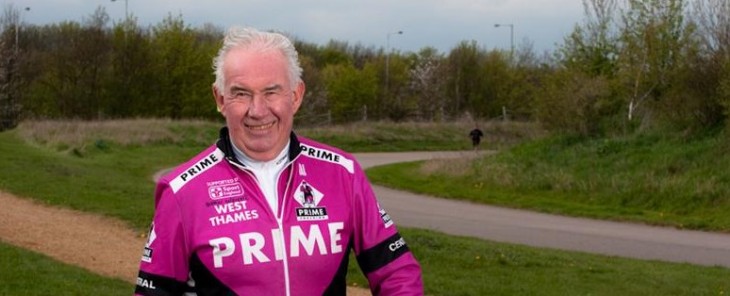 Brian Wright…
When Brian Wright passed away on Tuesday 24th April 2012 our world came to a temporary halt. As one of Slipstreamers founders, all Slipstreamers past, current and future will have benefited from his inspiration, enthusiasm, coaching skills, mentoring, warm and friendly smile, a massive character. He was "El Presidente" as he liked to call his role as Club President.
He helped form the club in January 1998 and ever since, he has been part of the club. You could probably count on a couple of hands the number of times he hasn't been here to coach on Saturdays. He has presided over us from very humble beginnings with a few children as members to now, in 2012, when we have over 270 members.
Brian was such a unique character that anyone who met him would never forget him. He helped everyone at Slipstreamers, whether a coach, volunteer or member. Whether a racing cyclist wanting to learn winning ways or a small child wanting to get off stabilisers.Nothing was ever too much trouble and nothing gave him more pleasure than helping children ride their bikes to the best of their ability. His dedication to cycling, coaching in particular, was second to none and his passing away is a massive loss not only to Slipstreamers but also Prime Coaching, Willesden CC, Field End Road School and the Minet Ladies club to name but a few.
He also never wanted the club to stand still and as such was always at the heart of new ideas and initiatives such as our new award scheme.His dedication to coaching has been honoured several times but no more so than in 2010 when Brian was named the UK Participation Coach of the Year at the UK Coaching Awards in recognition of his impact on the sport of cycling and his tireless work in establishing cycling clubs in and around London. This award is for coaching across all sports not just cycling. An honour he richly deserved and one we already knew as we saw him coach every week.
The "chair" he got members to stand on will remain with Slipstreamers as part of our inheritance thanks to Brian. Medals and certificates will be given out as Brian would have wished it. He always wanted to acknowledge every child's achievement. He always wanted to embarrass as many of the older ones as he could with a Happy Birthday rendition and a Mexican wave. I suspect we will always have Wrighty's 10p game at Christmas although the sucking jelly through a straw game was banished after too much floor cleaning was required. But that was Brian having fun and wanting the children to have fun.
Nobody could have done more for cycling and especially for the Slipstreamers. His contribution was and will remain immeasurable.
There will never be another Brian Wright and Slipstreamers will be the poorer without him.