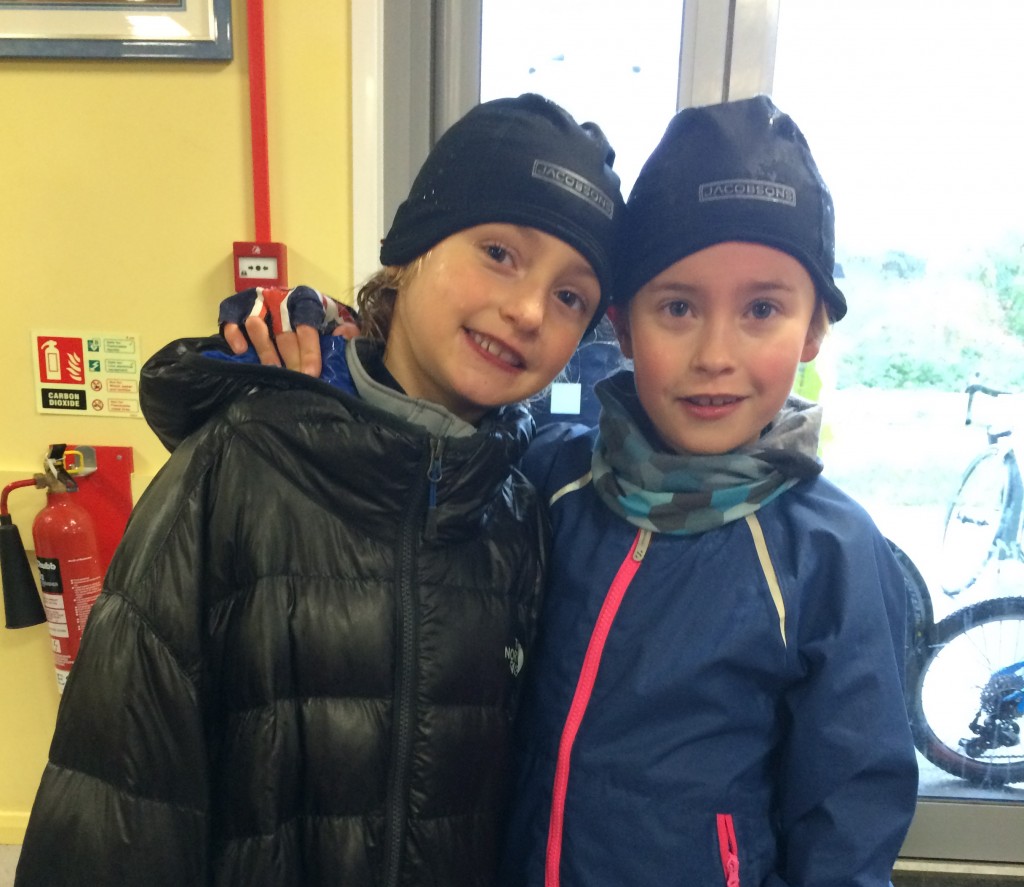 On Saturday 27th February, a large number of Slipstreamers travelled all the way down to Calshot Velodrome just outside Southampton for an afternoon of speed, thrills and (of course) some track training. What is most refreshing to note from the group were the number of first timers to track joining in. THIS this is what we want to see more of – our members seizing the opportunities that come up to participate, grow, develop, and have some fun.You never know if you're going to love it or hate it until you try it.
Sisters Scarlett and Holly Hirst decided it was time for them to give track a go, having already nailed the circuit and mountain biking side of things. Read on to find out what an adventure they both had – each in very different ways…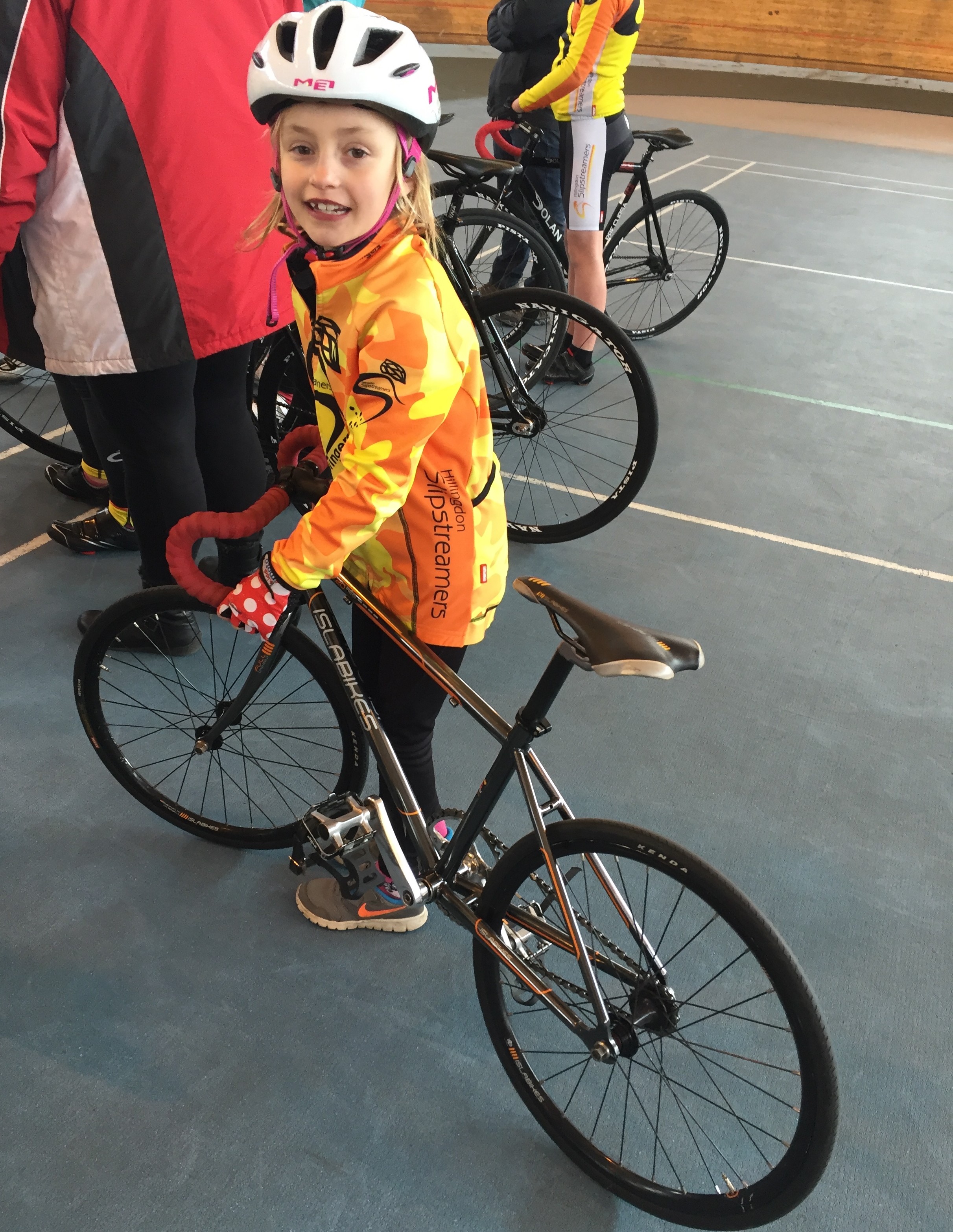 "I woke up and remembered it was the day for us to go to Calshot. We were all going as a family, including my brother and mum. The car journey took us two hours. When we arrived we saw the colourful beach houses and went inside the big building. At Calshot there's also climbing walls and a ski slope that looks fun. After lunch we waited with all the other Slipstreamers to go inside the velodrome.
When we finally got inside we picked our bikes, mine was grey and black with red handlebars.  My daddy adjusted the saddle and I jumped on and started practicing.  It was a bit scary at first as you have no brakes but I soon got the hang of it. We were put into groups by Coach Dave. I was with Coach Steve who looked after the beginner group.
We first started by riding with one leg and switching them over. It was hard at first because every time the wheels turn the pedals turn too. Then we rode on the black line which was exciting. At first I couldn't stay on the black line on the corners and came down to the light blue strip. But after a few laps I started getting better and faster which meant I could stay on the black and red lines. On one lap I managed to get up to the blue line.
After about 20 laps Coach Steve blew the whistle for us to slow down and I lost control and went over the handlebars and landed on my face! It hurt a lot and I had a nose bleed. My mum and dad ran over and rescued me. My lip had swollen up and my teeth hurt so my mum took me to A&E which stands for Accident & Emergency.  I stayed there for four hours and finally got to see the doctor after my dad, sister and brother arrived. The doctor said that I was ok but that I might get a few bruises.
When we got home we had pizza although my mum had to chop it up into tiny pieces so I could eat it! Although I had a big crash I still want to go back to Calshot again because I want to improve and before I fell off, I was having lots of fun.  My Dad said he falls off all the time which made me feel better."
"As we drove down to Calshot I felt a little bit scared but also excited.  It took a long time to get there but it was worth the wait.  It was cold outside and also a bit chilly inside the velodrome. We had lunch first and watched the other Slipstreamers arrive. Then we walked to velodrome and waited by the gate for ages to get in.  Eventually we were allowed to go in and when I saw the velodrome I noticed how high it was.
I don't have a track bike so I hired one. It was hung on a rail and looked very different to my road bike – there were no brakes or gears. We were sorted into groups, I was in the novices with my sister Holly. Coach Steve then talked to us about riding a track bike and how you could only use your legs to stop, everytime the wheels turned the pedals turned too.
At first we went round the track on the light blue strip to get used to the bikes – they felt weird at first but I got used it as I did more laps. On the track there was a black line, a red line and a blue line. Coach Steve would tell us which line to ride on each lap.
The blue line meant you had to speed round on the bend – I had to tilt my head to try and stay upright! My sister had a crash but she'll tell you all about it. I had a slide down from the blue line because I forgot the golden rule: SPEED IS YOUR FRIEND!
We did two pursuit team sessions: 1) on the black line 2) on the light blue strip. Riding on the black line is trickier because the bike didn't want to stay on the line. After the practising we were able to have a free ride but by then I was getting really tired as we'd done lots of laps.
We packed up and Coach Dave gave us a lift to the hospital to see Holly. In the car Coach Dave told me that Calshot is the steepest velodrome in Europe and if I could ride that, I could ride any.
Fortunately Holly was ok and we drove home.  My dad bought pizza and we talked all about an eventful day at Calshot.  I really want to go again and have another go, and hopefully not fall off this time!"
Wow! Well done and thank you for your wonderful reports Scarlett and Holly – we're so pleased you both had a fantastic time!
To read more brilliant rider reports from our fabulous young writers, visit the Slipstreamers in Action section on the News Hub and enjoy!