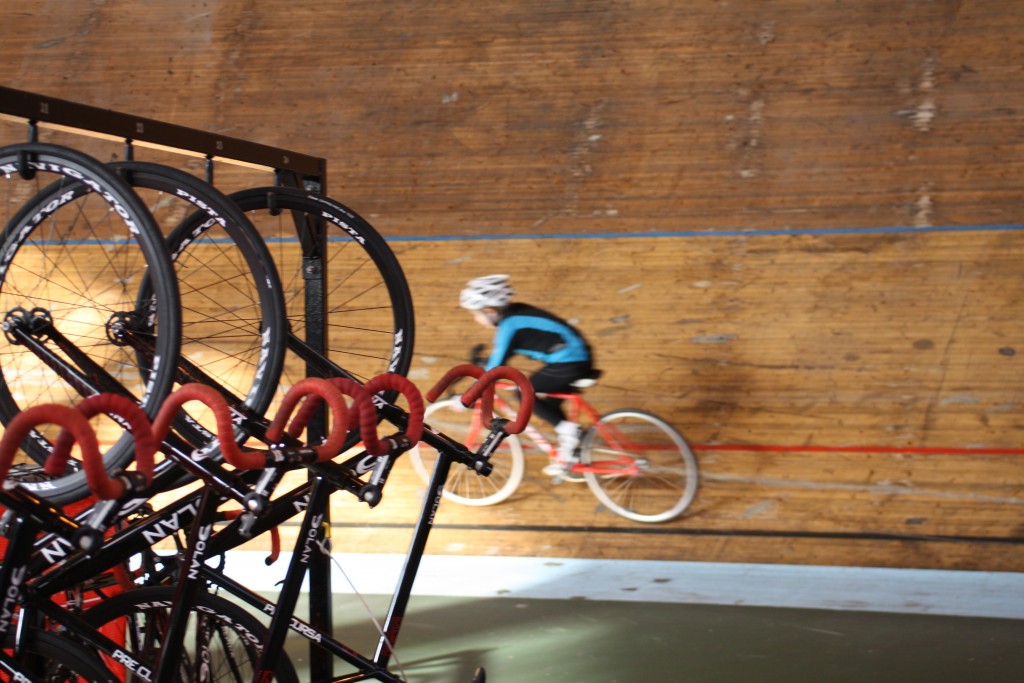 We have confirmed the following dates for our off-site velodrome track sessions at Calshot in Southampton and Derby Arena in Derby. These are open to all Slipstreamers Members, with Calshot perfect for beginners and Derby just an awesome place to ride if you haven't yet! Our Coaches are very experienced in teaching novices, who will be taken through the basics at their own pace, and who were are pretty sure by the end of the session will riding around the track quite confidently!
So if you have been watching the Rio Olympics and want to get a flavour of what it's all about, why not give it a go – if you really don't like it, you never have to do it again; and of course if you do, then that will be that!
As ever, we don't want you to take our word for it, but rather that of your fellow members, so click here to read all about the various experiences of what it's like to ride track.
Track 2016/ 17 – Frequently Asked Questions FAQ's
Who May Ride at a Club Track Session?
These are only open to Club Members from the under 8 age category up to under 16.
If any riders under 6 want to take part in the coaching sessions, do talk to the Admin Team as this rule is generally to do with size (except for Track Champs where U6 are not permitted to race).
Occasionally, track sessions may be opened up to volunteers and parents if there are not enough members signed up, but this is at discretion of the Club only and usually very last minute. Keep an eye out on Twitter for updates.
The session at Derby is not for absolute beginners to track – so if you are keen to try it out, we suggest you go for Calshot first.
What Does a Track Session Cost?
The fees for track have increased for this year, however, the Club will subsidise the cost for our Members and the fees will remain the same as in previous years. These are as follows:
Calshot Velodrome: £5 / Half term fee is £10
Derby Arena: £8
How Do I Book?
Off-site sessions are bookings only – you may not just simply turn up and ride.
We will provide a booking link before each session to be shared with you via the club newsletter. Keep an eye out for this.
Full instructions will be on each booking form, including information regarding bike and shoe hire.
Please don't book until you are absolutely sure you can attend – unnecessary admin is not why we volunteer, so help us out by only signing up if you are serious about attending.
Right! So What Are the Dates?

Derby Arena Session, Derby
Sunday 9th October 2016, 3pm – 6pm

[Booking deadline – Saturday 8th October]
Calshot Session, Southampton
Sunday 11th September 2016, 1pm – 5pm

[Booking deadline – Saturday 10th September]

Sunday 02nd October 2016, 9.45am – 1.1pm

[Booking deadline – Saturday 1st October]

Thursday 27th October 2016, 1pm – 5pm

[Booking deadline – Wednesday 26th October]

Saturday 19th November 2016, 4.30pm – 8.30pm (Club Track Championships Event**)

[Booking deadline – Saturday 12th November]

Saturday 10th December 2016, 1pm – 5pm

[Booking deadline – Saturday 3rd December]

Saturday 21st January 2017, 1pm – 5pm

[Booking deadline – Saturday 14th January]

Sunday 12th March 2017, 1pm – 5pm

[Booking deadline – Saturday 11th March]
**What Do You Mean by Track Champs?
Every year we run a Club Track Championships Event – read here for more on this. If you are new to the Club or haven't been on a track bike for a while, the Track Coaches will need to see you in action at Calshot first before you will be allowed to participate at the Track Champs session in November.
Remember, if you would like to attend any of the above off-site sessions you must pre-book and pay your fee first. Do also always keep an eye on the News Hub for all the latest updates and any changes to the schedule.