It's that time of the year again when we kick off the all-popular Monday night Autumn Workshop & Turbo sessions for our Members. These sessions are a fantastic way to engage in some learning and get in some turbo training with fellow Club Members!
For a bit more context if you're unsure about whether to attend or not, click here to read a few reports and videos of the previous batch of workshops.
Or, check out some of these fantastic videos produced by Young Volunteer Morgan Evans to get a feel for what is covered:
Evening Format – The Basics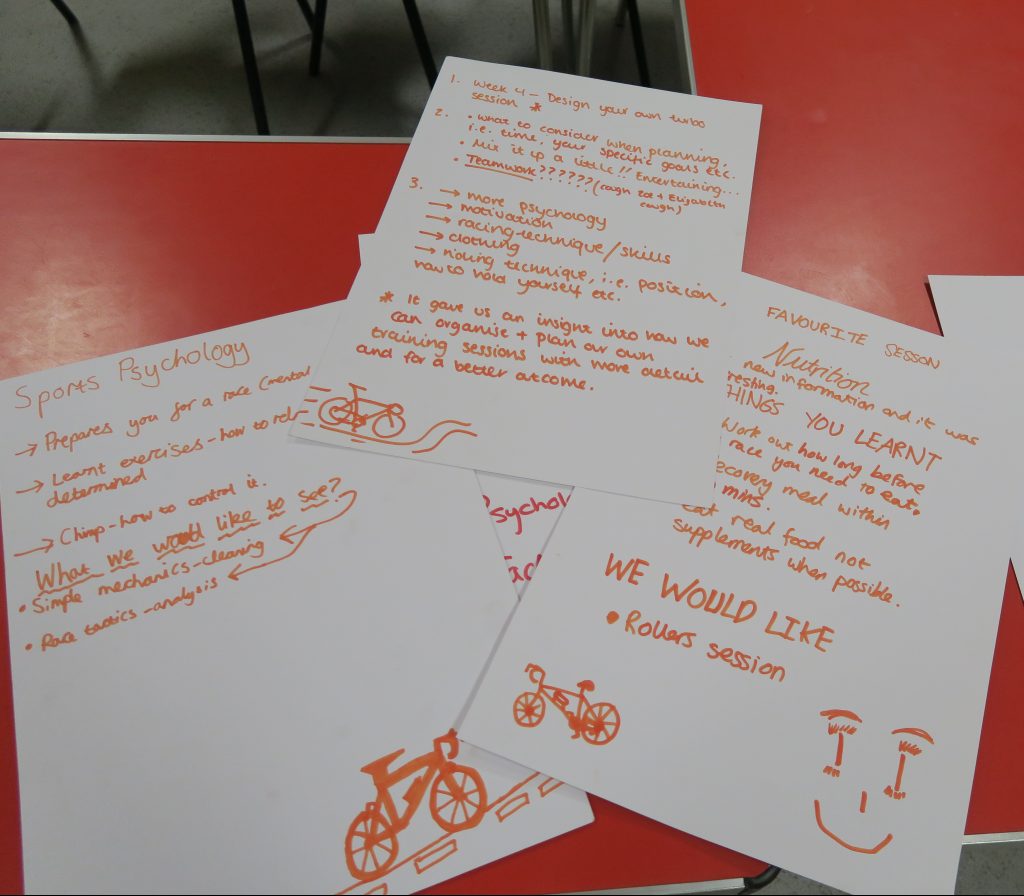 Sign on starts inside the clubhouse at 6.30pm, with plenty of time to set up your turbo and settle in. The workshop will start promptly at 7pm. We will have a varied collection of workshop topics for members to take part in – they are not too long – and are aimed at helping you set and get the most from your cycling goals. You must be aged 10 or over to take part – no exceptions. The sign-on cost is the same as last year – a session fee of £5. You do not need to pre-book to join the sessions.
During the workshop sessions you will learn about how training affects the body, and how to get the most from your Autumn/ Winter training. Each evening will finish with a coach led Turbo Session which will finish around 8.45 / 9pm. You will even get the chance to design your own turbo sessions to address a specific training area – and then get other riders to try it out.
What Dates Are the Sessions On?
The first session will be on Monday 31st October and will run every Monday thereafter until the 12th December 2016. We'll take a break for the festive season, and will start the sessions again on the 9th January 2017 wrapping up with the last session on 20th March 2017.
And to Kick Things off in Gruesome Style…
The First Monday night session on the 31st October 2016 will be a "Confidence" workshop, looking at how confidence exercise can benefit individual success. Participants will need a note book and pen – there will be homework! This will be followed by Halloween Special "Turbodoom" hosted by "The Grim Time-Keeper".
Participants will also be required to bring along to the first session:
Your bike
Garlic
Your turbo
Silver bullets
A towel – really, it gets sweaty!
Stakes
Drink – you'll get thirsty!
Holy water
Change of clothing
Post-workout protein snack or shake
We have some spare turbos if anyone needs one, but we can only accommodate 700c wheel sizes on the spares. Keep your eyes peeled for some surprises, and don't be afraid – it's only a turbo session!
If you have any questions, don't hesitate to contact the Admin Team.