Great news! We have managed to secure a date for an off-site coaching session at the legendary London 2012 Olympic Mountain Biking venue, Hadleigh Park, on Sunday 27th November, from 12pm until around 3.30pm! We will NOT be charging for the session and this is a great opportunity for Mudslingers to develop their off-road skills and enjoy the fantastic purpose built trails and features throughout this amazing site – to find out more about the venue click here.
Sound interesting? Read on to find out more…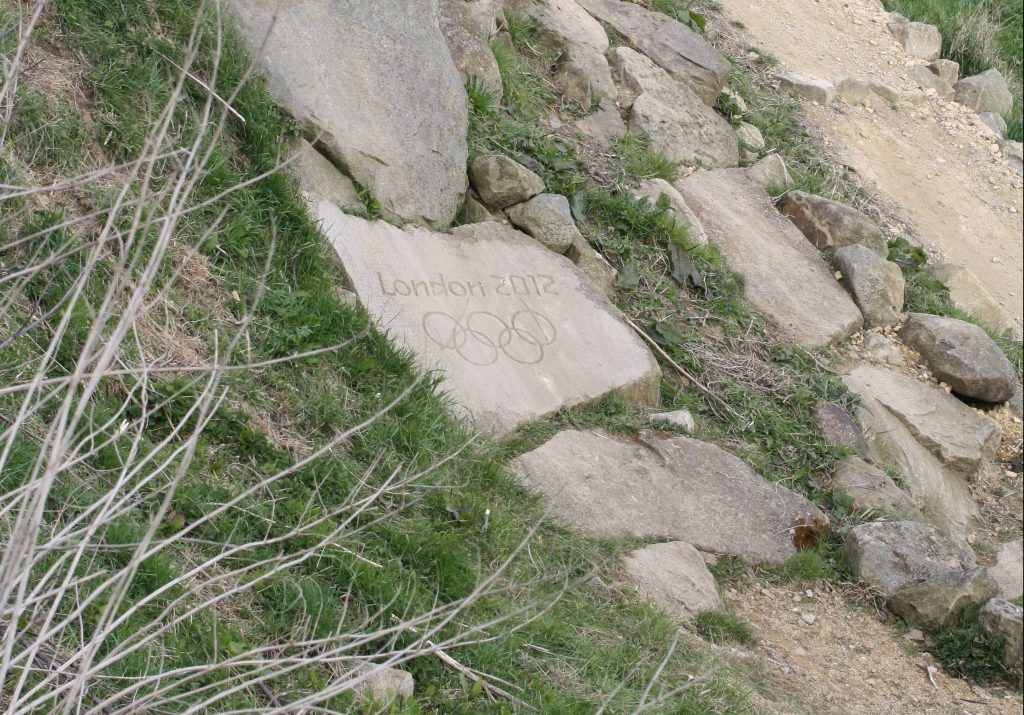 What We'll Be Doing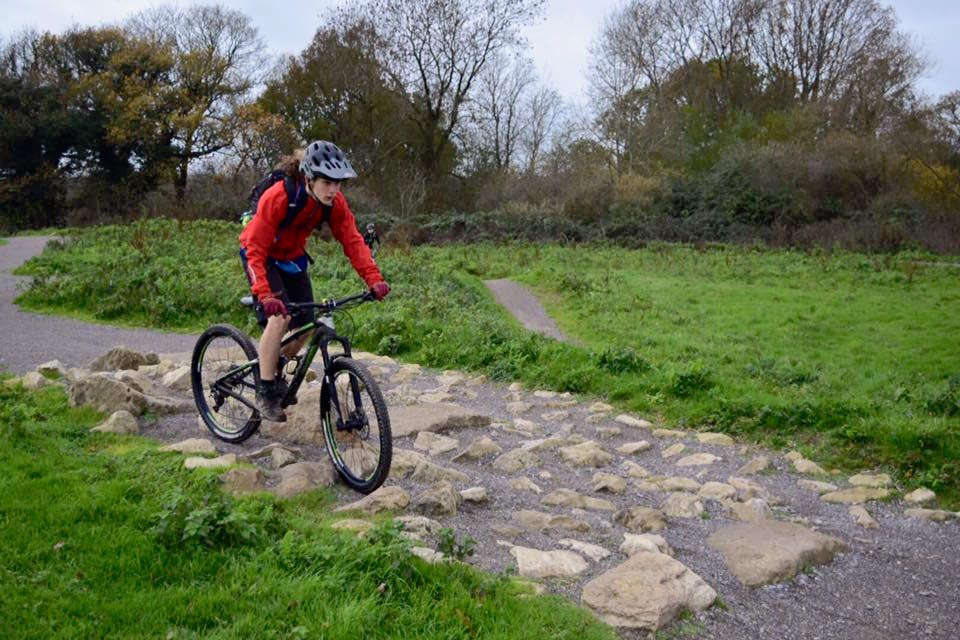 The plan is to meet outside the on-site Hub Cafe at 12pm to start the group bike M checks, and be ready to ride at 12.15 pm so we can make the most of the light.
We will start off at the "Orange" graded Skills Area where you'll be trying out the Rock Steps, Berms, Tabletops, Drop-offs, Rock Causeway, Technical Climb, Rock Garden and Rock Rolls. There is also a fantastic Pump Track that provides a series of rolling features and berms to test ability to 'pump' speed from the trail.
In ability groups as determined by the MTB Coaches, you will also get to ride the Olympic MTB trails: some of you will prefer to take on the "Blue" easy trails, whilst the majority of you will challenge yourselves on the more technical "Red" trails. Only the most advanced riders will be given the go ahead to attempt the very difficult "Black" features, if deemed safe and appropriate to do so by the MTB Coaches.
Depending on how much fun we're having, we will aim to finish around 3.30/ 4pm.
Who May Attend?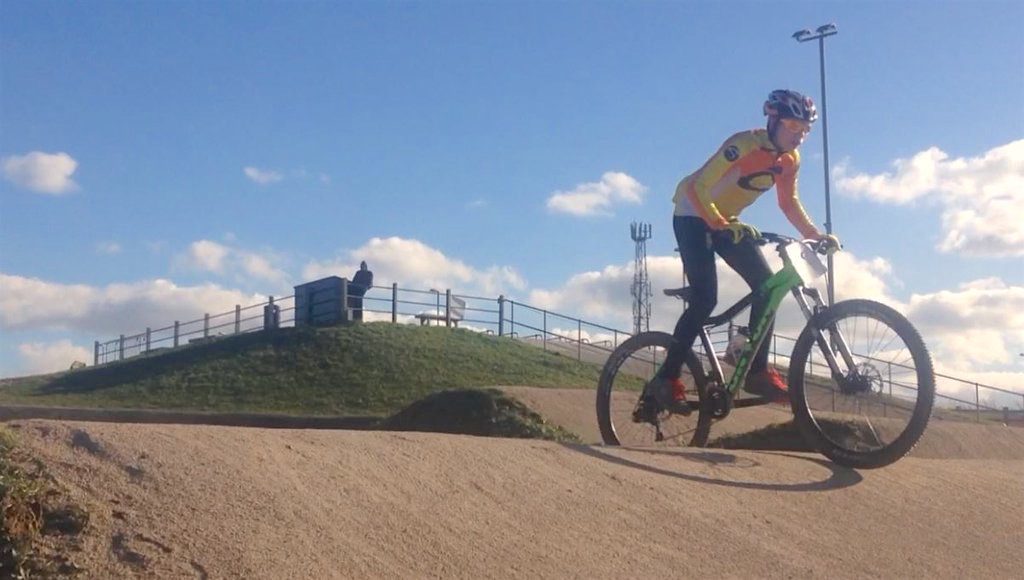 This is open to all Slipstreamers Members aged 6-16 who are comfortable on a mountain bike – if you have ridden off-road, for example, at Swinley Forest, Lotts Wood, Dews Farm, Afan in Wales, Aston Hill, Surrey Hills, or indeed managed the recent MTB Club Champs comfortably, you will be absolutely fine!
However, if you are a nervous beginner and really struggled at the Club Champs, we would suggest you keep practising your skills and join us next time – there will be plenty more opportunities! If you are unsure, do talk to the MTB Coaches – we don't want anyone to miss out and they will be able to advise accordingly.
Parents are welcome to bring along mountain bikes and enjoy the park at their leisure – there are various trails that are worth riding and are open to public; or if you prefer, walking. Unfortunately parents are not able to join the coaching sessions, however you are welcome observe from a distance and follow behind the coaching groups at your own risk. Alternatively there is a wonderful cafe on site!
The Booking Process
Read ALL the information provided on the booking form first, including the rules of participation, before you book.
Parents / Guardians will need to complete a simple online form – it won't take more than a few minutes – to secure a place for a Member and/ or a Young Volunteer.
You can start the booking process in 2 ways: either directly from the embedded form on this page (scroll down to view), or by clicking this link here which will take you a new tab/ window.
Select the quantity of "tickets" per number of under 16 members you are booking for, and follow the instructions on the screen to complete the booking.
Young Volunteers on the CAYV programme are very welcome to sign up as helpers on the day, where they will be expected to support the MTB Coaches – select the correct "ticket" option and enter the information as requested.
Upon completion, you will receive a confirmation email – please ensure you read this.
Bookings are on a first come first served basis and there is VERY limited availability due to strict MTB Coach to rider ratios. If you have not booked in advance, you won't be able to attend.
Please only book if you are absolutely sure you can attend, so as not to take up the place of another member.
The booking deadline is Friday 25th November at 11pm.
What To Bring Along
£6 in cash for the parking meter – details here.
A fully functioning mountain bike with knobbly tyres and working brakes! Be sure to check your bikes BEFORE you leave home – there is nothing worse than when a bike fails an M-Check and the entire group is delayed whilst repairs are in progress. If you would like to hire a bike, you need to do so in advance – details of the on-site shop are here.
Check the weather and dress appropriately – rain or shine we will ride, so be sure to wear suitable kit. If it's rainy and muddy a rain jacket is a good idea as are waterproof socks, and of course do pack a change of clothes. Helmets and gloves are mandatory – no exceptions.
There is a cafe on site for late breakfast/ lunch before we head out, but whilst on the trails and during coaching snacks such as nuts, cereal bars etc are great energy boosters. You will work hard and you are likely to get hungry!
A positive I want to learn and have fun attitude – you will be riding the Olympic legacy trails and we hope you are as excited to be there as we are to coach you on them!
Finally…
As with most of our off-site mountain bike adventures, this promises to be a very exciting morning, and places will go very quickly so booking is essential for Slipstreamers Members – click here asap to secure a spot and ensure you don't miss out. Spaces are limited so please only book if you are absolutely certain you will come along to avoid denying someone else a place. Full details regarding times, what to bring with you, terms and conditions, as well as directions to Hadleigh Park are on the booking form.
As usual, keep an eye out on Twitter for updates, and if you have any questions don't hesitate to talk to a member of the Admin Team or one of the MTB Coaches.