Not only did Brian Wright leave a lasting legacy in the cycling world with his commitment to bringing the pure joy and passion of cycling to the local communities in which he volunteered; he also touched and inspired the lives of many Slipstreamers who knew him from the very early beginnings of the club.  5 of these young people – Sam Grant, Simon Passey, Mark Passey, Hannah Gunn and Rebecca Pressner – started out as Slipstreamers Members from a  young age, become Young Volunteers, and since moved on to become Young Coaches. Brian Wright instilled in them (and many others) a passion for cycling that cannot be quantified, and it is in his memory that they decided to do some fundraising for the British Heart Foundation (raising a whopping £1,211.10!) and take on the Bontrager 24/12 mountain bike enduro in Plymouth on the 25th and 26th July!
Read all about our Young Coaches amazing weekend…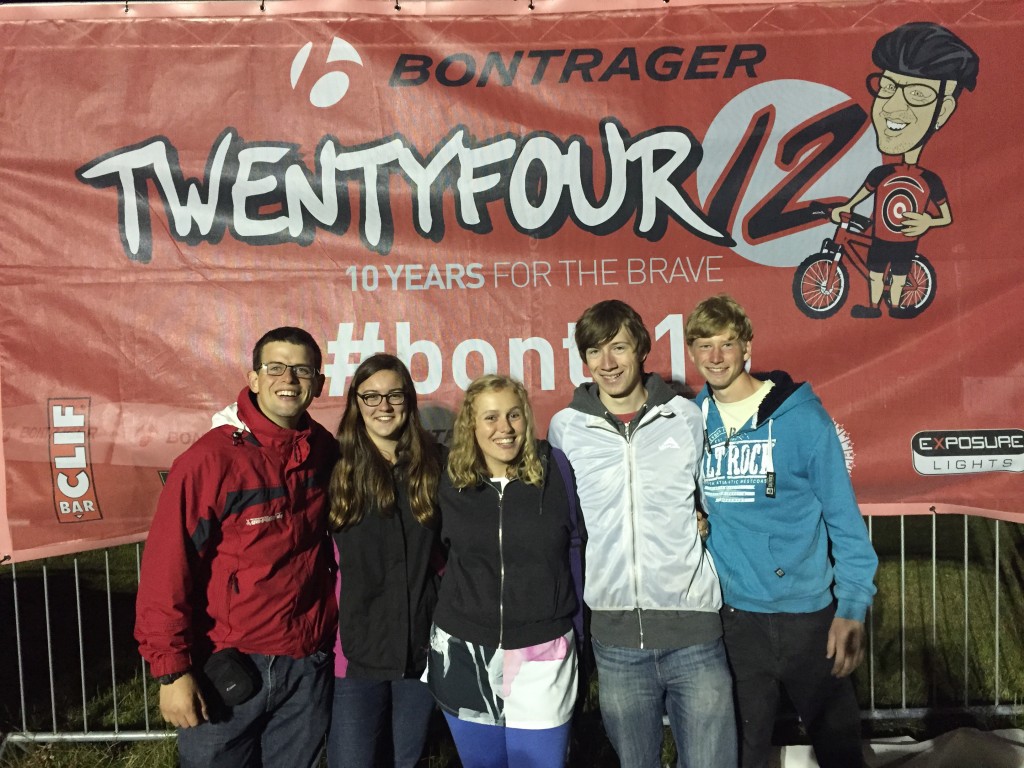 By Hannah Gunn, Level 1 Coach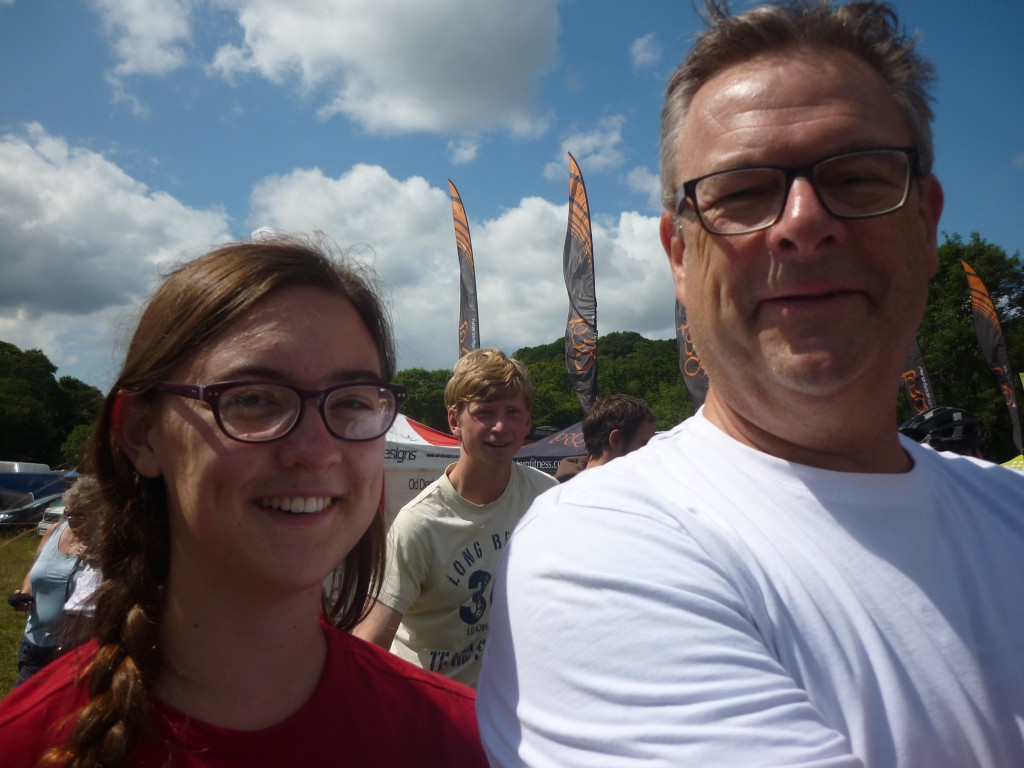 On the 25th and 26th of July I took part in the Plymouth 24/12 alongside four other coaches from Hillingdon Slipstreamers. We competed in the 24 hour event as a relay team to raise money for the British Heart Foundation in memory of Brian Wright because he was an inspiration for us all to enjoy cycling and go on to become coaches. My teammates were Simon and Mark Passey, Rebecca Pressner and Sam Grant (who deserves huge amounts of congratulations for the effort he put into organising us all!). We also had my Dad at the camp as support in case any of the bikes had a problem, we were all very glad to have a 'proper adult' to help out.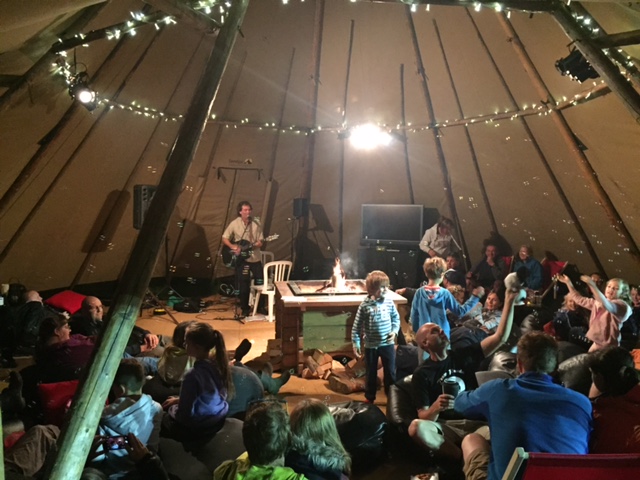 We arrived on the Friday and set up camp, complete with a gazebo and fairy lights, before going into the main camp to look at the stalls and watch the singer in the tepee. After a fairly decent night's sleep it was time for the main event! The kids racing was in the morning, they competed in 12 minute and 24 minute races with Ben (a current member of Slipstreamers) coming in with 3rd place in the under 12's race.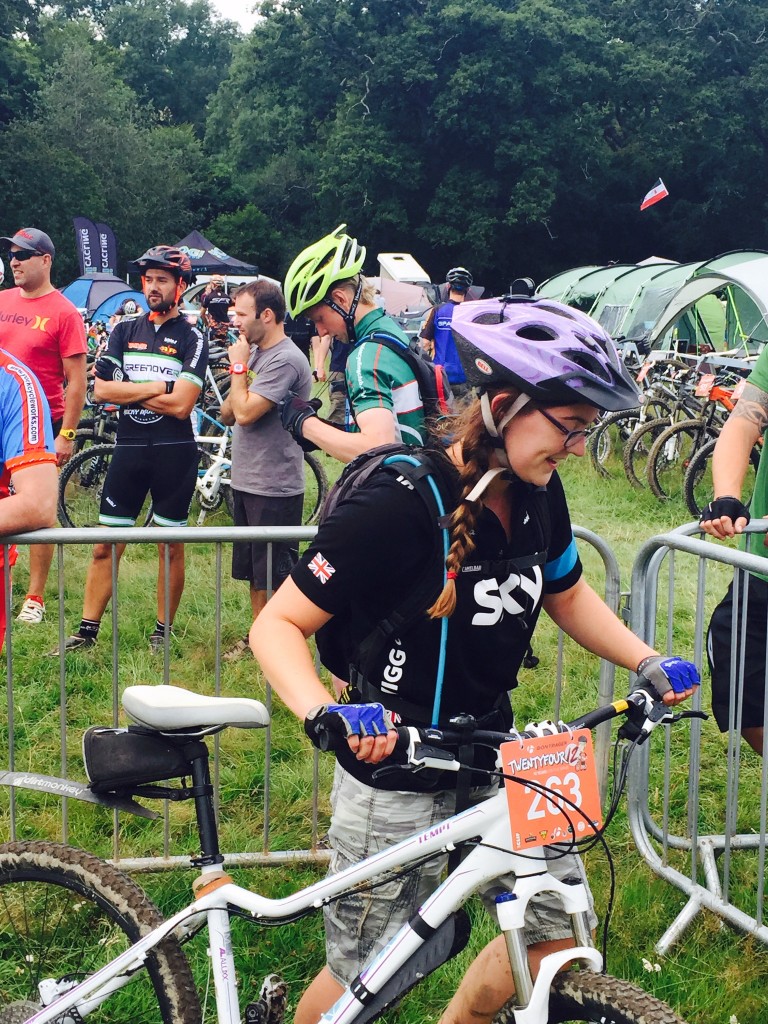 At 12 noon on Saturday our event began and Sam took the first lap. He put in a lap time of just under an hour – very impressive for an 8 mile mountain bike course; whereas I did my lap in a less impressive time of 1hr 30 mins. The first part of the lap, a section completed and approved just the night before, was very difficult (or so I thought) and to make matters worse it led straight into a 1km long hill – the infamous 'cliff climb'. The course improved from there thankfully, and although it was technical I really enjoyed riding, especially with the constant stream of encouragement from the people overtaking me.
We all did our first laps, and Sam and I completed our second before it started to get really dark; making Simon the first to ride a night lap which he did in under an hour! We then decided the best course of action would be to stop and have a BBQ to boost morale before the night laps ahead.
Mark was the first to head out after our break, he started his second lap at around midnight just before the second twelve hour event (the 'Torchbearers') started and he made it back at 1:15 am. Rebecca and I then battled our way around the course in the dark as we had decided a night lap together would be much less scary than doing it alone. I won't lie, it wasn't a fast lap. At some parts I thought we weren't going to make it round, especially when Rebecca's wheel fell off at the top of Cliff Climb and we couldn't get it back on because there was a problem with the brakes.
Fortunately a 24 hour solo rider with a toolkit stopped to help and we made it through the rest of the lap, chatting to keep our spirits up. Unfortunately only one of us could cross the line so Rebecca went to the finish and I pulled up just before, meaning it only counted as one lap. It took 2hr 30mins to finish; we didn't get back to the camp until gone 3:30 am and we both went straight to sleep.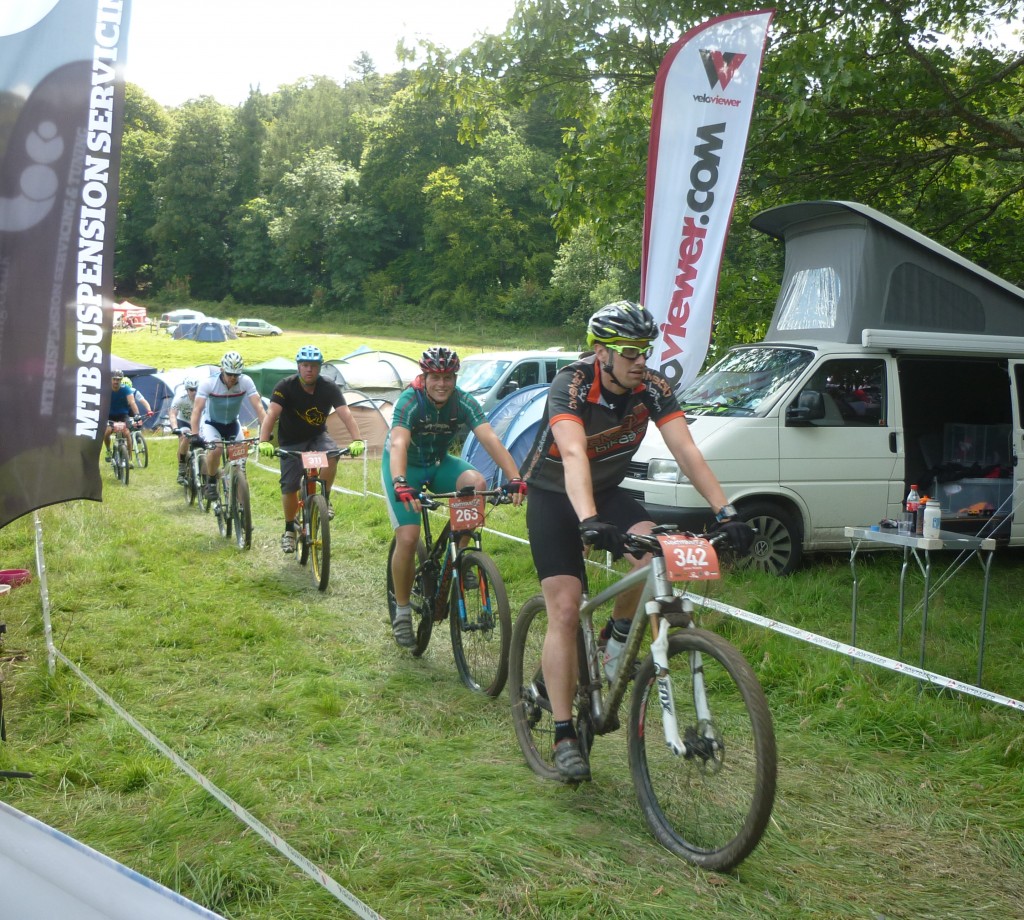 Sam went out for a double lap and Simon went out for a third lap at 6:00am, just as the rain started. He made it back at 7:00am, covered in mud and soaked through (or so I heard, I was still tucked up in my tent). I had planned to do another lap in the morning, I think we all had, but it was raining so hard that it probably would have been dangerous for us to go out again.
There was hardly anyone still riding compared to the number of people on the track on Saturday. Instead we spent the morning trying to dismantle the camp without getting our only dry, non-cycling clothes soaked before heading home.
The event was an amazing experience with such a good atmosphere; I'd definitely be up for doing it again! We managed 14 laps between us, which put us in 29th place for the mixed team category.
But far more importantly than that we completed the event and raised well over £1000 for the British Heart Foundation!
By Simon Passey, Level 1 Coach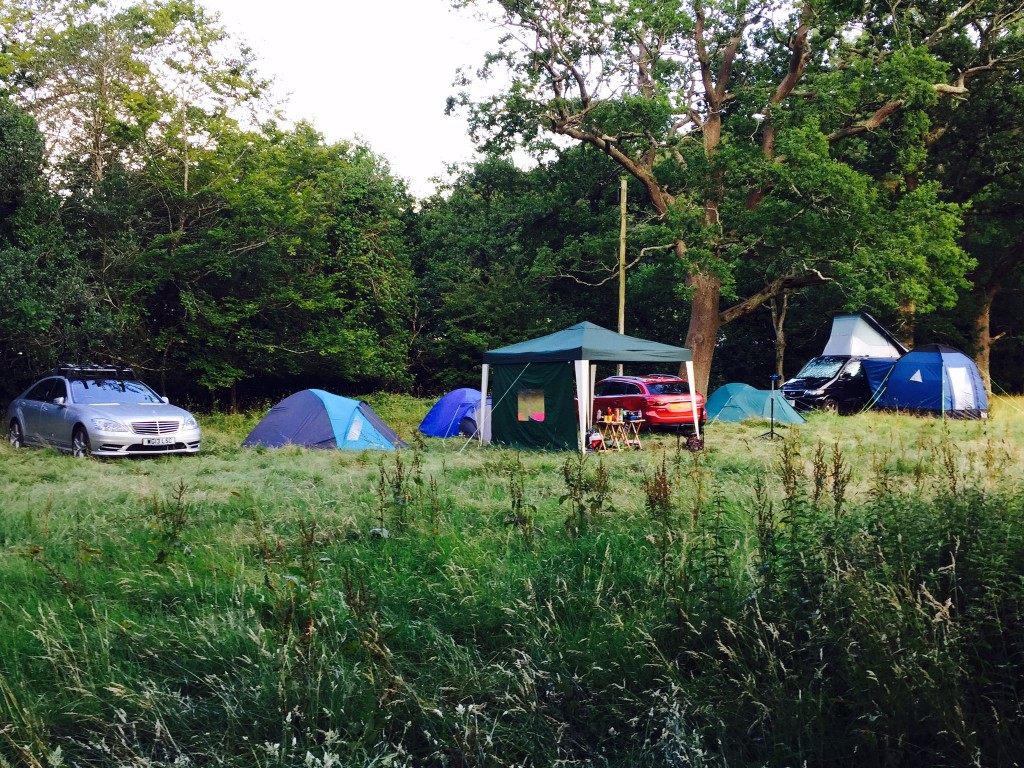 I took part in an amazing mountain bike event on the 25th/ 26th July. This was a 24 hour race, but we (me, Sam, Mark, Hannah and Rebecca) did it as a team relay race for 24 hours!  As well as the 24 hour race, there were also two 12-hour races starting at different times (midday and midnight); and some youth racing of either 12 mins or 24 mins depending on their age category.
We managed to set up in the quiet camp in the middle of a field with nobody else around, as they were all in the main area which was a five minute walk away for us.  This was my first experience of camping and one I'll never forget! As we were right next to part of the course we were able to cheer on our next rider – so we picked the perfect spot!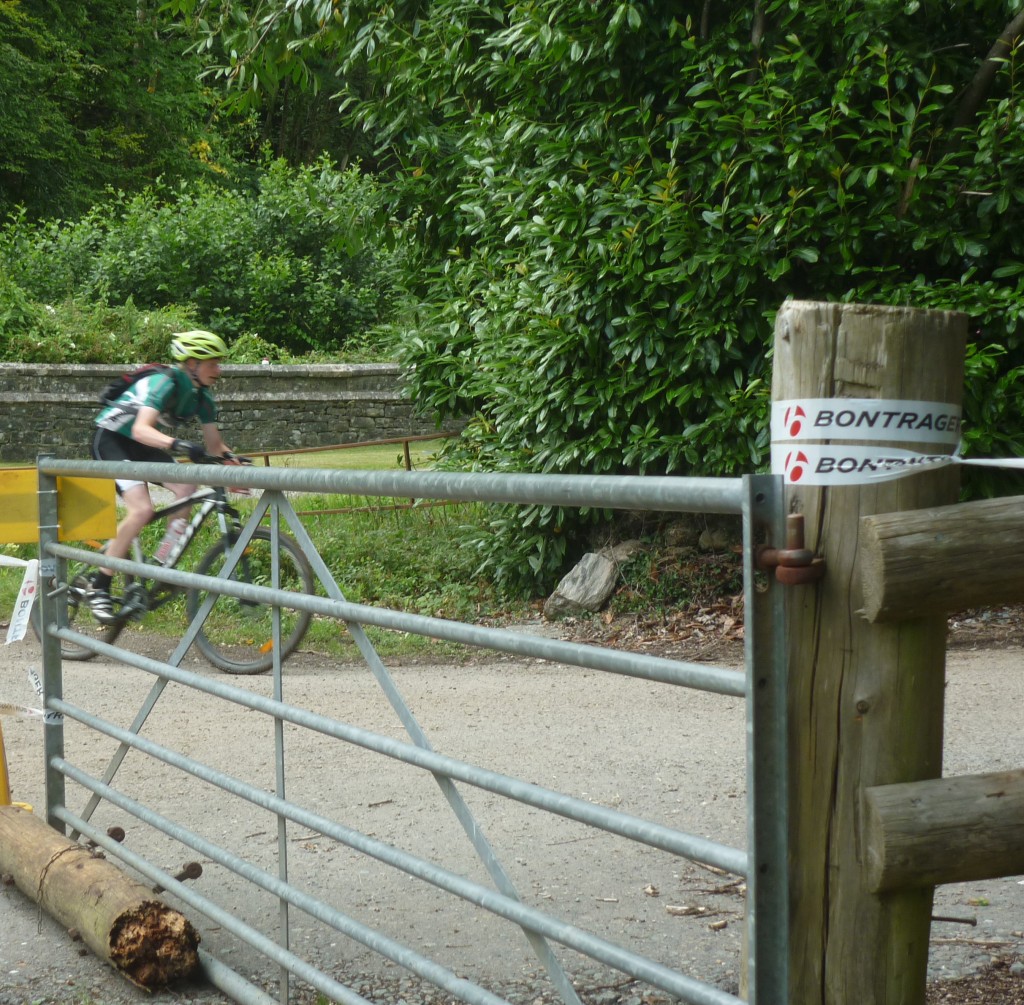 The mountain bike course was just over 8 miles long and took around an hour to complete if you were doing a decent speed. The terrain was quite technical in places, and some were just simple thing like hill climbs and flat off-road riding. I managed to put in 1 hour 2 minutes for my first lap, my second lap was 59 minutes 46 seconds, and lastly I finished the event with a 1 hour 3 seconds lap in heavy rain and muddy conditions!
When it got dark our skills were really put to the test. We had extra powerful lights to see our way (one on the front of our bike and one on our helmet). The night riding was very interesting and was a great experience, especially going at speed through tough terrain. I'm very proud of our team and gladly nobody fell of and injured themselves!
I would like to thank everyone for their donation which helped us to complete such a big and amazing event!
By Sam Grant,

Level 2 Coach
The weekend begun on Friday 24th July packing the car up with 3 people's worth of luggage plus the tents, gazebo, chairs, food, and all other stuff to put into the car. The car was full to the roof line and the suspension looked like it was about to break. Once I, Mark & Simon had packed the car we were ready to leave at 11.20 am and we started our 220 mile journey to Plymouth. It rained most of the way down only one scary moment when a wheel from a trailer being pulled by a car in front of us fell off and rolled along the M4 – luckily it didn't hit us or anyone else.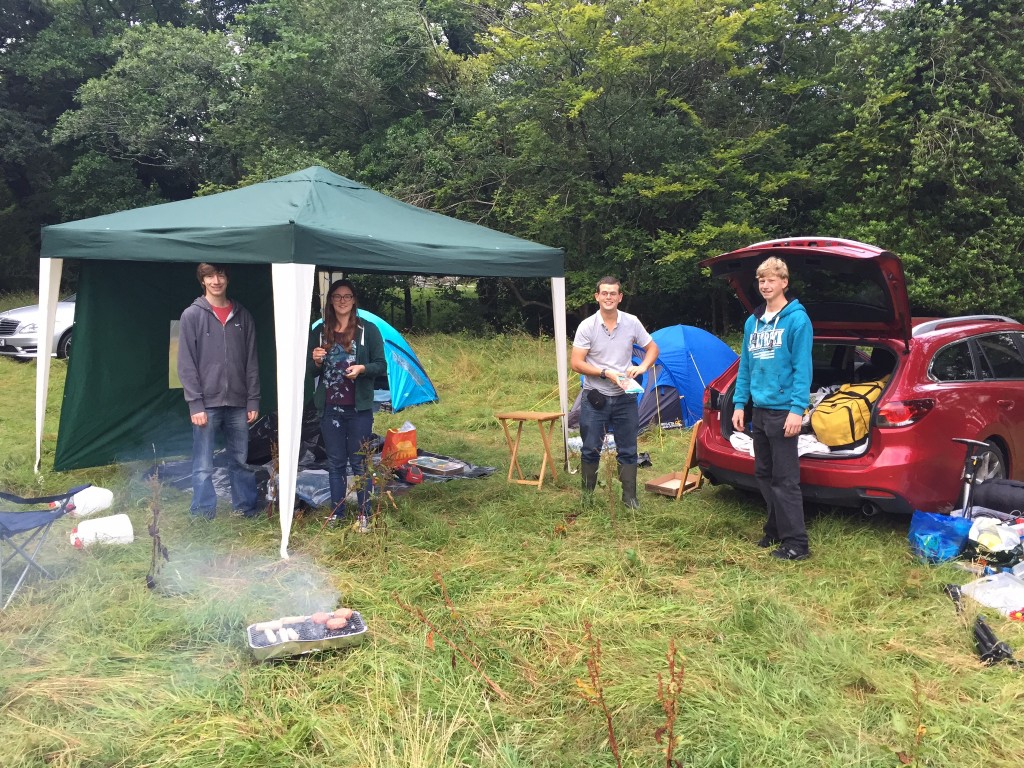 We arrived in Plymouth at 6pm with rain stopping as we arrived to an empty, quiet camp which was for riders who didn't want a noisy weekend. But, we had a whole field to ourselves for the entire weekend so we decided to make it a noisy camp by blasting music out of the car speakers while setting up the gazebo and the tents and making it our base. Later on in the evening John, Hannah, Rebecca & Adam all joined us by 9.30 and we helped them get their tents set up. We had a barbeque under star light then we went to the main arena to find out what was going on over there.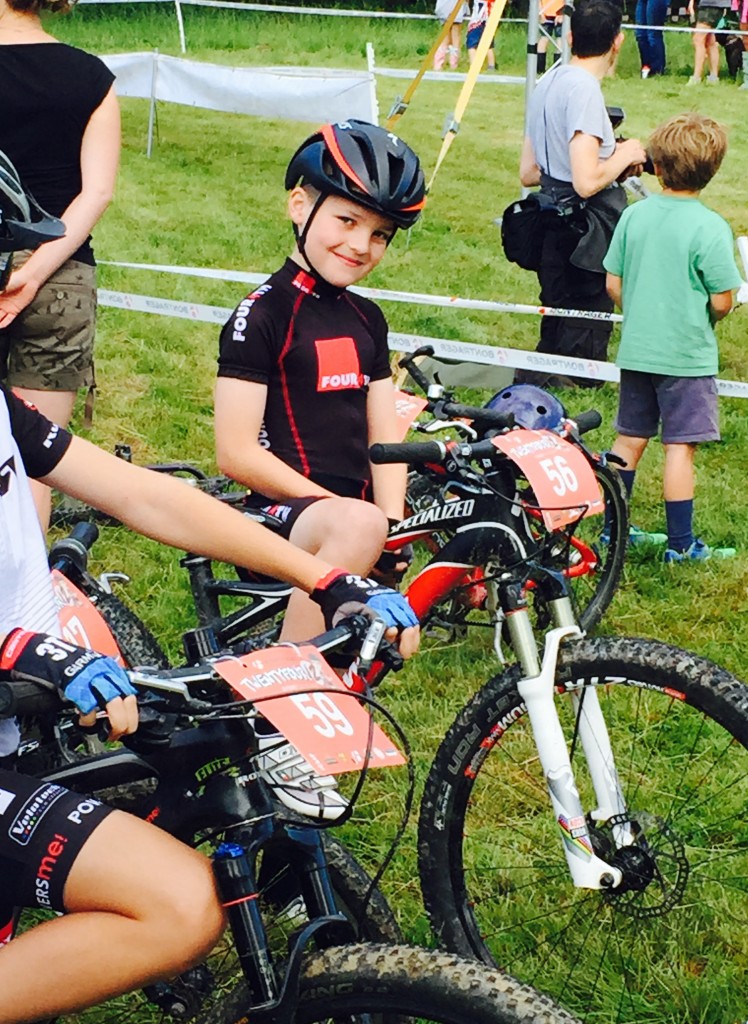 There was live music going on when got over to the main arena. It was an electric atmosphere even before the race started. We were too late to sign on Friday evening so we signed on Saturday morning. Once we returned to our "quiet camp" we sat under the fairy lights and torches and just talked about the race and who was going when. We then all got to bed by 12.30 in the morning – I didn't have the best night sleep my airbed lost a lot air and I ended up rolling on the floor. I was up at 4 am and couldn't get back to sleep from excitement.
We all got up by 9am to sunshine and went to sign on, where we picked up our baton – a beer bottle cap on a necklace! The youth racing before the main event started with the under 16's race round a half kilometre course for 24 minutes, followed by younger ages for 12 minutes – which Slipstreamer Ben C was racing in and he did very well.
After the youth racing it was the briefing from the organiser, and then it was time to get ready to for the start of my first lap. I was rushing to get changed and get my bike ready; and thankfully had help from John & Mark to get my camelback filled up and get a puncture repair kit ready. So once I was ready, I took to the start line of over 500 people in different categories and I could feel the tension,  thinking "Is this really happening? Am I really here? It has gone so quickly to get to this starting line!" I was 10 minutes early before the start but I was right at the back of line for the beginning.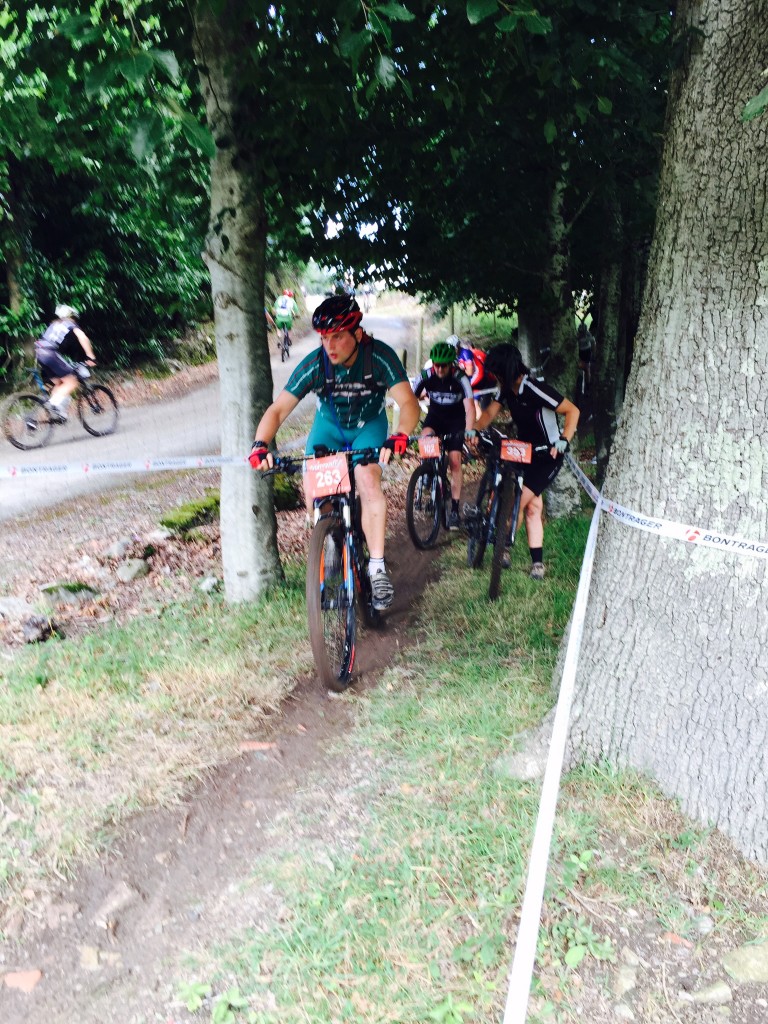 Before I knew it everyone was counting down from 5 seconds, and we were off in one giant peloton going round the course, which was very muddy and more of a slosh! The course was over 8 miles long and consisted of hills. The main one was called Cliff Climb, which was over 1km long. The rest of the course was really good. It had so many different variables with single track, bomb holes and a very fast downhill.
I completed my first lap in 1hr 5 mins, mainly because it took so long to get going at the start before passing the baton to Hannah. Once everyone had gone to do their laps it wasn't until 7.30pm, at which point I was tired from not getting much sleep, until I did my next lap. The lap was much quicker due to the ground drying up and 1000's of tyres flattening the mud. I was in a new section of the course which I didn't do in my first lap, and it was very difficult still, even though a lot of riders had ridden through it. I had a little slip and scraped my leg a bit, but I was fine so carried on. For some reason I was actually going a lot quicker – it was like I had a rhythm and in the last 5km I was going very fast down the long downhill coming into the arena reaching 30 mph. I did that lap in 54 mins which I was very happy with as it was much longer!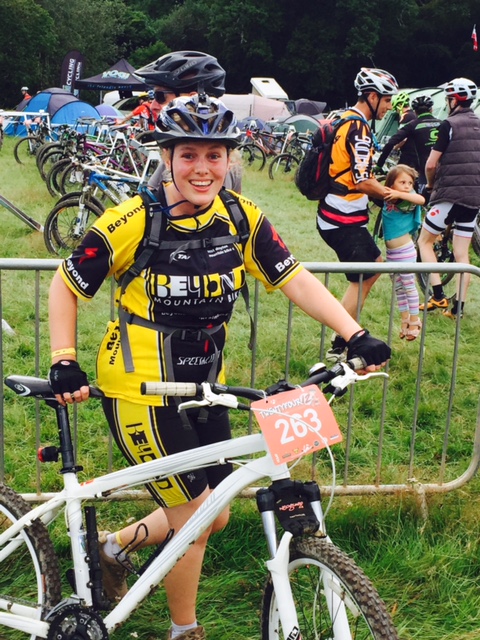 When I got back at 8.40pm, I went straight to my tent for 3 hours of sleep before being woken up by John at 11pm to have a burger and get ready to out again. Before I woke up, Simon had been out and did just under an hour lap. Mark went out at 11.40pm before the torchbearers went out (riders racing from midnight to midday). He came back at 1.40am when Rebecca & Hannah went out together.
I was next up and couldn't work out how long the girls were going take, so I left camp at 2.50am. They didn't get back until 3.30am so I decided that I would do a double lap to make up the difference-  my 3rd lap was just over an hour, and on my 4th lap I saw the sun rising, which was a weird experience but amazing. My 4th lap took 1hr & 4 mins. It was 6.30am in the morning and Simon was waiting for over 2 hours for me to come back by that stage. As I got back to camp it was pouring and I felt so bad that Simon was out there in the torrential rain! He didn't get back until 7.30am in morning but managed to get in a 1hr lap in those conditions, which is incredible, so well done Simon. I slept in the car as my tent was so wet – with the heating on as well!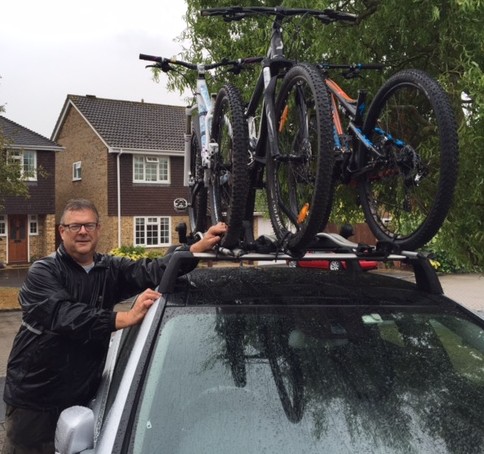 That was our final lap as it didn't stop raining from that point on, and we were all in agreement there was no point going out on the course when it could be really dangerous. But we had completed the 24 hours though. Many thanks to my team mates Simon Passey, Mark Passey, Hannah Gunn & Rebecca Pressner for wanting to do this event with me it couldn't have gone any better. We brought our friendship closer more than ever from when we all first met back over 10 years ago and Brian coaching us all to be the best riders and as we got older to become coaches ourselves. A huge thank you goes to John Gunn for taking our bikes and supporting us all so thank you John!
Overall it was an amazing trip and I loved every second of it. I was constantly reminding myself why I was there, which was for Brian, who inspired us to never give up and keep going unless it is unsafe to do so – and that is what we did. I can't thank everyone enough who has donated and supported us through this amazing journey. It was well worth it and I had an amazing time.