We've already mentioned how much we love a success story at Slipstreamers – success being defined not just by winning a race, but by overcoming fears, grabbing opportunities, taking part in Saturday sessions, trying something new for the first time, or even volunteering. There are very many success stories at Slipstreamers, and we would love to hear and share yours – but for now, we thought it would be a good time to tell you a little bit about Louis, who for many years has been a Slipstreamers member, coming to club sessions, and actively taking part.
Louis has had an incredible 2015, where amongst other things, he was selected to represent his region as part of the South East team at the Sainsbury School Games, as well as the Ride London Prudential. Another fantastic opportunity arrived when Louis was invited as a guest to an Olympic Development Apprentice (ODA) training session at Lee Valley Velodrome earlier this year – 3 Slipstreamers were invited to join the scheme during 2014, and to have Louis attend a session as a guest is really something to be proud of. Louis says: "It was a good day, it was very hard but I loved it . The best part was that the British Cycling Coaches had recognized the fact that I had achieved some good results in National races."
More recently, Louis has been selected  to take part in the Revolution track series as part of this Chris Hoy Future Stars. It's been quite a journey for Louis this year, and here is his recap of his most recent adventure…
Revolution Race in Scotland, by Louis Rose-Davies, U16 Slipstreamer
"A few months ago, I was selected to race in a series of track races called the REVOLUTION series as part of the Hoy Future Stars. The racing happens all over the country, with lots of the world's best pro riders turning up to ride such as Wiggo, Iljo Keisse, Geraint Thomas. 24 boys and girls are carefully selected from around the country. So far, I have raced the Revolution series in Manchester and London. Here is a report on my most recent visit to Glasgow…
I finished college early, which was good because the day was getting very boring; and we drove up to Manchester to stay the night with my grandparents. I took my friend Ant with me as well, as he was racing too. We arrived at about 9:30pm and had to find which parking space was for us, as the other people who live there don't like it when you park in their spot, even if they don't have a car! When we got to the house we had a lovely soup and some nice chicken legs and potatoes. I tried to have an early night.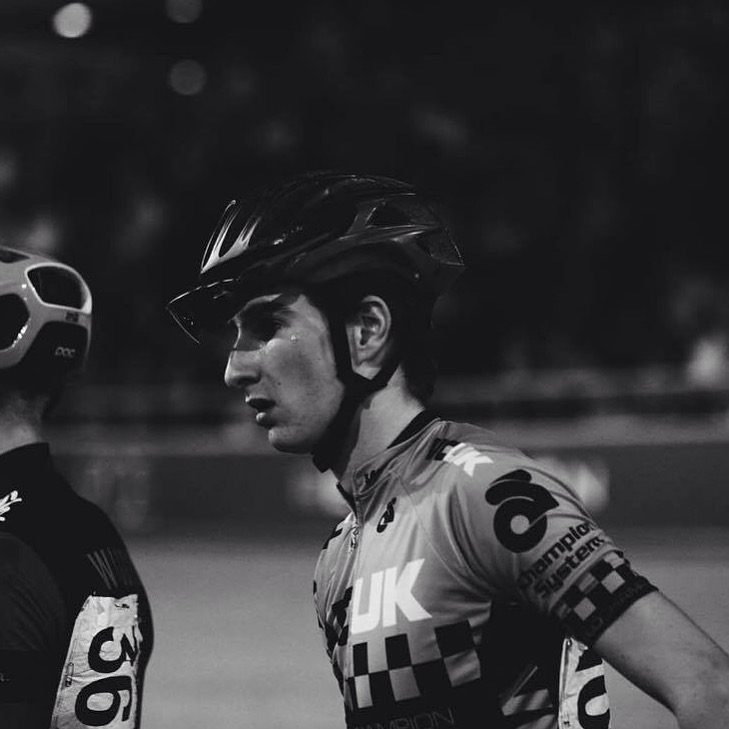 The next day we set off for Scotland – it was a long drive and I listened to every song my Dad had on CDs, and made a mental note that track 14 was the best! On the long drive, we had a competition to see who could see snow first Ant won this. After that, we spent the next hour trying to find the bush, which is in a very funny shape – if you have been to Scotland you, might know what shape it is… But I am not going to say – you will just have to try to find it! We finally arrived at the velodrome after I told them to go the wrong way – which both my Dad and Ant mocked me for.
The velodrome was very hot inside and the banking was very steep compared to London. My first race was the points race. I managed to get one point, which was ok, but my legs felt very bad in this race. The next race was the 6-lap dash. I attacked from the gun, and was away on my own off the front till the last lap, when the group went past me as if I was standing still! Next race for the boys was the scratch race. I rode this well being at the front all of the time. Going into the last lap I was at the front, but I did not have the legs for the finish.
I am currently standing in the middle of the results table, which is ok as the races are a bit short for me and there are still 2 rounds to go. It has been a great experience – I have met lots of pro's and even have Iljo Keisse's gloves…"
Well done Louis!