At Slipstreamers we encourage our Members to experience a variety of cycling disciplines, from taking part in our annual Club Championship to joining in the various opportunities that come their way via the Club or indeed other avenues that offer the chance to do something different. Seth, a passionate mountain biker, tells us his story and what it feels like to ride at Lee Valley…
MTB v Track – My Lee Valley Velodrome Experience, By Seth Kanaris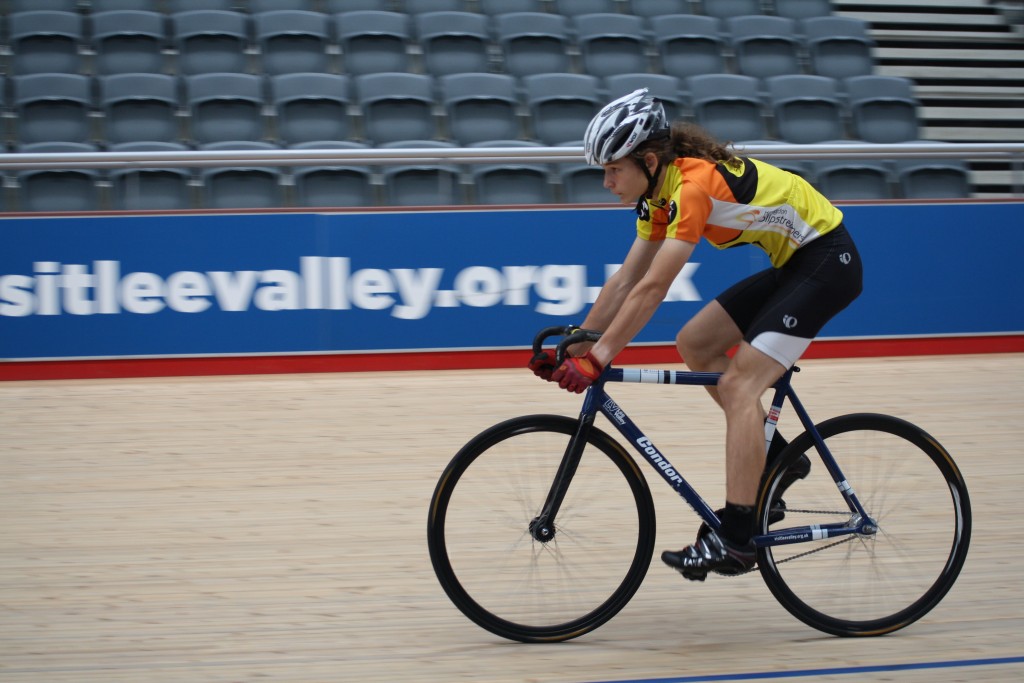 "My biggest passion in the world is mountain biking – I love the speed, the thrill, the bikes, and pretty much everything about it. Quite a while ago, my Mum suggested I give track a try at Calshot, and to be honest I wasn't too keen on it. But I did it, and I found it AWESOME! I predicted that it would be a lot like road biking, just spinning out laps and getting bored instantly; but I was met with much more of a thrill than I anticipated! The speed you can get to is insane, and it feels awesome when you're dropping in from right at the top! Physically, it was extremely tough – I figured that this would be a great way to train and get fit, whilst having fun at the same time!
So after several months of lots of MTB and not riding any track (the last time was at Calshot for the Slipstreamers Club Champs in November 2014), the oportunity arose to do a session in August 2015 at the Lee Valley Velodrome with my mountain bike club, SummitMTB. When we arrived on the day, walking into THE Olympic Velodrome felt pretty inspiring – I felt a bit like Chris Hoy when I walked up the stairs and stood in the middle! I was itching to get started…
Everyone in the group was a bit nervous – aside from myself, nobody had ever ridden a track before and it was going to be interesting to see how hardcore mountain bikers would take to a fixie and a smooth surface!  We had a great coach telling us what to do and how to do it, called Darren, and as we were all pretty much beginners we made considerable progress by taking his advice on board. After our initial briefing on track in general, safety advice, and how to actually ride a track bike, we tentatively set out, leaving a massive gap between one another. It was like learning to ride again!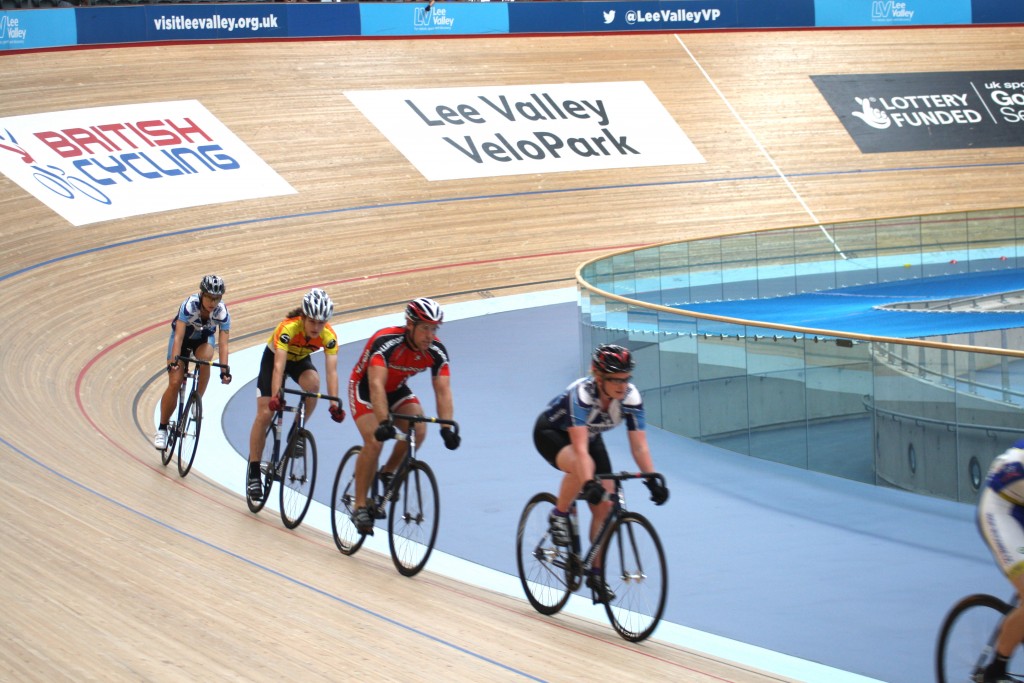 As we progressed, we gradually gained confidence on the track, and were allowed to progress higher and higher and go faster and faster! At one stage, when he was confident we had the basics, he let us just go round at our own pace, after teaching us how to overtake safely of course! I found it really thrilling to go really high above the signs and then just drop in to the black line to get a lot of speed! What a rush.
One thing we had to do after our drink/snack break was ride in teams, a bit like the team pursuit but without the pursuit. Basically, we were riding in lines, very close to each other, and every lap or so the rider in front had to move up the track and join the back. As a mountain biker, you always leave a gap between you and the rider in front of you, so when you're going down a trail you always wait a few seconds after whoever has gone in front of you before you drop in. This is so that first off, you can ride at your own speed and ride your own lines without being affected by the person you're following; and more importantly so that if they come off you don't run them over and cause utter carnage.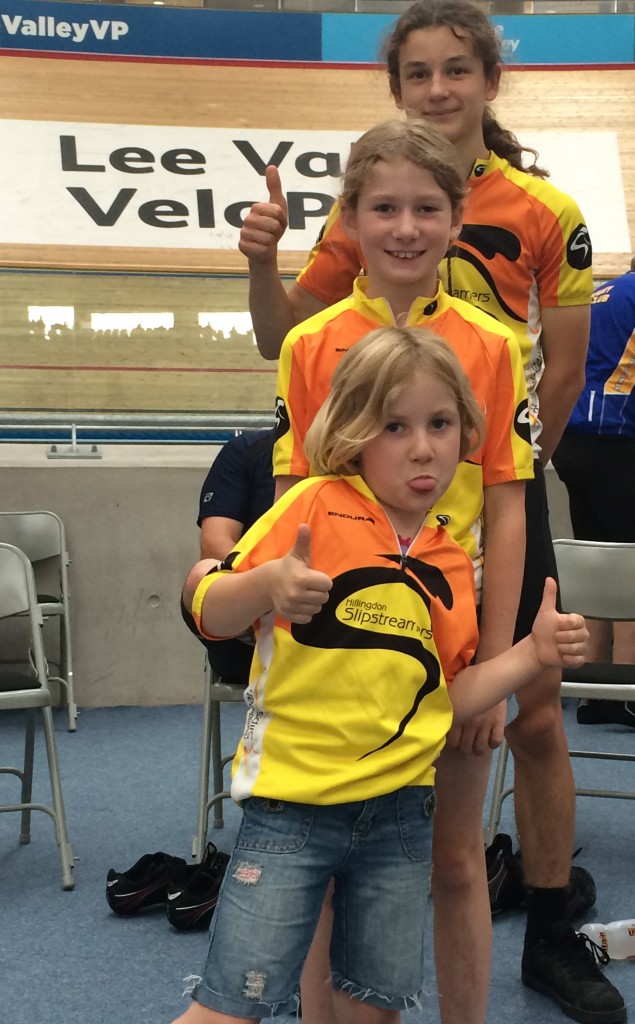 Being used to that ideology, and having had a fews accidents in the past that include being hit by the person behind me, and hitting the person in front of me, I hated being so close to the guy in front. I didn't mind being at the front so much, as there was nobody to hit, but I found that my biggest fear wasn't actually the track, it was riding in such tight groups.
Fears aside, at the end of the session I could barely walk, which I suppose means I worked relatively hard! Not surprising when you consider the track at Lee Valley is 250m and also has seriously steep banking (although not as steep as Calshot which I think is 45 degrees! Either eay, I think I left the Velopark fitter, stronger, and more skilled, and a massive thank you goes to Darren, who turned a group of terrified noobs into much more confident track riders! It was such an epic experience. And definitely one I'd like to repeat more often than not… So much more fun than a road bike!
So all in all, give me baggy shorts, outdoor trails and gnarly rock gardens any day; but if, like me, you enjoy speed and the adrenalin rush that comes from being on a bike (any bike!), why not give track a try if you get a chance to do so? I guarantee it won't be what you were expecting at all! If you get an opportunity to go to Lee Valley – grab it. Or, do come along to the next Calshot session if you haven't ever tried them out – no matter what your preferred discipline is, you will love it! What's more, with great coaches like Dave George and Steve May, you'll be flying round the velodrome in no time at all!"
Thank you for such a fantastic report Seth!
Do visit the Slipstreamers in Action section of our News Hub for more fantastic reports from our wonderful young writers and cycling adventurers!