Volunteering is the life-blood of Hillingdon Slipstreamers, and for a number of our volunteers, the journey begins whilst they are members. For many, this has involved starting off as helpers at events and during club sessions; moving onto becoming Riders Reps for those who want to get more involved; joining the BC Young Volunteer scheme for additional opportunities to grow and develop with BC support; and gradually becoming a qualified Level 1 Coach for those interested. There are no hard and fast rules and our members continue to impress us with their dedication and commitment to the club – amidst the pressures of school and homework, training and racing, and of course finding time to have social lives as teenagers! We are so grateful and proud of ALL our young officials!
As of 2015, the Club Committee have agreed that we will officially recognise a Young Volunteer (age 5 – 16) and a Young Coach (age 16 – 24) for their volunteering efforts at the club. These awards are presented to Slipstreamers who have truly embraced the ethos of volunteering throughout the year and have made a valuable impact and contribution to the club's success by always being eager to help.
Scroll down to view the 2015 Slipstreamers Young Volunteer and Young Coach of the Year winners as voted by the Club Volunteers, and click on the toggle to read a few words from both.

Young Volunteer of the Year
Seth Kanaris – British Cycling & Club Young Volunteer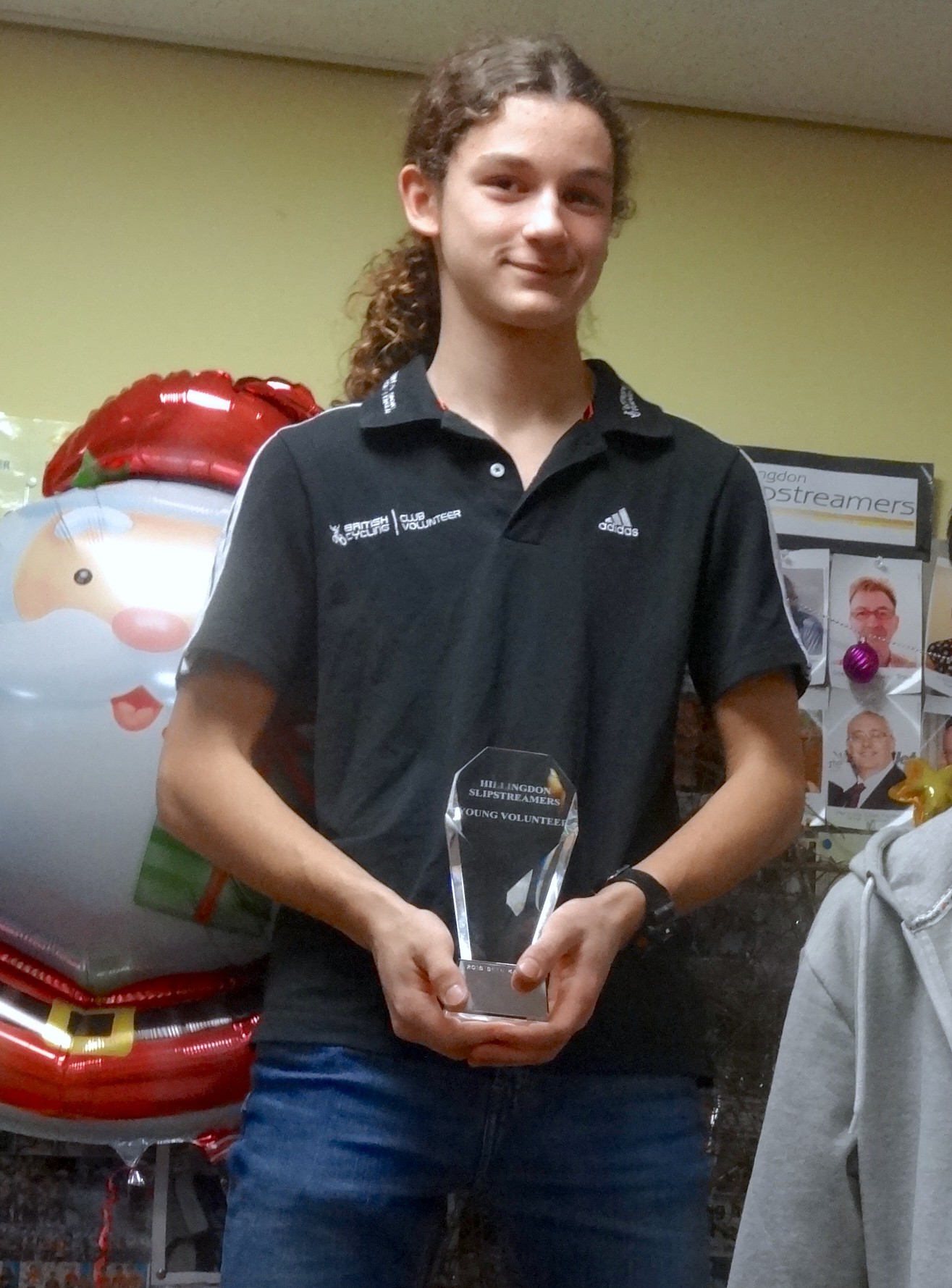 How did it feel winning your Young Volunteer award Seth?
It was a very proud moment because I had worked for it and people had voted for me, meaning I had been recognised and appreciated by the people I help. Which in many ways means even more than the YV award itself. Thank you to those who voted for me!
What is your standout / favourite moment as a YV this year?
As hard as it was, I think I got a lot volunteer-wise out of the Nationals we held in July, as I helped with just about every aspect of the event, giving me an entirely new skill set. I also really enjoyed helping the coaching sessions that formed part of my BC YV award – it feels very satisfying knowing I am helping shape the next generation of cyclists.
Least favourite moment?
There aren't many to be honest, but if I had to reflect it would be when things don't always go according to plan – like bad weather and you have to still coach, or children not listening to you because you aren't an adult. But that's all part of the fun and challenge of being a volunteer.
What has volunteering meant to you this year - why do you do it?
I do it because I know how important volunteers are to sport – I am reminded of this every time I go to club sessions or events. I also do it because mountain biking is a passion of mine and I want to help shape future generations – just like the volunteers at Slipstreamers have helped (and are still helping) me achieve my goals and get better.
What would you say to encourage others to step forward and become a Volunteer?
Do it because it is always very rewarding and feels really good to know you have helped someone. Also cycling as a whole would not be able to function without volunteers so it is a way of giving back and being part of the machine that keeps it growing. Plus, you also get to learn new skills that will help you in general such as coaching and officiating, planning and organising (ok I'm still working on this one), and you get the opportunity to attend the annual Talent Camp (which is awesome).
Young Coach of the Year
Ella Buckroyd – British Cycling Level 1 Coach & Club Volunteer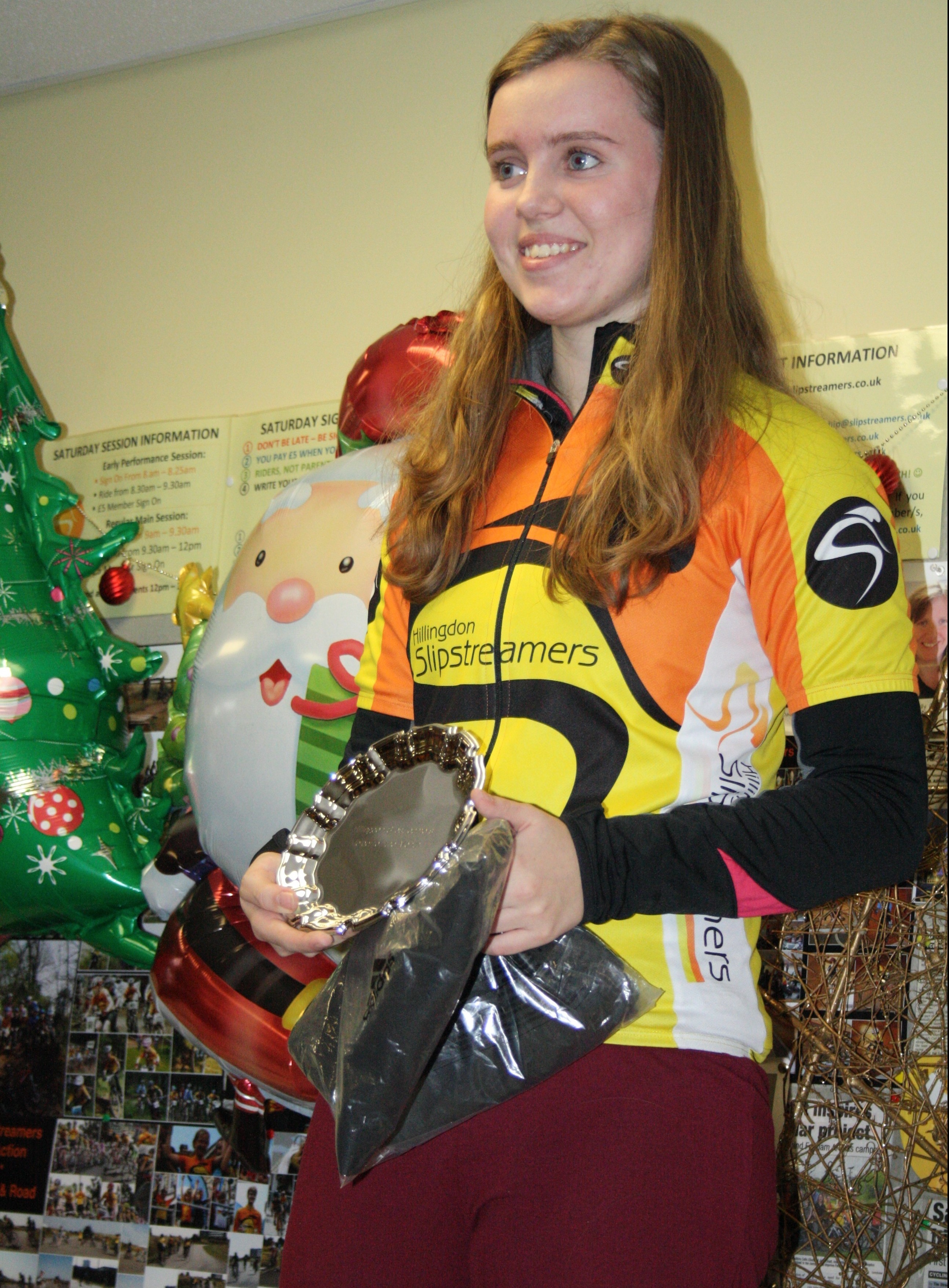 How did it feel winning your Young Coach award Ella?
It felt great because I really enjoy getting to come and help out each weekend; and for people to tell me that they think I'm doing a good job just makes it even better. I don't really think about the fact that I come and help as much as I can when I can because I love it so much; and I know there are a lot of other coaches that do the same. But it feels great that people think I'm deserving of an award for it.
What is your standout / favourite moment as a YC this year?
I can't really pinpoint just one moment but the best bit of coaching has to be watching so many of the kids in the Silver 1 group getting told that they can ride up with the Silver 2's the next week; or helping the kids at the induction reach the point where they feel comfortable enough to do their first lap of the track. Basically any moment where the kids feel like they've reached some kind of milestone because I think that's just as exciting for the coach as it is for the kids sometimes!
Least favourite moment?
Again, there isn't really one moment in particular. But just in general, my least favourite times are when the kids get disheartened because they didn't win a particular race or because they're not improving as fast as they want to; because I think as you move further through the club levels, the focus is more on refining skills and slowly building up the pace. So it's very easy for the kids to not realise how far they've come, which, as a coach, you can look back and see. So watching them lose heart is probably the bit I enjoy least about coaching.
What has volunteering meant to you this year - why do you do it?
I've been coming to Slipstreamers for a few years now and after I turned 16 I realised that I didn't want to just stop coming so I went through the process of becoming a level 1 coach and during that time, I realised that I probably love coaching just as much if not more than actually riding at Slipstreamers. I think I get as much out of it as the kids do when they start to really improve and win their races, seeing how happy it makes them makes me really happy.
What would you say to encourage others to step forward and become a Volunteer?
I think the most important reason why others should volunteer is just because of how rewarding it is. I've never seen this as something that I had to do, it's always been something that I did simply because after getting over the admittedly rather large hump of learning all the names of the kids in your group, it really is great watching them progress through the club. And who knows, one day you might spot one of the kids you coached winning the Tour De France!
Thank you Ella and Seth for taking the time to answer our questions – we are very grateful for all you do for the Club! And a HUGE thank you to the Rose-Davies family for donating the very first Young Volunteer trophy for 2015 – we are extremely grateful.

Remember, volunteers don't do what they do for accolades – but it's always nice to be recognised! Anyone who volunteers for the club is eligible so if you'd like to sign up as helper, please get in touch!
Do visit the Slipstreamers in Action section of our News Hub for more fantastic reports from our wonderful young writers and cycling adventurers!