We all know that Slipstreamers cannot function without volunteers – they are the driving force behind the machine that keeps the club moving and evolving, and from it's early days this has been powered by people with passion and determination to bring cycling opportunities to children.
Every year, the Club hands out awards to two Volunteers that continue to uphold this legacy and for 2015 – scroll down to view and find out more about the winners…
Gwyn Doel Award for Outstanding Contribution – As Voted by Committee

Dave George – Head Coach Extraordinaire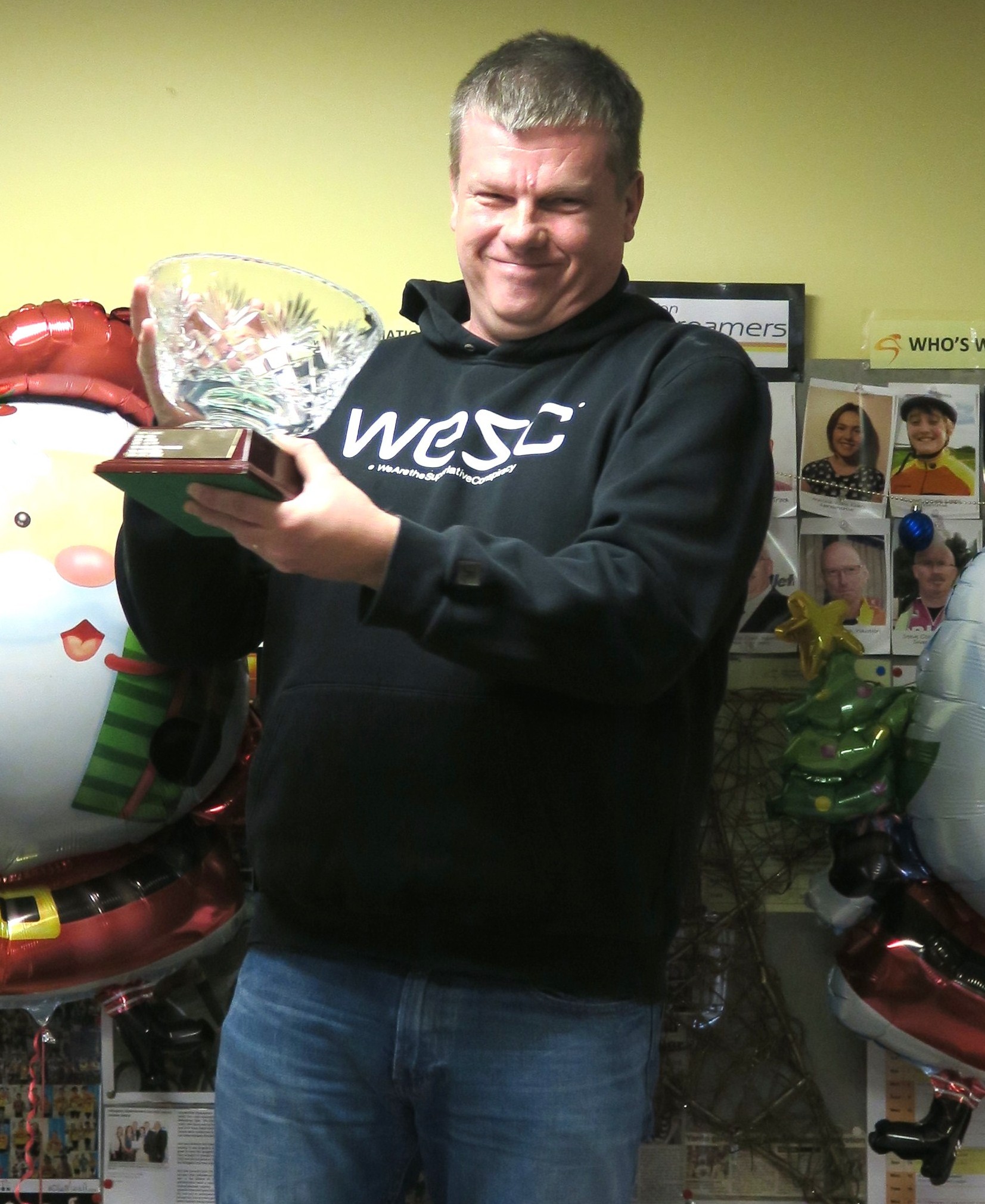 How did you feel when your name was called out - what does this award mean to you Dave?
It's a fantastic feeling to receive an award that recognises the opportunities all our volunteers are working to that helps keep Slipstreamers up there amongst the category of best cycling club in the Country. Awards are great, but "rewards" are the things that keep us doing what we do – and as coaches, rewards are something we continue to collect weekly. It's a bit of a cliche, but as a coaching team we can only deliver what we do with the support of ALL riders, parents and the many volunteers and committee members that keep the club fresh and exiting for all involved.
What is your standout / favourite moment as a Volunteer this year?
So many – but the grit and determination shown by our young riders has been awesome this year – from the club's Sunday in Hell at the Mini Paris Roubaix, the outstanding efforts and great fun had by all in Assen, the countless PB's that have been achieved in Time Trials and of course seeing 5 current riders achieve places at Champion's Night, and the many new faces that have raised their game to start racing and/or track riding.
Least favourite moment?
Seeing riders injured is my least favourite – we had our share of spills in 2015 – even I joined in by breaking a thumb – but on the whole our circuit accidents do seem to be less than in previous years. This is testament to Slipstreamers rider's training with their Coaches to be much more safety conscious.
What has volunteering meant to you this year - why do you do it?
I don't consciously think of my time at Slipstreamers as volunteering – it's a hobby, a passion, and returns to me the most rewarding set of activities I have ever been involved in. I'd be lost without my Saturday mornings with Slipstreamers.
What would you say to encourage others to step forward and become a Volunteer?
If you are passionate about cycling – either as a sport or a pastime – and engaging young people to be challenged, to develop life skills and become athletes at their own specific level and having fun – then getting involved in Slipstreamers is probably for you. In return, you will join a support network that will also see you develop as a person, learn a great deal about yourself and others as well as gaining an immense amount of job satisfaction. The zero-salary-many-hours-contract is rubbish, but if smiles were converted to £'s we'd all be lottery jackpot winners.
Slipstreamers Helper of the Year – As Voted by the Club Membership

Asti Kanaris – Membership, Admin & CWO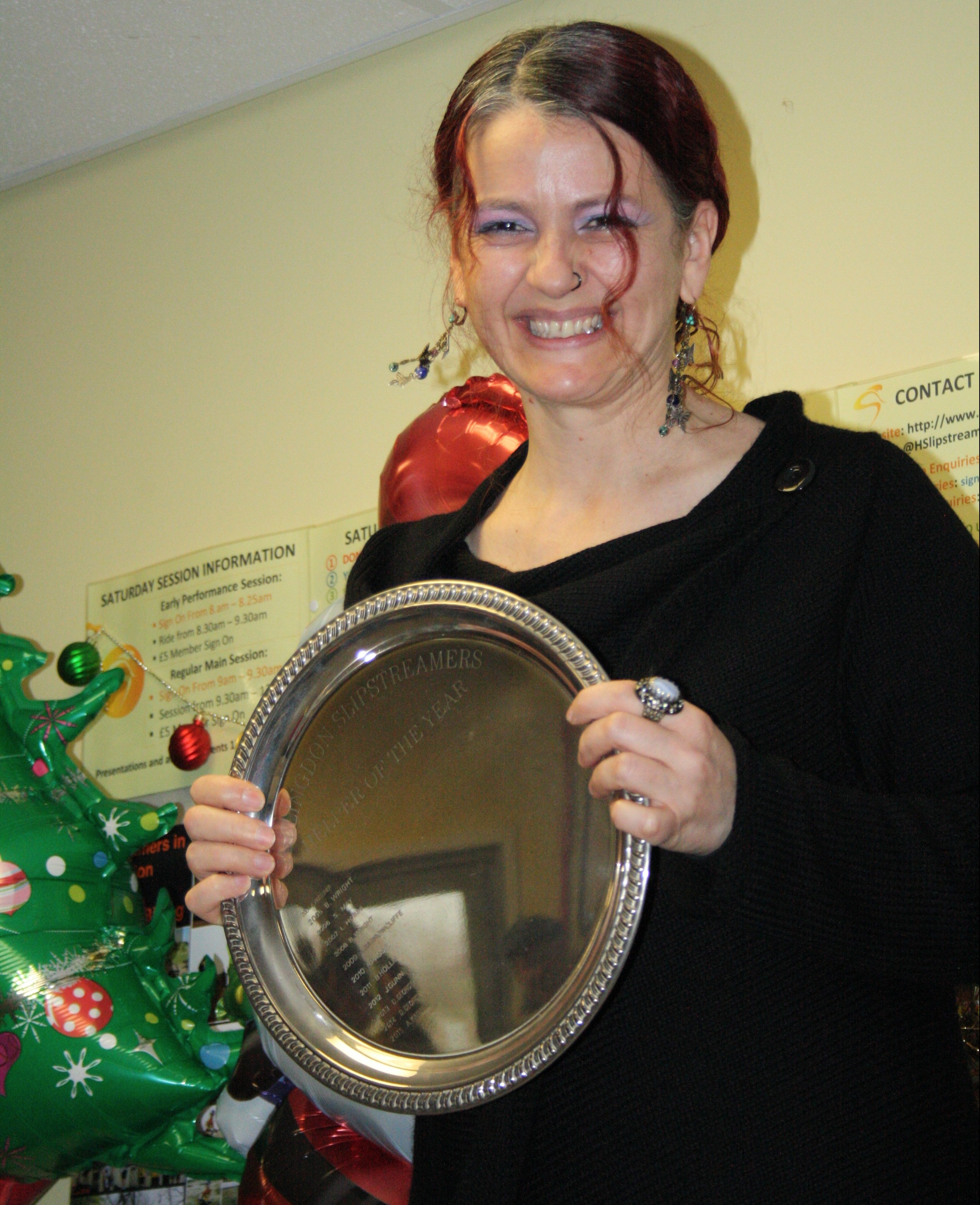 How did you feel when your name was called out - what does this award mean to you Asti?
Unexpected. Emotional. Humbled. It's one thing to receive a vote from your peers, but to receive recognition from our young people – especially as it's mostly "unseen" stuff I do – is something quite special. But none of my role is done in isolation: sign-on can't run without the fantastic team behind the desk every Saturday; the website is useless without the wonderful helpers who make time to keep things fresh; blogs can't be posted without the inspiring children who write them; and even admin only works effectively with a team. So really, whilst my name is on the award, this is really one for the sum of all of us.
What is your standout / favourite moment as a Volunteer this year?
There are hundreds… Our online presence that changed the way we communicate and share stories, news, success; our Young Volunteers stepping forward and making a major impact across the club; MTB going from strength to strength with the epic inaugural weekend in Wales and our first XC Go-Ride races in November; achieving London Youth Quality Mark Bronze Award after endless hours of painstakingly detailed due diligence that has catapulted us into a new realm of opportunities. But mostly, observing the growth and development of our young people – of which there are many moments.
Least favourite moment?
It is very disheartening to witness young people angry and upset at themselves for not having met expectations set for them by others. So more than anything, my least favourite moments are when I can see children not having fun on their bikes because of unnecessary pressure and pushiness.
What has volunteering meant to you this year - why do you do it?
There is nothing more rewarding than being the recipient of an infectious happy smile, engaging in energetic conversation with a young person, watching shyness blossom into assertive confidence, witnessing unbounded enthusiasm come sunshine or torrential downpour (remember the club champs?), feeling the energy of a team that care so passionately… And amidst the apathy and ugliness out there, knowing it is clubs like ours that provide a stepping stone towards a brighter future for our children. That is why.
What would you say to encourage others to step forward and become a Volunteer?
Volunteering at Slipstreamers is about sharing a passion for cycling and caring about seeing young people grow and develop in an environment with like-minded individuals. We have an incredible group of helpers from varying walks of life and all of whom lead very busy lives – they help when they are free to do so, with no pressure at all to do more than they are able. In return, we promise a cup of tea if you help out on a Saturday, depending on your role some personal development if you want it, and of course that warm fuzzy feeling you get when you know you are making a difference!
Thank you Dave and Asti for providing some insight into your roles as volunteers.

Remember, volunteers don't do what they do for accolades – but it's always nice to be recognised! Anyone who volunteers for the club is eligible so if you'd like to sign up as helper, please get in touch!
Do visit the Slipstreamers in Action section of our News Hub for more fantastic reports from our wonderful young writers and cycling adventurers!