Rider Report from Newport Youth Icebreaker Series 2016

By Jed Smithson, U12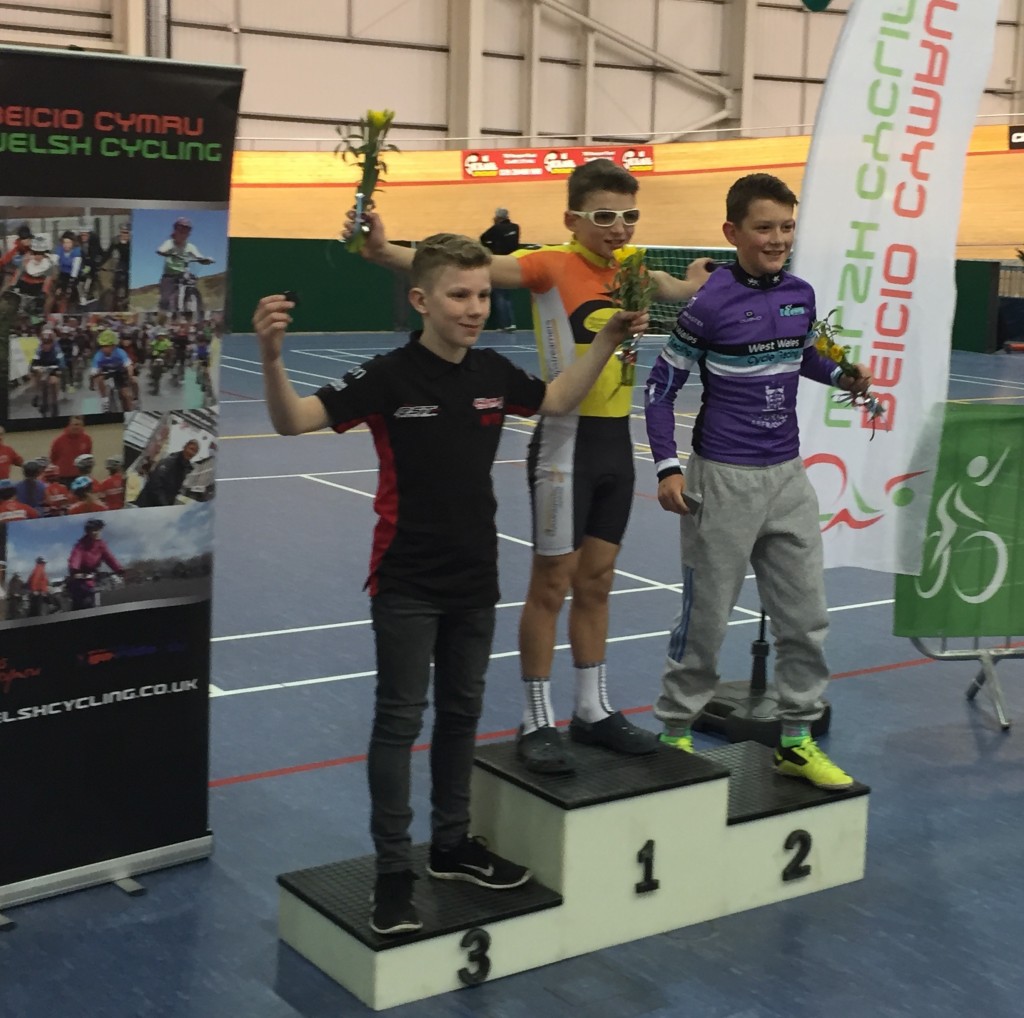 "I love riding on the Velodrome and I had heard about Icebreakers series at Newport Velodrome. I asked my Dad if I could race in that series. He said yes but it is very competitive and as a first year under 12 rider I should get some experience on the Velodrome at Newport before entering. We enrolled for the beginners course in order to gain a cycling pass which allows young riders the chance to attend both public sessions and also the Mini Track League for beginners. The course was 5 weeks and it was really good. This set me up to attend on Saturday mornings for the public session.
Unfortunately this clashes with Hillingdon session and some Cyclo Cross during the Winter. I was disappointed to miss Hillingdon but the Velodrome is exciting. From Saturday mornings I asked if I could do the Mini Track League on a Tuesday evening and I did that as well. Mini Track League is for beginners but is very competitive and was great fun. It is a pity that I have to do the thing I hate most (Car Journeys) to do the thing I love doing (Riding Velodrome).
Anyway the first round of Icebreakers was a bit scary! Lots of really great riders a big crowd and a full grid. In fact I was very nervous indeed. My first race I decided to attack but having started at the back this was maybe a mistake and although I was away at the front Josh Tarling came past like I was not pedalling!!! Then I was caught by a group of 3 riders. I couldn't keep up as I was dead but it was the last lap so I finished 5th in my first icebreaker race. Race 2 points race I scored a big fat zero so things not going very well at all and trying very hard but just too difficult. My friend Arlo Carey who is a great rider also was struggling. Finally in the 3rd race the Elimination race I got a fourth place and I was very pleased with that. Actually I finished 6th overall and that was very pleasing considering everything. I had hoped for top 5 so actually not bad. Josh Tarling won every race and looked unbeatable.
Before Round 2 I continued to attend Newport on Saturday and Tuesday night Mini Track League and worked on some ideas to help me. I arrived for Round 2 feeling a bit nervous but really looking forward to racing at this level again. First race was a scratch race again but this time I did not attack but waited in the group. First attack came from Ben Askey and then Josh Tarling followed and chased him down but I was on his wheel! He passed Ben and pulled us away. He turned and saw me and pulled up for me to pass and we continued the pace taking turns at the front. In the final sprint he was leading into last corner and I went to the outside passing him on the line. Race 2 was the points race. Josh took maximum points in first two sprints as I was too far back and scored zero. Then moving forward I took the next two sprints and was second by only 1 point to Josh. Race 3 was the Elimination a race that I love, and I knew that whoever won between Josh and I would be Round 2 winner. We ended up being the last two riders so had 2 laps to race each other. On final corner Josh moved high for downhill sprint to the finish and I moved up to block him! I got the sprint and was the winner. Josh and I had great fun throughout the day and he was asking if he could hide as he wanted to avoid a family visit to his grannies which I thought was funny.
Having won round 2 I was hoping that I could be competitive again in round 3 but I also knew that all the best riders would want to win this one. First race I stayed in the middle of the pack until final lap and then sprinted from the group on back straight. (Maybe left it a little late!) but managed to win across the line JUST! Race 2 was points again and I tried to get some early points this time and took 3 maximums from 4 so I got that one. Race 3 Elimination race was a strange race but always my favourite so in the Elimination race Josh needed second for title of the series and I needed win to win round 3. Again the last two laps were a battle between Josh and me but this time when I was high Josh came up to block me so I attacked as soon as I saw him coming up towards me! I got that one so I was Round 3 winner and Josh had the title so well done to him.
I have loved the racing at Newport but I have been nervous quite a few times especially before the very final race. Josh has become a great new friend and everybody got on really well. I just wish we had a more local Velodrome!! I also enjoyed watching the older riders at Icebreakers especially those from Hillingdon. I would recommend all HSS riders to go to Newport and race as soon as you can."
Fantastic report and what a great result Jed!
Final series report and list of results here. And well done to all Slipstreamers who took part at such a great event. Full results from individual results are all available by searching "Icebreakers" on the British Cycling website.