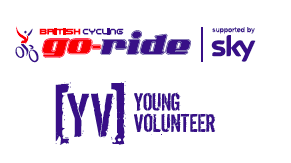 Would you like to make a difference to your Club Community? Do you think you have what it takes to become a Young Leader? Are you passionate about cycling and sport in general? Are you someone who always likes to lend a helping hand? If you answered yes to any of these questions, and are aged 14+ (or about to start Year 9 in September) then we may have just the thing for you…
The British Cycling Award Award for Young Volunteers (CAYV)
The CAYV programme – full details of which can be found on the BC website here – is designed to help young people learn the fundamentals of volunteering through loads of practical and hands on opportunities that help you grow leadership and communication skills. Young Volunteers work towards a Bronze, Silver, Gold, and ultimately Platinum Award. At age 16, YVs are eligible to apply to become a British Cycling Level 1 Coach, an opportunity that has been taken up by a few of our Slipstreamers members. Slipstreamers are calling on our eligible members who are interested in becoming a Young Volunteer to sign up for the next CAYV workshop online via this link here, which will be held at the circuit during a regular Saturday session, on the 24 September from 9am – 12pm.
What Do I Do as a Young Volunteer?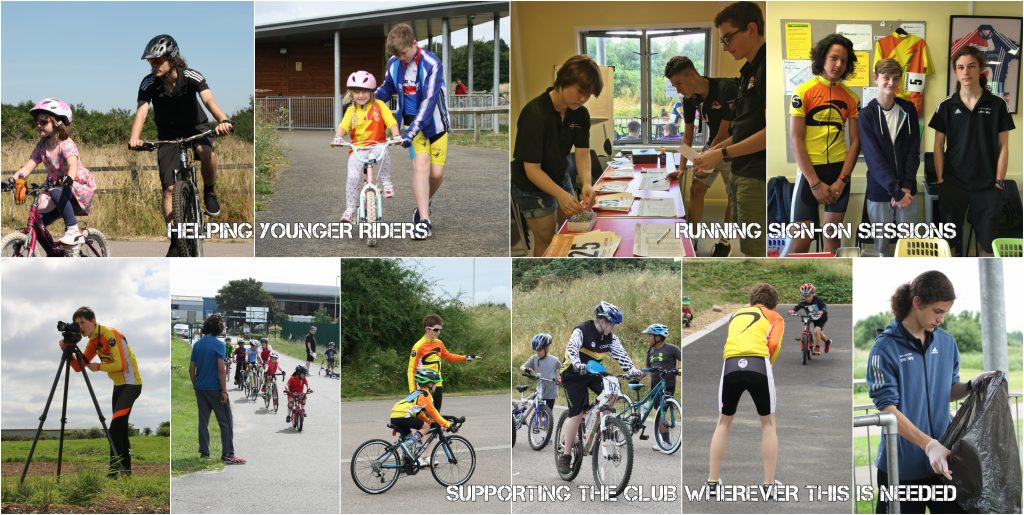 There are loads of things you will get involved in. For example, activities our Young Volunteers at Slipstreamers have been engaged in include taking charge of the Saturday morning sign-on desk, supporting coaches during regular and induction sessions, and helping out at the mechanics huts – to name but a few. Our YVs have also helped out at BC events off-site, been given responsibility for meet-and-greet of VIP guests to the Club, supported Summer holiday coaching sessions, and even led sessions as part of their YV  Platinum Award. If you have any particular skills such as photography or video production, you can practice these on behalf of the club just like YV Morgan has done here. You will never be forced to do something you dislike intensely – although occasionally we may ask you to help us with litter pick-up – and we will do our very best to help you develop and grow your skills as a volunteer in the areas you are passionate about.
What Do I Get Out of It?

Aside from the warm fuzzy feeling of knowing you have made a difference and are growing your skills, As a YV, you will also receive free branded volunteer clothing, certificates of achievement per award, a trophy on completion of your gold and platinum, free memberships, and much more. More importantly, though, the opportunities available to YVs also extend to include being eligible to apply for the annual National Talent Camp, invited to join Emergency First Aid workshops, and having the option to volunteer at high profile sporting events across the country. You will also receive the full support of the team at Slipstreamers every step of the way; including the benefit of the experience of our current Young Volunteers at the club, whom we have no doubt will be a useful point of reference should you need it – check out some of their stories.
I'm Already Volunteering Elsewhere – Why Bother with This?
That's fantastic to hear! Depending on what you are doing and how much volunteering you want to do, it is worth nothing that if you are also partaking in (or planning to) the Duke of Edinburgh Award, the volunteer hours you spend as a BC YV can also count towards this. Moreover, we have heard from university and college lecturers that applicants to their courses who have taken part in multiple volunteering schemes are generally looked upon quite favourably, especially when they are faced with having to filter through reams of applications for entries!
Won't This Impact my Schooling – I Am Super Busy with Homework and Exams!
Balancing school, sport, home and social commitments can be challenging – and volunteering is not for everyone. If you feel strongly that you want to become a Young Volunteer, we recommend joining the CAYV workshop, after which you can complete each award at your own pace. For some it will take a few months, and for others a year maybe longer – whatever your schedule, we will support you and there is really no pressure or time limit!
Sign Me Up!
The next CAYV workshop at will be held at the circuit during a regular Saturday session, on the 24 September from 9am – 12pm. You will need to sign up for this online via this link here – if you are not yet a British Cycling member, you can sign up for this for free by following the instructions on this page here. This workshop is the first step towards becoming a YV, and everything is explained to you in great detail during the session. Even if you don't intend to volunteer for a few months yet, it is still worth attending the workshop as they don't happen often!
Once you have booked your place, please let Asti, the Club's Young Volunteer Co-Ordinator, know.