The Background
September 2018 has been one of the busiest month's for Slipstreamers on record. Collectively, we have been all over the country racing, crossing, time trialling, mountain biking, holidaying with bikes in amazing settings, started our club championships and track sessions, hanging out with celebrities, and stopped wearing shorts to return to school and/or work after a long hot summer. So, could we fit something else in? Of course we can – that's how we roll.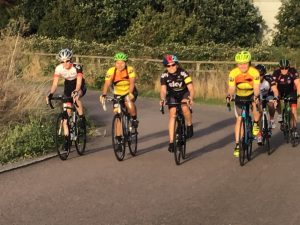 The club was approached by Keith Reed, British Cycling Go-Ride Coach South, to see if there was any possibility that we could provide riders to act as competition for the UK Invictus Games Cycling Squad. Keith, as well as his Go-Ride role, is the UK squad's coach and was instrumental in establishing the Charlotteville Rascals cycling club in Guildford. We was running a two day training camp and wanted some Slipstreamers and Charlotteville riders to be on site at Hillingdon for a 18:00 prompt start to take part in some activities.
For those that may not know, Invictus Games is the brainchild of Prince Harry to help rehabilitate ex-servicemen and women that have been physically or mentally wounded or whom have been injured or become long term sick. The games is multi-sport, and the Cycling Squad is just one arm of the total UK Team. In October, the squad fly to Sydney in Australia to compete against athletes on the international stage between October 20th and 27th. Hillingdon at 6pm? After school/work? For the chance to ride our bikes? – Sure Keith. Sign us up!
The Event
The two day training camp started at 09:00 on the Monday, and because of a few logistical challenges, I made myself available to help open up the circuit, make the tea, clean up the first minor casualty of the day, get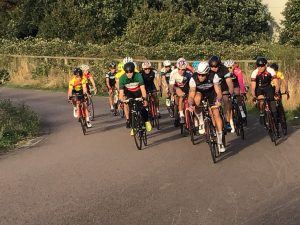 signs out and just be around if anything needed doing. I have know Keith for over 10 years, but have never actually coached with him so this was a great opportunity to get involved. The morning opened with all riders getting familiar with the World Class Warm-Up and the benefit of doing so was driven home before any circuit work started. At this point it is worth noting that there was a range of athlete's machines available. For instance, recumbent (where you lie on your back) tricycles and hand-driven tricycles were out in force, plus what the athletes call "uprights", which to you and I are standard bicycles. The "upright" riders in some cases also had Time Trial specific bikes to work worth. All riders were incredibly proud of their equipment, and were more than happy to discuss modifications they had had made, and also how funding (and also lack of funding) carved out decisions over equipment for them.
After practising and repeating certain skills elements and benchmark tests, we got the opportunity to talk about the arrival of the "expert riders" that Slipstreamers was providing later that evening. Chatting with many it was evident that cycling had not always been their choice of sport, and one which circumstance had chosen for them. For many, where running had been their sport they were coming to cycling without either the foundation skills or the opportunity to ride in large bunch events. The excitement was beginning to mount….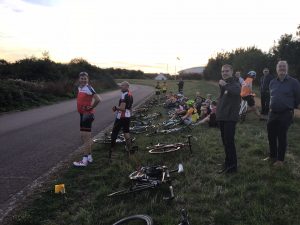 Just after 17:00 volunteer riders started to show up. Some arrived with drivers, some riding to the circuit on their own. Lia even came straight from school, and borrowed a circuit bike so that she could take part. Great to see ex-Slipstreamers Tom Portsmouth and Ieuan Woods (along with frequent visitor Lewis Haller) come along as part of the Charlotteville riders. Of course, this was a free-of-charge event, so admin was at a minimum, so we hit the deadline with 10 minutes to spare to be ready to ride. The circuit had been double booked in the evening – Hillingdon Triathletes were arriving to race in their duathlon series. A bit of friendly negotiation was needed to carve up the circuit appropriately so we could all share!
Keith gave his briefing, and the session was started. Kicked off with some bunch work at a progressively higher pace gave the male athletes an excellent workout. Our riders on their youth restricted gearing were spinning like spinning things, but able to generate enough power and use their skills to provide the desired level of competition. The female riders made their own group, and was an absolute delight to hear our ladies pass on information about the racing line, tactical positioning and bike handling. Moving to the top circuit, Keith put on a highly combative Elimination Race – the atmosphere was electric as all riders, parents and helpers sat and chatted in the dimming summer sun as it started its descent behind Sainsbury's. Afterwards we made our way back to the clubhouse, for debrief and lots and lots of thank-yous.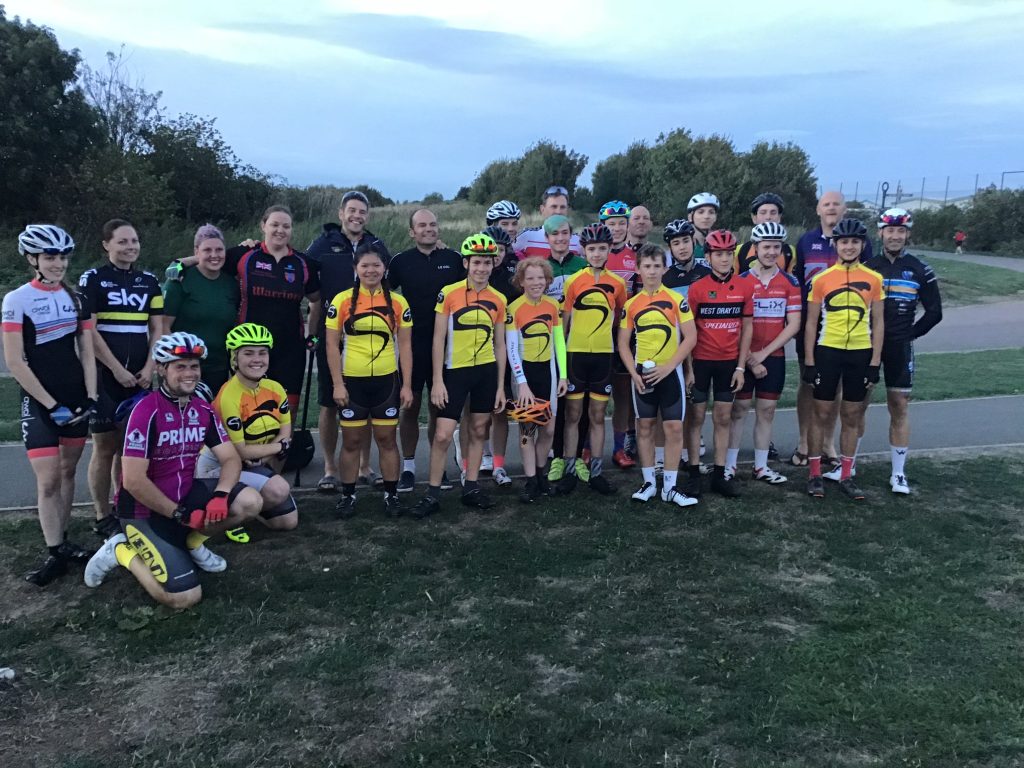 The Contribution
The following day I had chance to talk to the riders about what they had learned, and a nice touch was that Toby had filmed a lot of the riding on his Go-Pro. Being able to show the riders how the young riders are so well drilled in skills, especially cornering, that they are able to slice into turns without many of the small corrections that our guests were making. This visual analysis was key in showing what the Gold Standard looks like and gave them something to learn from. Also, by reaffirming the message that "Practice Makes Permanent", something that resonates with ex-service personnel greatly, helped give them targets to work for.
Everyone was so grateful for the time that was given by the two clubs, and our hospitality was greatly appreciated. Keith is very open to using Hillingdon for future training camps, so we look forward to being able to build on this for future years. The BBC were in attendance most of day one, filming the background interviews for when the actual competition is shown on TV in October. We wish all the UK Invictus Cycling Squad all the best for the games – and a big thank you to them for letting us share a part of their amazing journey.