The Slipstreamer Experience
Starting in July 2019, we shall be hosting monthly sessions for riders aged under 5. As the minimum age for Slipstreamers is 5 years old, these additional sessions are for younger riders who will not yet be full Slipstreamers members, but can join in and gain from the Slipstreamers experience enjoyed by older members.
Each session shall run on a specified Saturday of the Month, starting July 13th, please check calendar and social media for further date details. Coach Mel will be leading the sessions. The sessions will be aimed at building cycling confidence through games and activities following the framework of British Cycling's "Ready Set Ride" programme.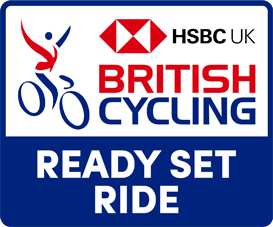 Some questions you may have
What time do the sessions start?
The session will run from 10am to 11am on the specified Saturday of the month. Sign-on shall be after main member sign-on has ended, so please arrive and be completed with the sign-on process between 09:30 and 09:50
How much does it cost?
Nothing! The Slipstreamers committee have decided that these sessions promote learn to ride skills which will be beneficial to children whom go on to become full members of the club
Will I need a bike?
Ideally yes. The bike doesn't need pedals – such as a Strider Bike – where balance skills can be learnt without worrying about the pedalling dynamics. We have a limited supply of balance bikes – but it would help us greatly if you have one that you can bring along. Regular bicycles are also allowed – we may take the pedals off to focus on balance where necessary. Scooters are NOT allowed in the sessions.
Any other equipment needed?
A suitable cycling helmet that conforms to UK safety standards and fits your child properly is mandatory when at Slipstreamers. Gloves and suitable clothing for cycling are also highly advised. We would advise against elbow and knee pads as they can resrict range of movement – but parental discretion shall be respected
Anything else?
Parental consent forms will be required to be signed on the day. Any relevent health information will need to be stated. Also, if photographs of your children should not be taken, please highlight this to the sign on team.
There is no booking process – just turn up on the day and be prepared for fun!
More details
For any additional information please contact info@slipstreamers.co.uk
For details on the Ready, Set, Ride programme please visit here