A pleasant Sunday morning with fair conditions, saw 11 riders competing in the London West regional heat of the GHS. Through the quiet rolling roads around the Beenham's Heath club time trial course, young riders, some of whom were taking part in on-road Time Trials for the first time, gave their best efforts to qualify for the National Final in Teeside later on in the year.
The start sheet was an almost even mix of entries from Slipstreamers and Palmer Park Velo – great to see the two clubs supporting Time Trials events in this way. The additinal riders of Charlie Bailey and Adam Charleston, both Slipstreamers who moved on when turning 16, and Eva Callinan riding for her Liv AWOL team.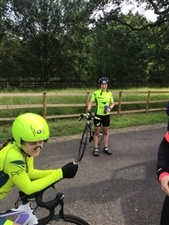 The Boys
Charlie Bailey, currently without club/team, proved that he has been building his TT ability made a massive dent in the times of others, managing to cover the 10 mile distance in 21 minutes 42 second. His old sparring partner Adam Charleston managed to pull off a sub-24 recording 23:45. This is the last year that Charlie and Adam shall be eligible for the GHS events – and thank them both for their support in this and past events! 13 year old Alex Franks demonstrated his on-form capability fresh from winning a round of the National Youth Series at Minehead the previous afternoon, took 3rd place with a 24 minut 19 second run. 
Strong rides from the other boys made up the results as follows:
Charlie Bailey, Unattached, 16, 21:42
Adam Charleston, High Wycombe CC, 16, 23:45
Alex Franks, Hillingdon Slipstreamers, 13, 24:19
Dan Goodwin, Hillingdon Slipstreamers, 15, 26:27
James Brown, Hillingdon Slipstreamers, 13, 27:09
Noah Horton, Palmer Park Velo, 12, 28:56
Huw Watkins, Palmer Park Velo, 12, 33:11
The Girls
Four young ladies taking part in the event this year, which is just over a third of the total of finishers. Eva Callinan and Sophie Quay-Clark both competed in the National Youth Series the day before and both noted the strains of overloading the two back to back events.
Eva looked as smooth on the bike as ever, and has quickly recovered from her early season collar-bone injury to get back on form and record a time of 24 minutes and 46 seconds. GHS newcomers Astrid, Sophie and Caitlin also looked very comfortable racing on the open roads for the first time.
The girls recorded times of:
Eva Callinan, Liv AWOL, 15, 24:46
Astrid Spragg, Hillingdon Slipstreamers, 12, 28:06
Sophie Quay-Clark, Palmer Park Velo, 14, 30:58
Caitlin Havisham, Plamer Park Velo, 12, 31:25
The Qualifiers
The following qualifiers shall be automatically entered into the GHS Final which will take place on 14th September in Teeside
1st Boy: Charlie Bailey
2nd Boy: Adam Charleston
3rd Boy: Alex Franks
1st Girl: Eva Callinan
2nd Girl: Astrid Spragg
3rd Girl: Sophie Quay-Clark
Team: Alex Franks, Dan Goodwin, James Brown
12 Year Old: Noah Horton and Astrid Spragg
13 Year Old: Alex Franks
14 Year Old: Sophie Quay-Clark
15 Year Old: Dan Goodwin and Eva Callinan
16 Year Old: Charlie Bailey 
The course, whilst being great for allowing young riders experience of TT's on open roads, is not the fastest of routes for those looking to smash a P.B. Many riders can get caught up with traffic and paying attention to other road users and being safe is paramount. Under these conditions, it is often likely that times are higher than we see in a closed circuit environment where considerations can be significantly fewer. 
Big thanks to all riders and their parents – many of whom offerred to help out by donning a "Jilly-John" and get stuck in with marshalling, rider holding and assistant time keeping.