Last August, Slipstreamers descended, with their families in tow, upon the town of Cognac in South West France. This was to take part in the 81st edition of the Semaine Federale organised by the French Cycling Federation. The Semaine Federale is an annual event that moves around France, to provide a week of cycling activities to its members and guests from around the world. On average, over 16,000 people take part in covering planned daily routes which vary in distance from 40km to 200km.
This year, the 82nd edition of the event takes place in Valognes, Normandy from the 2nd to the 9th of August 2020. With Valognes being only 30 minutes drive from Cherbourg, we would like to build on the success of last year and encourage more families to join us.
Please read through this guide to understand what to expect. If you have any questions, please contact Dave or Sam at the club
My interest is road cycling
Over 7 days, a plan of daily routes is made available. Sub-routes of different distances are available to meet lots of different expectaions and abilities. There is no set start or finish time – and can be executed at your leisure. The roads are not closed to traffic, but are usually very quiet in terms of traffic usage. Each route is designed to give an insight into some of the best parts of the region. The programme is as follows:
Day 1 Sunday: "Like a thoroughbred through the marshes" – 4 routes starting and ending in Valognes from 50km to 170km
Day 2 Monday: "From BCN-BPF to BPC (Bulots, Pommes, Carrots)" – 4 routes starting and ending in Valognes from 45km to 180km
Day 3 Tuesday: "At the edge of a beuatiful and wild nature" – 5 routes starting and ending in Valognes from 40km to 160km
Day 4 Wednesday: "Head North where the road meets the sea" – 5 routes starting and ending in Valognes from 40km to 170km
Day 5 Thursday: "Le Picnic" – 3 routes starting and ending in Valognes from 45km to 85km with a catered picnic in Saint Vaast la Hogue
Day 6 Friday: "On the beach of heroes!" (UTAH Beach) – 5 routes starting and ending in Valognes from 50km to 150km
Day 6 Saturday: "The Coast and the Islands – In the Wind!" – 4 routes starting and ending in Valognes from 50km to 150km
All routes are signposted. The distance can be selected on the day – you even have the opportunity to change your mind mid-ride!
My interest is Mountain Biking
The options for MTB are slightly different in that the routes generally start out of town, and there is no shuttle service provided to get there. However, as with road cycling, the best locations of the regions have been chosen to give you the best experience.Here are some highlights of the programme:
Day 1 Sunday: "Cape or not Cape" Max distance: 70km
Day 2 Monday: "The fortress of Cherbourg" Max distance: 60km
Day 3 Tuesday: "Ireland or Scotland? No the end of Normandy" Max distance: 65km
Day 4 Wednesday: "The fortified bay" Max distance: 65km
Day 5 Thursday: Le Picnic
Day 6 Friday: "Freedom by Air and Sea (UTAH Beach)" Max distance: 85km
Day 7 Saturday: "Finding Mother Dennis" Max distance: 80km
What if family members are not mad about cycling?
There are a number of options:
Walking trips
There are two walking excusrions offerred each day.
These are guided tours, with shuttle services provided to and from start and ends.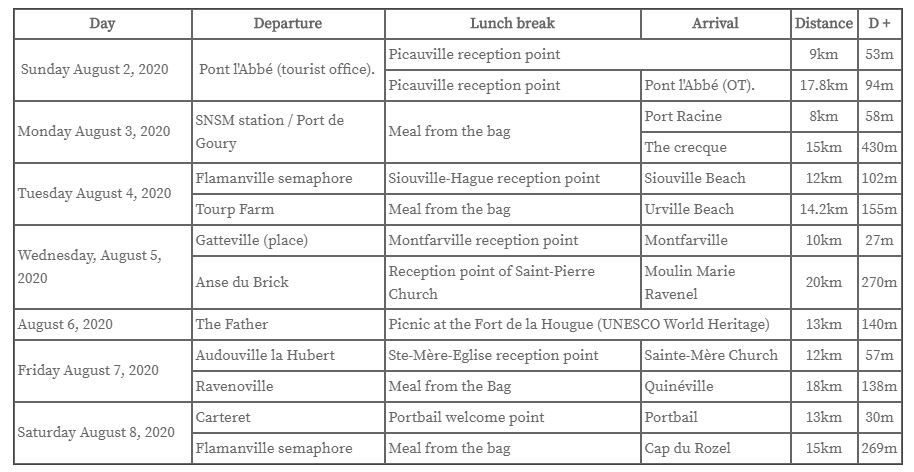 Coach Trips
Every day (except Thursday – the Picnic Day), excursions to different parts of the region are available.
You pay for each excursion, and it is wise to book in advance when you sign up to the event.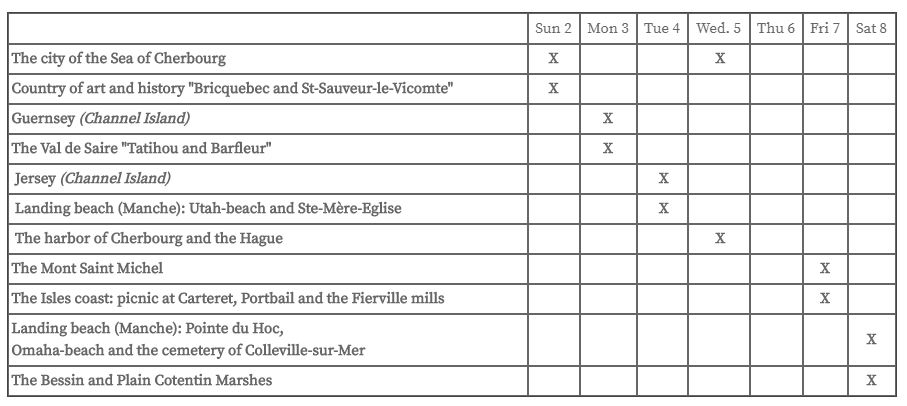 Youth Club
Young people attending can also attend Youth Club. Youth Club rund from Monday to Sunday offering days that will be made up of fun, cultural, sporting activities and road and mountain bike excursions. The groups will be made by ages and supervised by qualified people. Youth Club is open to anyone aged between 10 and 18. Participants can be dropped off in the morning and collecting in the evening.
The activities programme is as follows:
Sunday: Registration
Monday: Depart from Valognes by bike to Saint-Saveur-le-Vicomte. Canoeing on the river Douve. Return by bike
Tuesday: Depart from Valognes by bus to Beaumont-Hague. By bike to Nez de Jobourg. Explore Jobourg caves (5 hours). Return by bike and minibus
Wednesday: Depart from Valognes by minibus to Cherbourg. Boat trip around the harbour. Bike ride round Cherbourg. Return by mini-bus
Thursday: Depart Valognes to Saint-Vaast-la-Hougue by bike. Introduction to shore fishing. Picnic. Visit Tatihou island. Return by bike
Friday: Depart Valognes by bike to Saint-Mere-Eglise. Visit to Landing Sites. Return by bike
Saturday: Depart Valognes to Bricquebec by bike. Visit dungeons. Visit archaeological site in Rozel and return by mini-bus
Age: from 10 to 18 years old.
Cost: 10 € / day and per child.
Distance: be able to do at least 20km / day and more for the most enduring
Volunteering: if you wish to be a volunteer, there is scope!
Place of reception: the federal village, in green on the map.
Meal taking: meals are taken care of and made by a local caterer every day.
Type of practice: MTB and road
Compulsory equipment: helmet, gloves, reflective vest, small repair equipment (pump, patch kit, inner tube at the correct wheel size) and clothing adapted to the weather.
Frequently Asked Questions
What are the accomodation options?

Camping: This is by far the most popular with Slipstreamers. When you book, you will be able to book as part of a group which means we all are pitched together. Last year, the camping pitch for the week was €30.00 per pitch, and the weekly cost per person was €25 per adult and €10 per under 18
Municipal Accomodation: The local universities open up their halls to participants who require. Cost will become clear when booking
Homestay: You can stay as guests of a volunteer famly in their home. This has a B&B charge of €7.50 per person per night
DIY: You are free to stay in hotels or guest houses at your own expense

What are the catering options?

Breakfast (€7.50 per day) can be purchased, as well as evening meal (€15.50 per evening) – both are exceedingly good value with water and wine included in the cost.
Picnic can be purchased and is provided for you on picnic day
End of week meal is exceptional and is highly reccomended at €26 per head
The campsite also has BBQ and other food options, as well as bars and stalls
You are free to make your own on site, although BBQ's are not allowed
You are free to make your own arrangements

Is this only open to Slipstreamers?

No. This is a public event and we would be happy to assist anyone wanting to join us
Parents need to be responsible for their children when riding within the event as laid out by the event organisers
Slipstreamers are therefore not responsible for children, unless suitable provision has been made with the club

When does registration open?

This year, registration is open from 15th January, although there is no rush. The event does not fill up, but registation does close in June
Registration is online. You will need to pay for a visitors license and some insurance, as well as deciding if you want to book anything additional – remember road cycling is free, but anything else will have an associated cost
You can also elect to top up a wallet-bracelet. Payment is electronic at sites within the event – so this is advised but not mandator. You can always do it once you get there

Do you have any useful links?
Next Steps
Please do let us know if you would like to come along with us to Europe's largest week of cycling events. Please do let Dave or Sam know, or if you require more detailed information please drop coaches@slipstreamers.co.uk an email. There is no limit on participants, so it would be great to have you along for a week of great cycling!