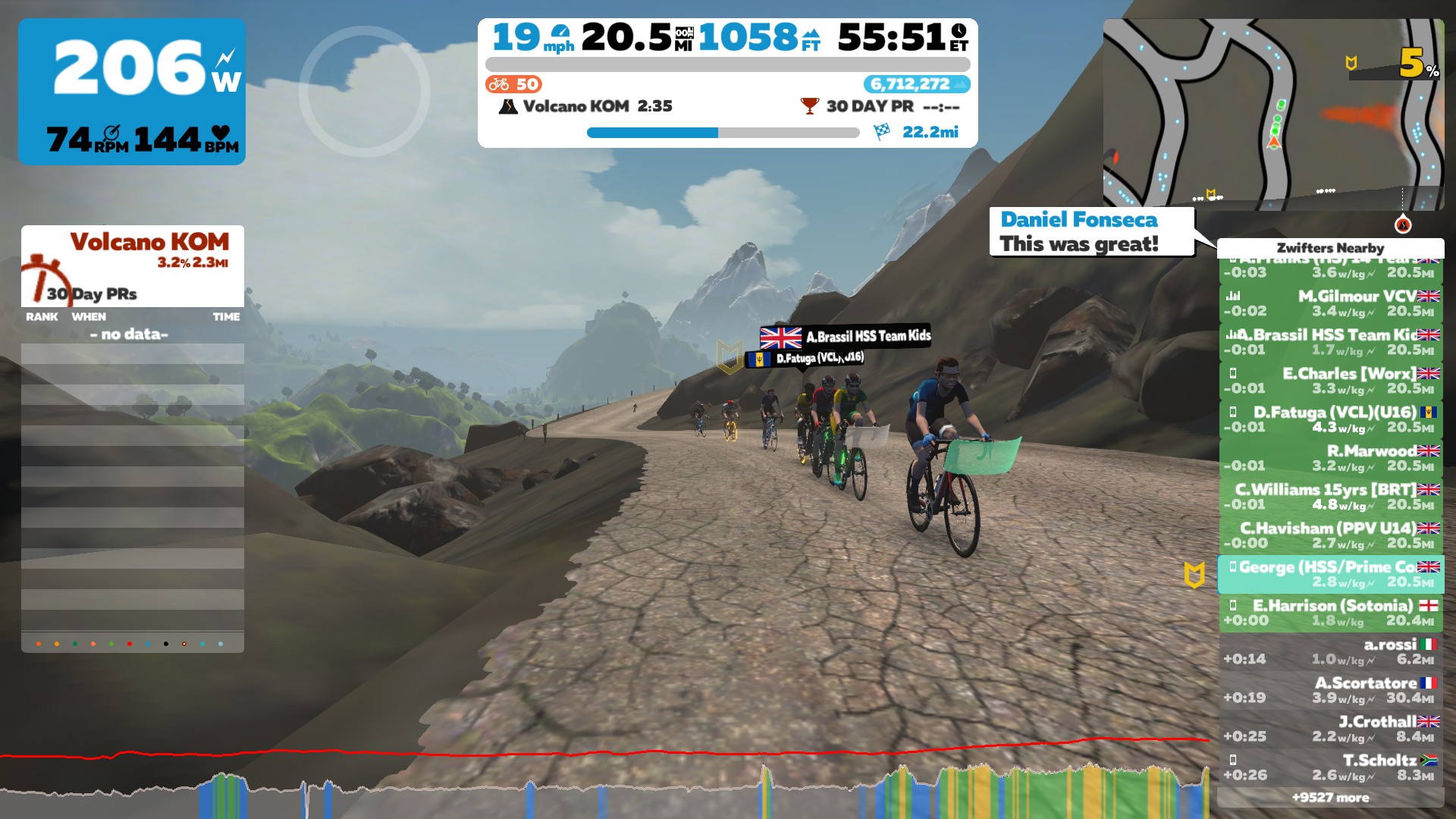 A Guide to Getting Started with Zwift
What is it?
Zwift is a massively multiplayer online cycling and running physical training program that enables users to interact, train and compete in a virtual world. The company responsible for Zwift, Zwift Inc., was cofounded by Jon Mayfield, Eric Min, Scott Barger and Alarik Myrin in California, United States, in 2014. The Zwift game was released in its beta version in September 2014 and became a paid product with a fee of $10 per month in October 2015.
Zwift allows players to ride their bicycles on stationary trainers while navigating through six virtual worlds (Watopia, Richmond, London, Innsbruck, Yorkshire, and New York – a seventh world, Bologna, is available for certain time trial events, and an eighth, Crit City, is available for short, criterium-style, races). Players may cycle freely around the game world and join organised group rides, races or workouts with other users. Zwift uses ANT+ or Bluetooth Low Energy technologies to transmit data that, in combination with athlete weight and equipment choices, is used to convert the athlete's efforts as speed and power (watts). "Smart" trainers, which include a built-in power meter, permit accuracy in the measurement of watts as well as enabling an immersive technology experience, where resistance is applied or lessened to simulate the gradient encountered on the virtual course. Zwift estimates the power of users on conventional trainers via the user's cadence and the power curve of a wide range of specified trainers. (From Wikipedia, the free encyclopedia)
What do you need to get started?

As the above explains, the minimum requirement starts with a bike and some sort of indoor trainer to put the bike onto. This could be a set of rollers, a standard turbo trainer or a Smart Trainer. Rollers and a standard turbo also need some sort of measuring device that will allow communication to the Zwift application so that you can progress through the virtual roads. Smart Trainers, whilst being more expensive, have the added benefit of having those sensors built in. A Smart Trainer also enhances participation by having two way feedback between the game and the trainer – in simple terms, if the game goes up hill then the trainer resistence increases automatically.
Next – you need a Zwift subscription. The good news is, Zwift give away free subscriptions to Under 16's whilst over 16's have to pay £13 per month. Follow this link for advice on how to get a free chld subscription. You also need something to run Zwift on. It runs on certain PC's (check requirements), some Android devices (check specifications), Apple iOS, including MacBooks, AppleTV, iPhone and iPad.
So that's the basics, but choices are near endless. Our advice is to start with what you have, look to what you need, and think about what your upgrade options might be if you plan to be a regular Zwift consumer. The excellent getting started guide is always up to date and can help you with your buying choices.
Is it safe to use?
From a safegaurding point of view, the Zwift platform is very low risk. However, there are some rules we advise you to follow:
Use the Free U16 account. This has built in protection that prevents adults contacting minors and shields them from public in-game messaging
Keep your account private. Only accept follow requests from people you know and who you want to see your data
Don't put your age in your on-screen name. We would advice you to just put your British Cycling category by your name – such as "Wayne Owner-Rider (B)"
As coaches and organisers we sometimes ask riders to follow ourselves, so we can invite you to events. Coaches should NOT follow you back. We do not need to see your data unless involved in 1-2-1 coaching, and there are better tools for that than Zwift
We also avoid direct personal messaging – we always send messages to groups and not individuals
When we organise events, we also block out all other riders so that it looks like we have Zwift to ourselves!
How do I join in?

With Slipstreamers, we maintain a calendar of events. The calendar is arranged with the time of the event, who the event is for, and whether it is a ride, a workout or even a race. The calendar also contains the name of the leader or organiser. This is important as you will need to follow the organiser to get an invite to the event.
Events are by invitation only! So you will also need to download the companion app to your phone or tablet. This acts like a controller for Zwift, but also has notifications, invites, follows and lots more. It is free to download and use. If you want to know more about how we use Meetups and Workouts with Zwift at Slipstreamers, please view our guide here.
Top tips

Here are our top tips:
There is a minimum weight that a rider can use in Zwift. This is higher than the actual weight of some of the younger riders. With that in mind, they may be working very hard. As parents, you should monitor to make sure they are not overtraining
A good internet connection is essential. The platform is not without issues, and sometimes poor connectivity can blight the experience
Take a towel and 500ml of water for every half hour you Zwift. You will need it!
A fan helps, but don't neglect a towel and fluid to drink!
Be early! Zwift sometimes release game up dates that take time to apply. Always expect and update to avoid disappointment
Take an FTP test. In the game there are various FTP (Functional Threshold Power) or Ramp tests you can take. Take a test and Zwift will apply those parameters to workouts etc. so that you get the best out of the platform
Follow our special Zwift twitter feed here
Watch our rides. The Streaming feed (below) allows you to watch our events – and when no event is on, also let's you know when our next event is!
Finally
Zwift is a game. It adds the gift or fitness and training, but is essentially still a game. It is as addictive as any other game and we cannot stress enough that overtraining is a real inhibitor to young people's development. As organisers we have your child's interests at heart, and we challenge them with using aspects of the platform that are age appropriate. We will not deviate from this and treat virtual training with the same guardrails as we do in real training.
Finally ask questions. We have been running Zwift Cycling events for young people for two years and have come across just about every known issue to date. Our Zwift specific Twitter feed is the best place for Q&A.
Hope you found this beneficial and has whetted your appetite for some virtual training. As we say in Zwift, Ride On!