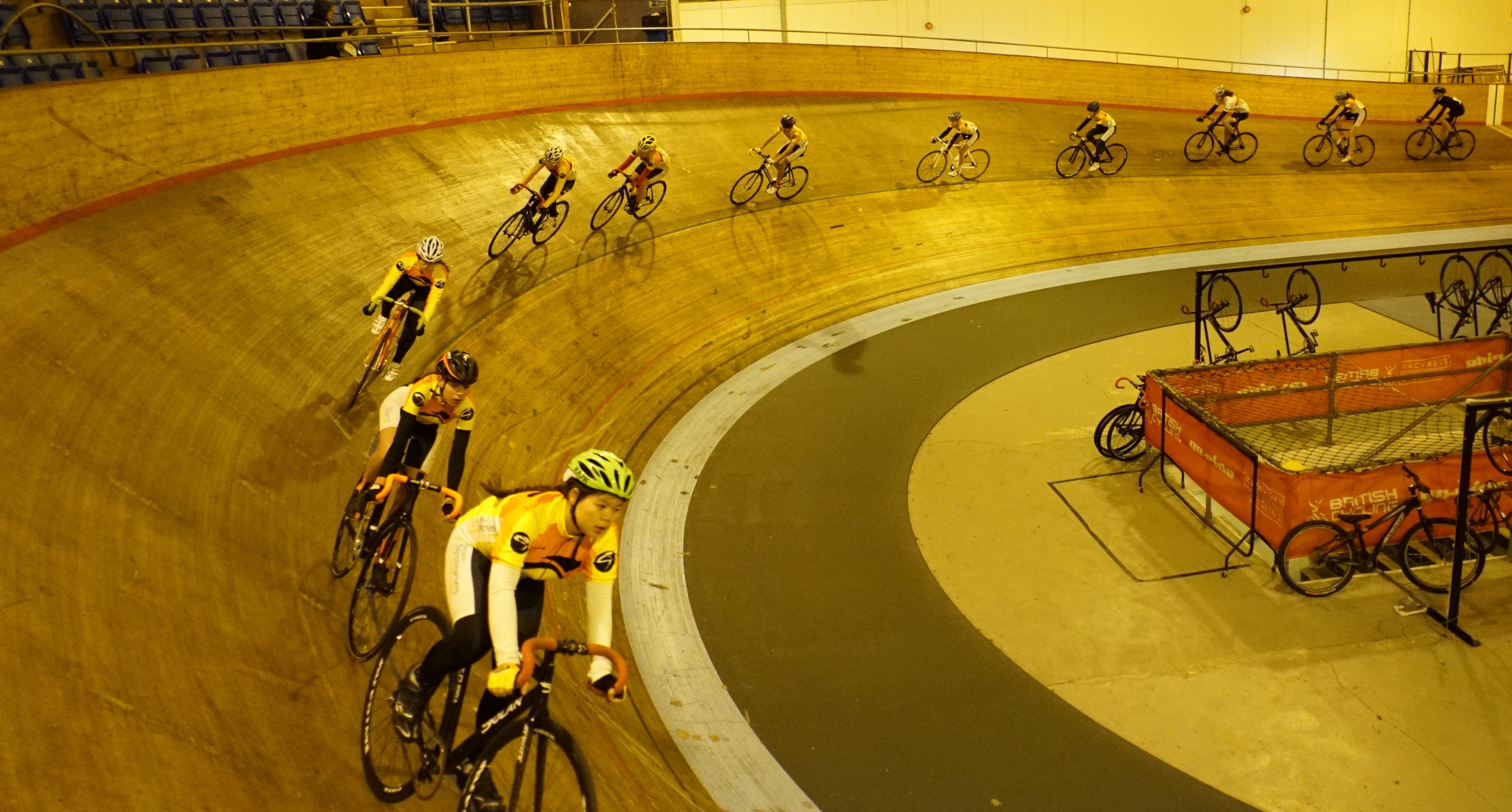 Why Do the Track Races?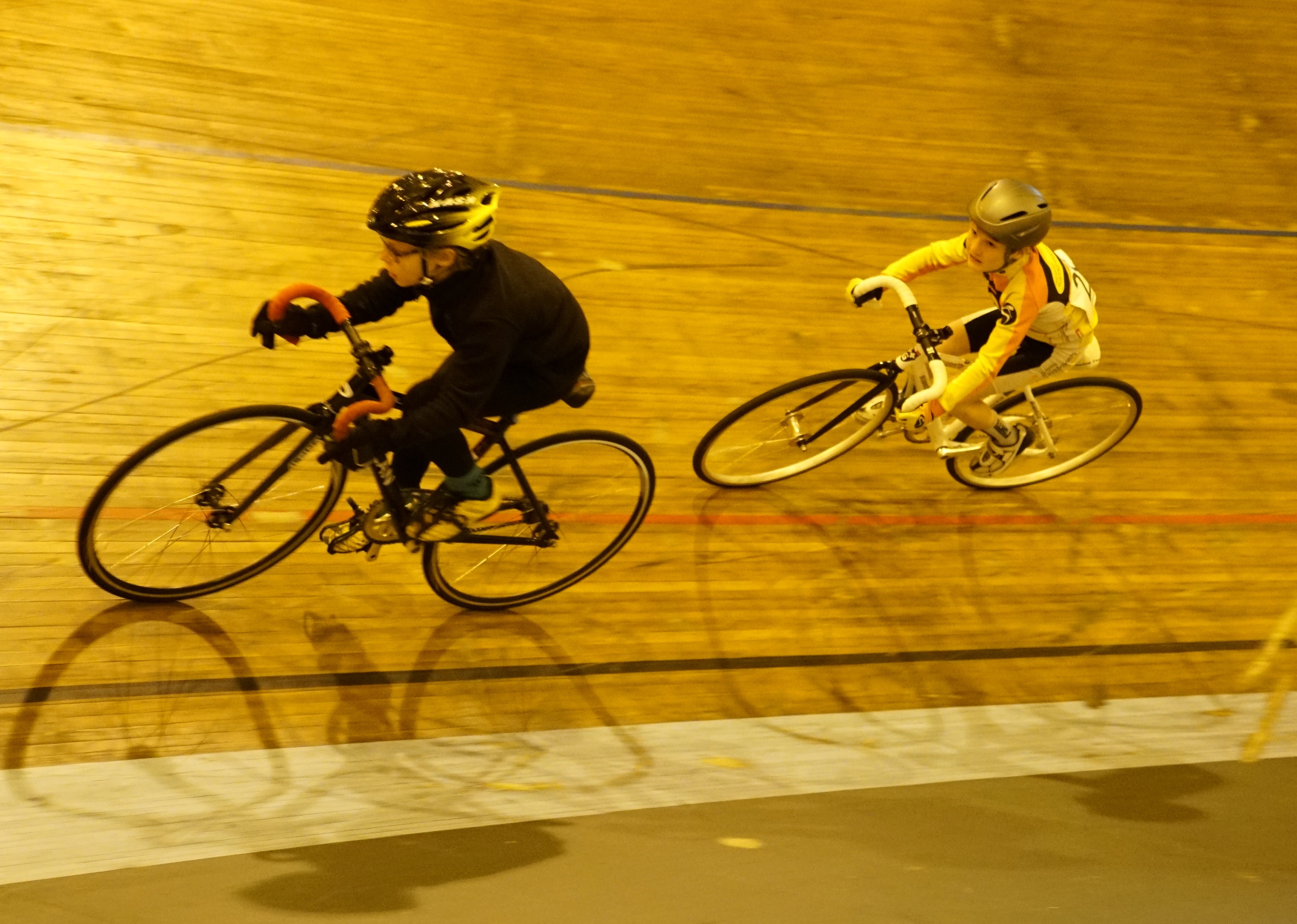 The speed. The stamina. The excitement. So many reasons to enjoy the track races – both as a participant and an observer. Track Champs at Calshot velodrome, the steepest banked track velodrome in the South of England, is a great way to progress from coaching to racing, and as long as you've been signed off to race by the Head Coach, we'd say go for it.  Plus, as per all other events, you get Club Champs points for participation.
Track Races Club Champs Rules



Eligibility: Only Members who have previously ridden at Calshot AND been signed off to race the Track Champs by the Head Coach may participate. If you are new to Track you will need to have attended at least 2 coaching sessions to be eligible – if in doubt, please do ask. Unfortunately, U6 members are unable to race in the Track Champs.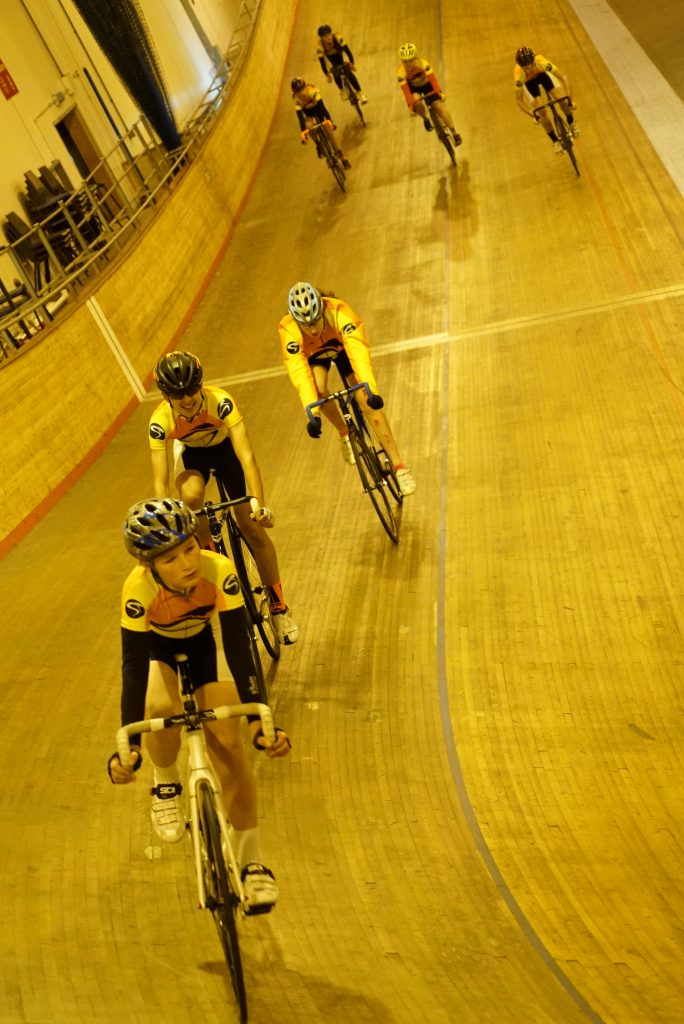 Equipment: Only track bikes are allowed. We'd really like to see as many of you as possible take part – regardless of whether you are a track, cyclo-cross or mountain bike rider – so if you don't have a track bike of your own, you can hire one from Calshot or ask the Club Mechanics if they have any for hire. Details are on the track booking blog. If you are planning to hire a bike, we would ask you to please be prepared to share this with your fellow Slipstreamers of similar sizing if these run out – it doesn't happen often but occasionally it does.
Safety Requirements: As usual, you will need a helmet, gloves, and ensure you are wearing the correct clothing – base layers are a good idea inside the velodrome. Check out our rider resources for tips on dressing for cycling.
Gearing: Normal Road & Track British Cycling gear restrictions will be applied, and all bikes will be gear checked after sign on, which will be validated at the start-line. If you aren't sure what the restrictions are, click this link here for further information. If you are still stuck and need assistance, please either talk to the Club Mechanics or any other volunteer the weekend before the races.
Advance Booking: Track Champs races must be booked online in advance – there is a lot to plan and organise and unfortunately it is not a turn up and race event as we will be pre-allocating transponder numbers. The booking form will be signposted on the Club News Hub so do look out for this when it goes live and be sure to read all the information shared.
Track Races – Events Explained



Flying Laps: All age groups participate in these. The purpose is to allocate rider matching in our sprint final. For example, the 2 riders who get the fastest time in the flying lap will compete against each other in a standing sprint for first and second. The next fastest two will sprint together for third and fourth and so on.

Sprints

: All racers do these sprints. As described above this will be a standing start sprint with the first across the line after the three laps. Riders will compete in pairs or a maximum of three riders if we have an odd number.



Scratch Races

: This is a track cycling race in which all riders start together, with the objective being simply to be first over the finish line after a certain number of laps. There are no intermediate points or sprints. Younger U8 and U10 racers do 15 laps, older U12s do 20, and U14 and U16 racers do 40 laps.



Points Races

: Only the older U14 and U16 age groups do the points race of 40 laps. This is a mass start race where riders accumulate points by competing in intermediate sprints. A sprint is held every ten laps, with 5, 3, 2, and 1 point(s) being awarded to the top four finishers in each sprint. The winner of the race is the one to have the most points at the end of the race. In addition to the sprints, any riders managing to lap the main field are awarded an extra 20 points. This is therefore a popular way of gaining the points required to win the race and leads to many such attempts to gain a lap during the race.

Finally…
Parents, please ensure all members taking part are aware of the content and what to expect when they participate in the MTB Races Champs. It is, after all, their club and their championship event.
As usual, keep an eye out on Twitter for the latest updates and if you have any questions, please contact the Admin Team.