In the last of our Volunteer awards features for 2015, we say a big thank you and fond farewell to MTB Coaches Frances & Theo Pressner, and Track Coach Keith Wilmot, who have between them served the Club since the very early years. Frances, Theo and Keith managed to attend the awards presentation in December and were presented with a small token of appreciation from the Club. Scroll down to view a bit more…
Frances & Theo Pressner, MTB Coaches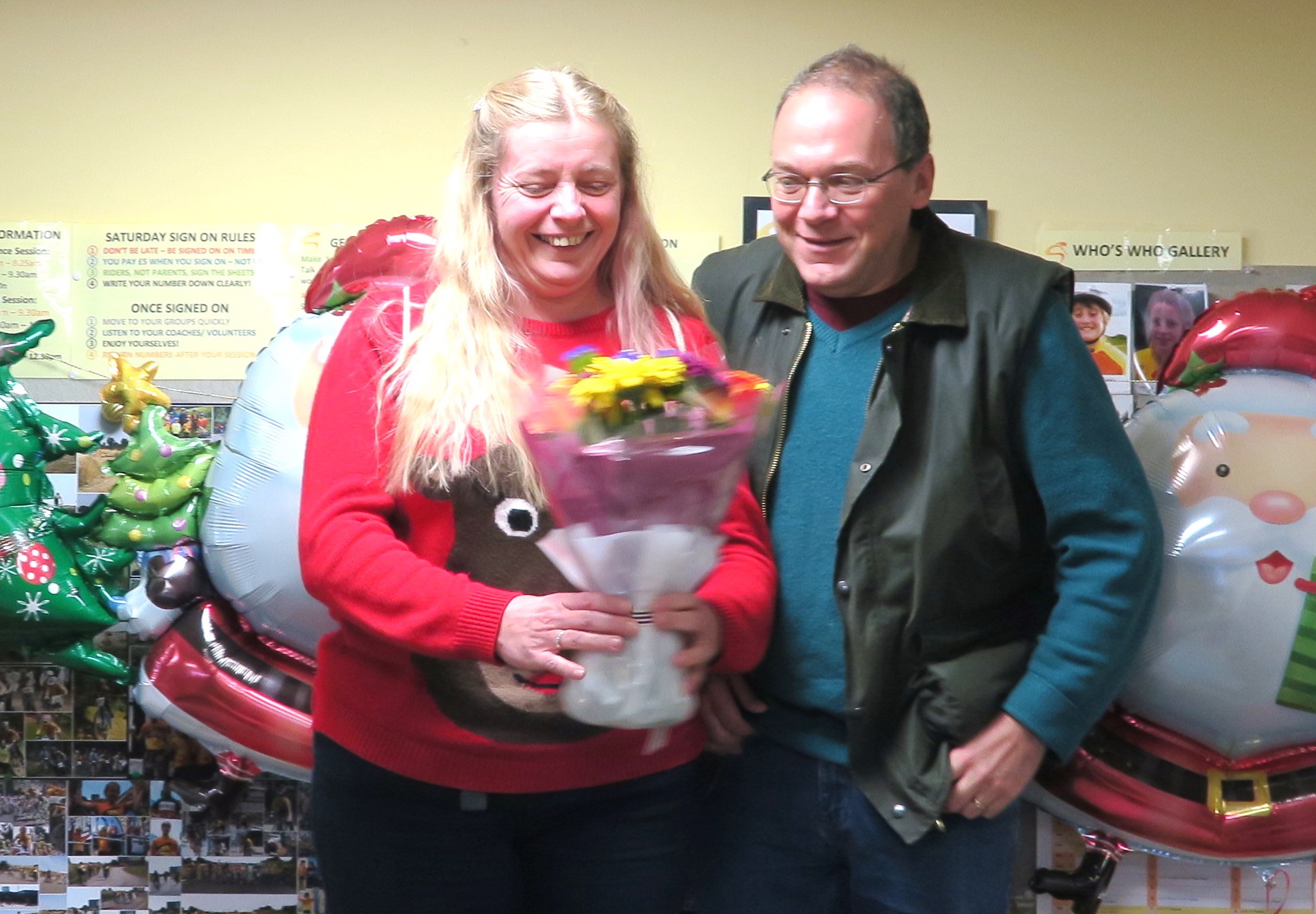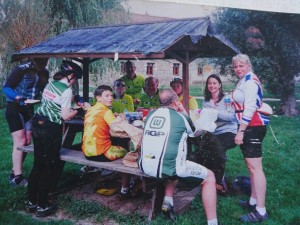 Frances and Theo Pressner have been club volunteers for well over 12 years – take a look at the photo from 2004 archive! – and after all this time finally stepped down after leading their final monthly mountain bike "Lookout" social ride at Swinley Forest in July 2015. Here is what they had to say about that…
France and Theo – 27 July 2015
"Our final ride with the Slipstreamers came round all too quickly. It was good to see familiar faces getting bikes out ready to ride. Not only did Sam have all the gear and a whole bike, he even brought his Mum along with him (to enjoy a wander in the woods and some peace I gather).  This appeared to be catching as Asti was also spotted in the car park!  It was lovely to ride with members both new and not so new. A ladies group split off the main group early on to allow natter time whilst riding.  The 'main bunch' continued to have fun along the red route and parts of Crowthorne woods. Once all had returned to the cafe and all cakes had been tested thoroughly, Theo and I were presented with lovely gifts from the club . Another lovely Slipstreamers "Lookout" ride.  Thank you to everyone for our gifts and good wishes.  If you are unsure about whether a Lookout session is for you or your family, then go along and have a try. You might surprise yourself!"
And here is what a few of our members had to say about Frances and Theo…
The Whitney Family
"They were actually responsible for us joining Slipstreamers. We went along to their Mountain Bike ride at Swinley (recommended by a friend). Met John Gunn who told us about Slipstreamers. Had such a good time with Theo and Francis that day, we went along to Hillingdon, and the rest is history!"
Rafael Garcia, U12 Member
"Last weekend my mum and dad drove me to Swinley.  I always want to go there because there are great tracks! Also the teachers are always nice and great riders. I really enjoyed riding with Theo. I learnt a lot – thank you."
Pascal Giret, U10 Member
"Theo was a very fun and supportive coach. He helped people learn new tricks and he was very adventurous and he was very nice and kind."
Needless to say, Frances and Theo will be missed. To read more about their adventures at Swinley, click here.
Keith Wilmott, Track Coach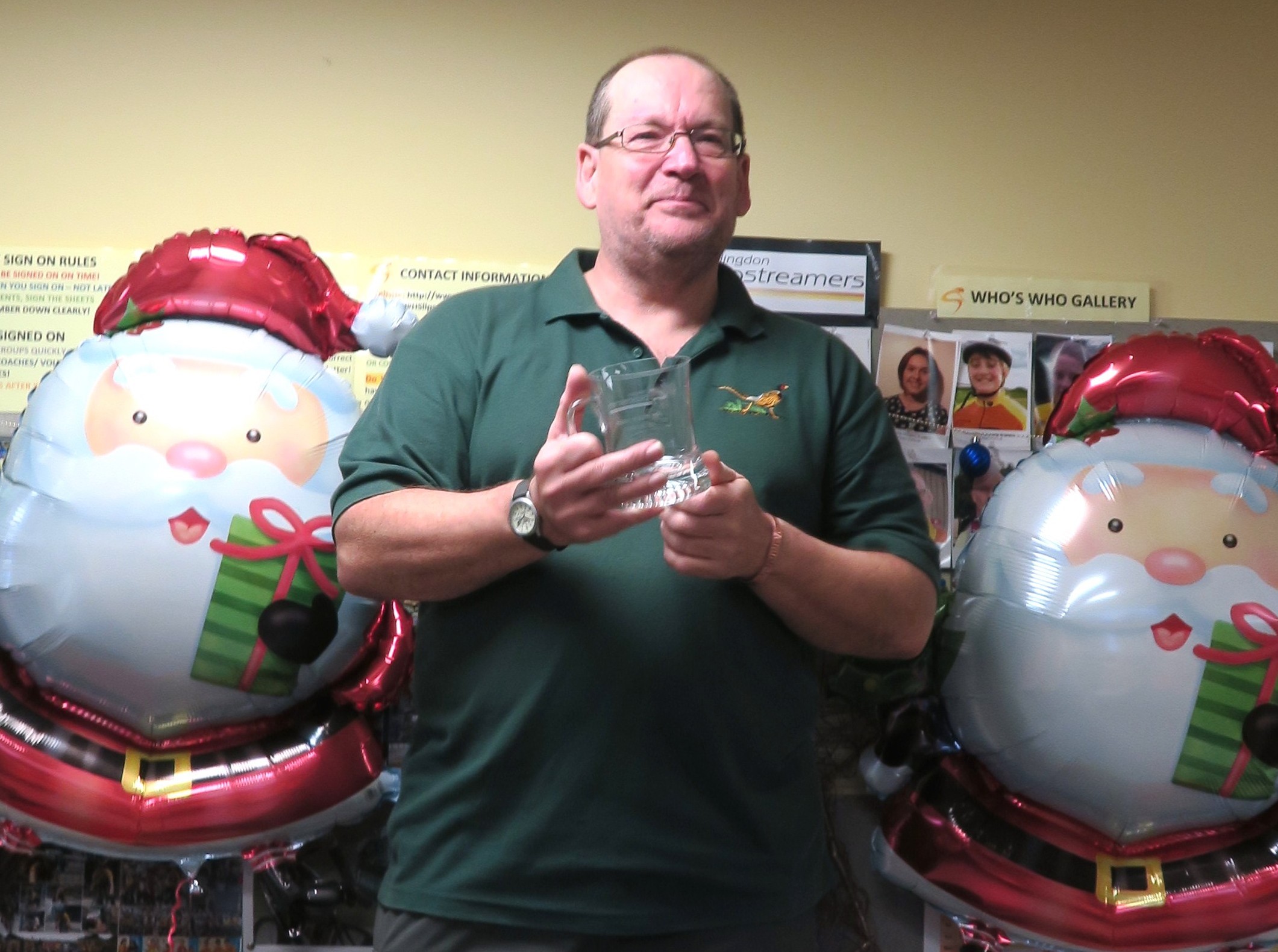 Keith Wilmott, the Club's longest serving volunteer after 17.5 years, stood down as Track Coach from the Committee at the Club AGM in March 2015. Keith has been a very important part of the Slipstreamers family since it's inception,  and has worn many hats along the way. Whilst no trophy or award will ever be thanks enough for the outstanding contribution Keith has made to Slipstreamers, we are very grateful that he made the journey to our party to receive his award – a small token of our gratitude. Thank you for everything Keith!
To read more about Keith and his journey through the club, visit our previous tribute here.