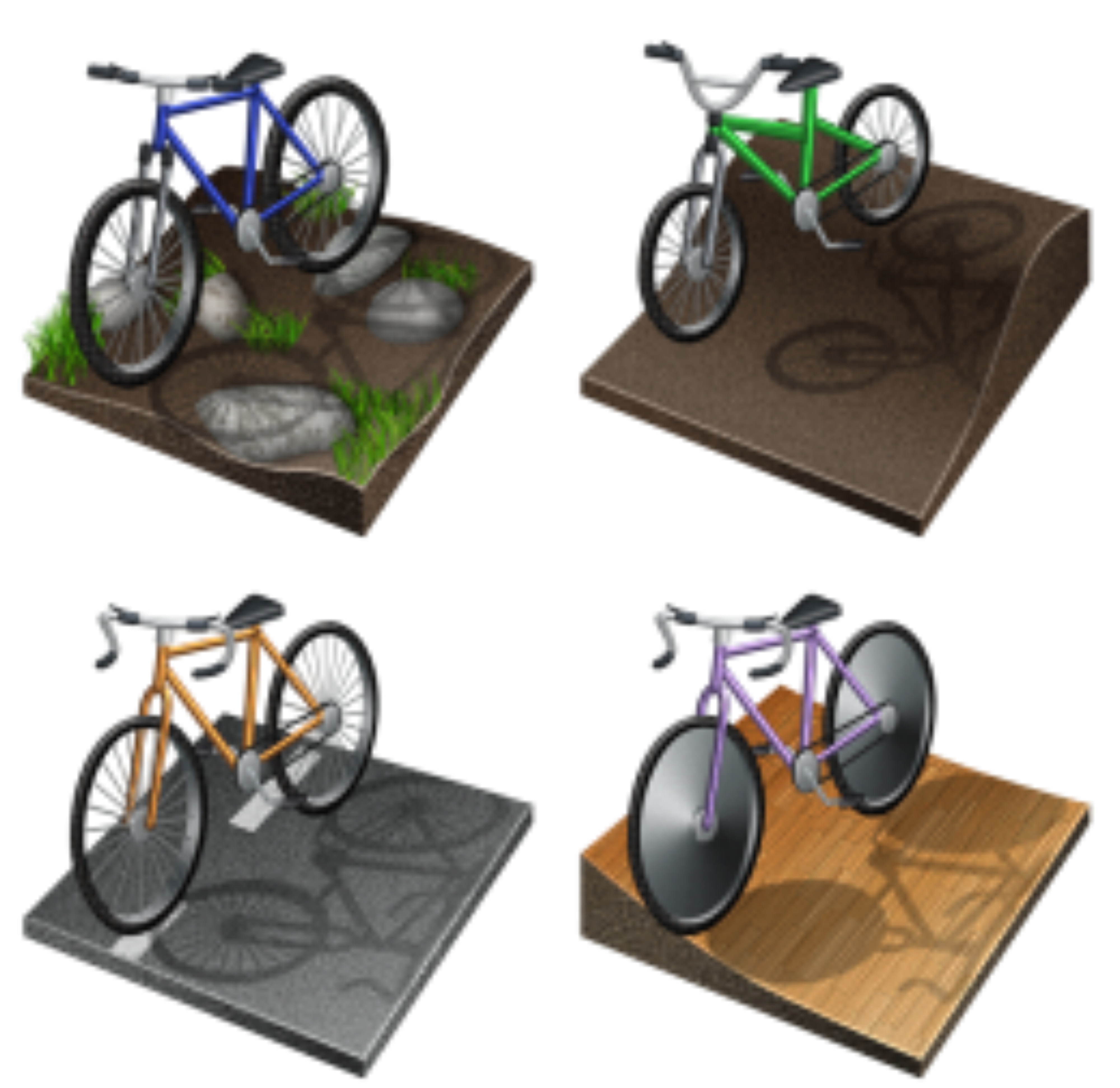 The 2016 racing season has begun in earnest, and Slipstreamers have been out and about all over the country representing the Club at events in all disciplines ranging from Cyclo-Cross, Track, Circuit, Time-Trials and Mountain Biking. Nationals are also well underway now with the first rounds of the British Cycling National Youth Circuit Series and National MTB Cross Country Series done and dusted, and the National Track Youth Omnium Series already in motion and in full swing as of this weekend. But that's not all…
The Slipstreamers Youth Summer Series kicks off in May for a 14 week run;  Time Trial events are scheduled in May with our Inter-Club Time Trial and in June we organise the GHS District Championships Time Trials; and if you're keen on Cyclo-Cross why wait for the muddy season when you can join in loads of Summer CX events before then.  Phew! The season ahead looking rather busy for our Slipstreamers racers (and that's just the first half of the year)!
If you are new to racing and would like to try it out for the first time – we say go for it! You never know how good you are or indeed how much fun something is until you try. But, as usual, it's always better to hear from those already racing, so we asked a few of our racers to reflect back on their respective 2015 seasons, share their experiences and lessons learned, and in the process hopefully encourage more of you to give it a go.
Enjoy the following reports from Zoe, Seth, Jemma, Elizabeth, Erin, Caitlyn and Astrid!

By Zoe Brookes, U16

2015 was a brilliant year of racing for me!! It was actually my first year of competitive racing and so looking back I am really happy with how far I have come.
I love to race – its such an important part of my life now. Racing gives me that buzz – I love the speed, the tactics, the competitiveness; and as a person it has given me so much more confidence and independence.
I did quite a lot of races last year, but my standout race would probably have to be the South East champs at the end of May. It was a horrible day – wet, windy and freezing. I had a brilliant day, staying with the front group of boys and narrowly missing out on the win for the girls title. I opened my sprint early which worked well for me, although slightly earlier than I planned on as having not ridden the circuit before, I thought there was 1 less bend to go!!
Getting to race elsewhere can be nice when you get to race on a completely differently circuit. I did a crit in Cirencester which was really tight and much more technical, and then afterwards we got to watch the elite races which were really fast!!!
Racing away from Hillingdon can seem a difficult prospect but once you have done it once, you realise that actually it is just so much fun. Going different places means you get to race a different circuit, give yourself new challenges and chances, ride against different people and just have fun in general! You meet so many nice people from other clubs as well which is nice.
To anyone thinking about racing somewhere different – have a go!! Just do your best and enjoy it, and it will be a great experience. In the Summer, there is a Pedal Heaven series on Wednesdays at Eelmoor, which is really fun and has a wide range of abilities. It is also a very small circuit so no chance of getting lost!!!!!
By Seth Kanaris, U16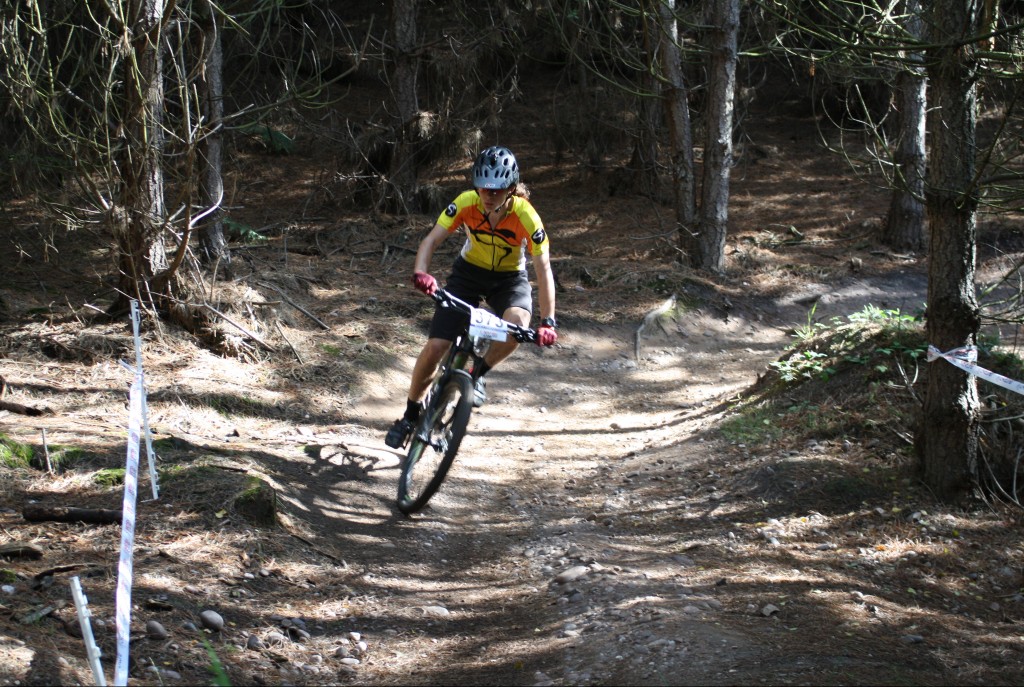 Planning my cycling goals for 2016, I've reflected a bit on 2015 – my first year of proper racing – and wanted to share my journey as a racing novice in the nationals, some lessons I've learned and hopefully encourage a few others to give it a go (whatever discipline). I didn't win anything, but the experience and the takeaways have been enlightening. I hope you enjoy my story…
I raced my first national XC race at Sherwood Pines in March 2015 – needless to say I didn't do all that well; it was an absolute swamp, mostly grass, and I was extremely overwhelmed by the level of competition I was facing, to say the least! Fast-forward a couple of weeks for round 2 in Newham Park in April, and I was all the way down in Devon, doing a bit of practice before the race start, when I went straight over the bars, mashed up my face and broke the tighteny thing on my helmet, resulting in a DNF. Or at least, I thought I broke my helmet – I arrived home, showed my dad, and he managed to fix it in 2 seconds. Lesson? Know your equipment!
Slightly more experienced, I headed to Wales for round 3 at Fforest Fields. Riding the course the day before, I knew it wasn't going to be easy. I was struggling with doing a practice lap at a nice leisurely pace, stopping after every climb, with 2 litres of water in my Camelbak. I was quite nervous about the prospect of going 100% whilst racing against people from all across the country! Well, the day after, I was lining up (right at the back, as we were being gridded and I wouldn't exactly say my previous two races went to plan), and when the Commissaire blew the whistle I was going full power up that first killer climb. 1 lap later, I was slogging up the huge climb when I decided that it was too steep and I needed to sacrifice a bit of torque by shifting into the granny ring. I wouldn't normally include such minute details such as a gear shift in a blog, however this was the gear shift that cost me about 5 minutes and put me in last for a bit. Basically, the chain dropped as I shifted down and got caught in the ISCG tabs (the mounts for a chainguide, which is a device for single ring setups that you put on so that you DON'T drop your chain – slightly ironic), and it was properly wedged in. I eventually managed to yank it out (after a lot of cursing and praying to the bike gods), and managed to finish the race not in last, but second to last! The lesson learnt from that race…? Well, do I even need to specify? Always check your equipment!! (in my case, the equipment in question was the limit screws)!
I didn't do the race in Scotland due to the fact that it was too far away, but I did do the final round at Cannock Chase in Staffordshire in August. When I was doing my practice lap, quite a few bits of the track left me with a smile on my face, such as the rock garden and a few little kickers on the side that I probably wasn't meant to do but were fun anyway. I can't say I completely liked doing Follow the Dog (a really flowy trail network pointing mostly DOWN) backwards, but it was still a pretty good course nonetheless. Big thumbs up to the organisers! Racing the course, it certainly felt very different! It was like those fun little kickers on the side didn't exist anymore, because I was too physically knackered to actually do them! I also messed up the rock garden on my first lap, as the person in front of me had stopped and so I also stopped to leave a gap, which forced me to unclip because I was stopped, and so I couldn't set off again, so I had to use my non-existent cyclo-cross skills for the rock garden. Other than that, I would be lying if I said I was in as much physical pain as the time I opened up my knee, but I finished safe and sound – no crashes, no mechanicals, just me crossing the line not in last place!
So what have I taken away from my very first National MTB XC series?
Don't expect nationals to be in any way similar to regionals!! They are a totally different league – but you will definitely learn loads from the experience.
Get to know your equipment properly – even if it's brand new like my helmet was at the time. If you don't, it may cost you a race – and a wasted trip!
Once you know your equipment inside out, check it and make sure it is all set up properly! Be thorough and leave no chain screw unchecked!
If there's one thing that's going to help you at an XC race, let alone a national one, it's training and working those skills! And I mean proper mountain biking skills work. You can be fitter than Chris Hoy or Nino Schurter, but how can you race a mountain bike if you can't ride one properly?
Oh and speaking of fitness… My biggest lesson has probably been that unless you get on that turbo or road bike (yes, I said it!) to train, you will not be able to keep up! So unless you like the taste of dust, train hard to race easy!
And finally, give it absolutely everything you've got – racing XC at nationals is literally about attacking everything you see. Just go for it and give it your full power – and enjoy it.
So in conclusion, it was certainly an interesting experience to compete nationally against people from all over the country, and nothing like I expected it to be. Overall, I finished 27th in the final standings; but I certainly learnt a lot more than I anticipated and not a moment has been wasted!
By Jemma Bowler, U14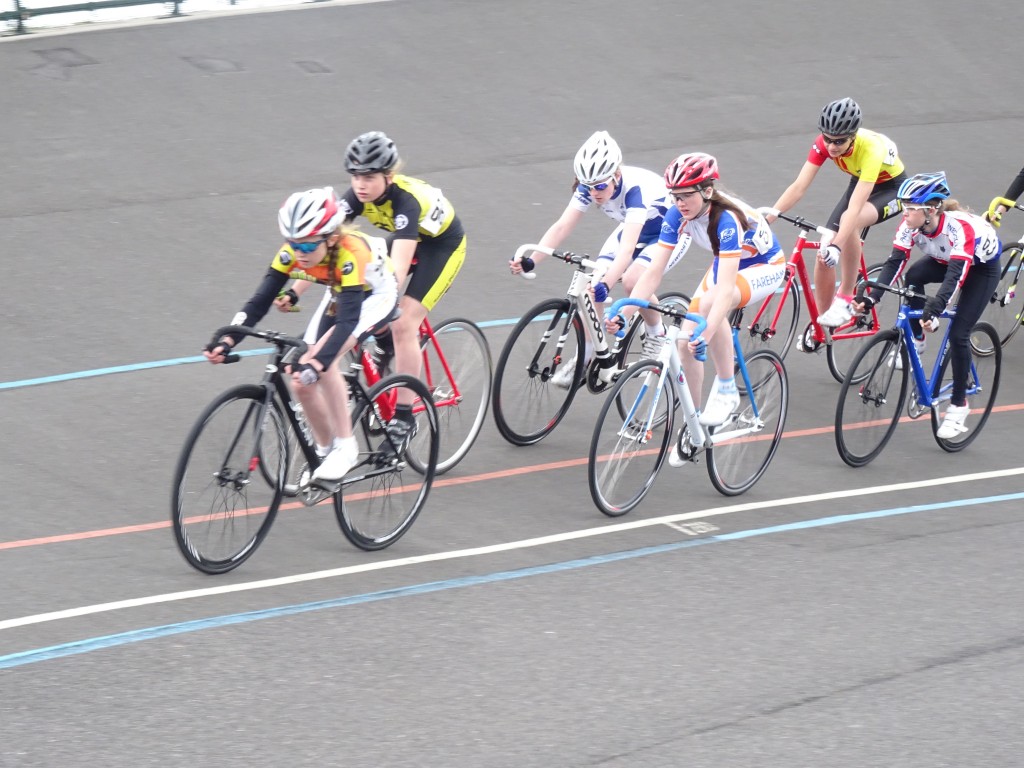 Last year I think that I had a great track cycling season. It all started when I did the Bournemouth and Palmer Park track qualifiers. Round 1 I think I did the best that I have ever done on track and came third against the good girls. And most of them were second year U14 too. Also I think the elimination is my strongest race as I came 2nd in 2 out of 3 of the rounds. Caitlin beat me both times but they were still such great races. Round 2 wasn't as good as the other round but I still did my best pursuit ever, however, the timings got a bit muddled up. On round 3 I was doing really well and I got to my last race and 250m to the line, where I unfortunately crashed, broke my wrist and had to have 9 stitches in my chin.
That was probably the hardest part of the year as I wasn't allowed to go out on my bike for 6 weeks!!!! Only inside training. However, as soon as I got my cast off the doctor said I was allowed to race and so 5 hours after, I was at Reading Track League racing!!! 2 weeks after the crash was the final which I did qualify even though I had a crash, I was so happy that I got through. I don't really know where I came but it wasn't a very good day. However, I came home thinking that I only got my cast off 2 weeks ago and that I shouldn't be so hard on myself.
Overall, my track racing was a success last year and I think that loads more kids should get into it as it is amazing and great fun!!! And that you should keep cycling!!!
By Elizabeth Marvelly, U16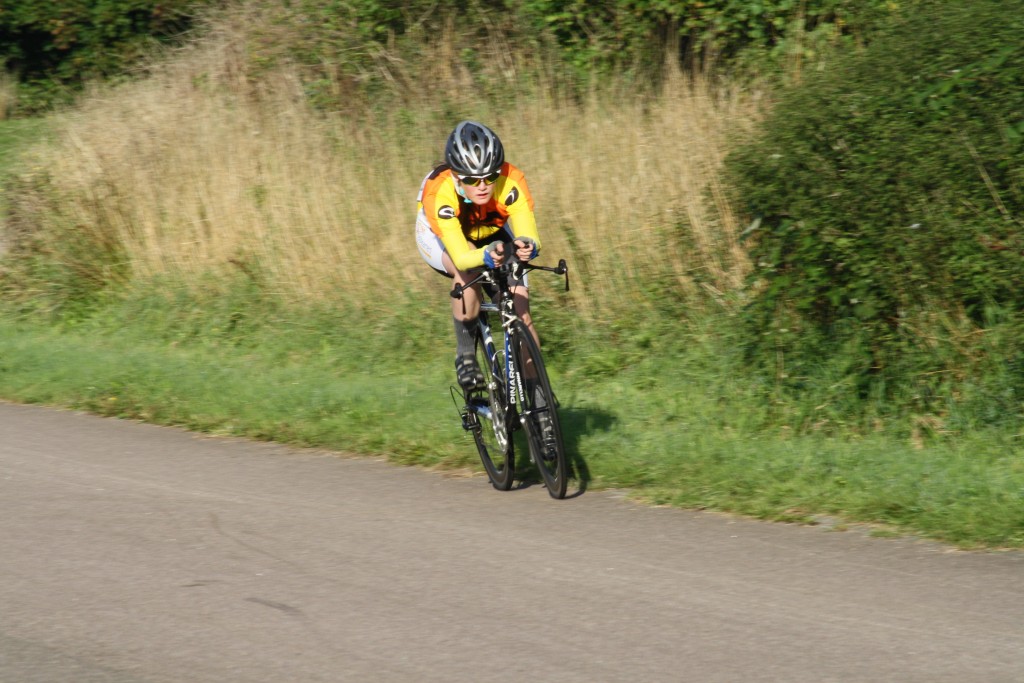 I have always enjoyed doing time trials and every year I would look forward to the Club Champs so I could have a go. Back when I first joined the club we only did one lap for the Club Champs! In early 2015 I used a monthly early session time trial as a physical and mental challenge for my Shodan karate grading. I started to get really excited about the monthly events… even though I had some frustrating mechanical issues in many of them!
2015 really was the year when I wanted to improve. A few months into 2015, I had really rediscovered my love for cycling and my new-found training constantly was improving my fitness and cycling in general, I felt eager to do more of Time Trials so I took part in early session Saturday time trials more often, and in May I entered the Inter-Club time trial held by Slipstreamers. I discovered (in such excitement I may have fallen over, much to the amusement of all in the clubhouse) that I had finally reached my goal of getting my 10 mile time trial under 30 minutes. 29 minutes and 40 seconds. A step in the right direction. Almost immediately, on the way home, I decided to set another goal, not nearly satisfied that I had reached a target I had originally thought was beyond me.
As I trained harder and pushed myself, the seconds seemed to peel off my PB. I had never guessed what I was capable of! For about three months in a row I took a minute off per time trial. At the Club Champs I managed a 27.33. I celebrated, and barely minutes after I was telling my Mum how it wasn't good enough and how I needed to get my time down. (I think I should take this moment apologise to my coaches – as excitable as I may be, I'm never quite satisfied!) Despite my seemingly never being satisfied every time I did take off a few seconds it was exciting. I was improving! After the Club Champs I took another thirty-odd seconds off. By the end of the year, in a matter of six months or so, I had taken about six minutes off my PB.
When I was little I loved watching my Dad compete in his club's open road time trials – and in the Summer of 2015 he passed on his time trial bike and I got to have a go on the same course! I loved it; it was quite scary and of course hard and very different to time trialling at Hillingdon, but I enjoyed each week. I can't wait to do the same series again this year!
When Winter came it was harder, and my times did get slightly slower – much to my disappointment. It felt terrible and like a large problem to me at the time, but I had to rationalise it and realise it that it was almost zero degrees outside, and that I should be proud to have ridden in those cold conditions. Even during winter in 2014 I wouldn't have physically been able to do so. Throughout 2015 with the huge help of my Coaches, I have learned to keep myself fitter and healthier through the winter, staying as strong as I could.
Still, I can't wait for the Summer; I've got lots of targets this year and quite a few different events, time trials and races I want to have a go at. I'll definitely be aiming to get my time back down to where it was… and hopefully much lower!
By Astrid Spragg, U10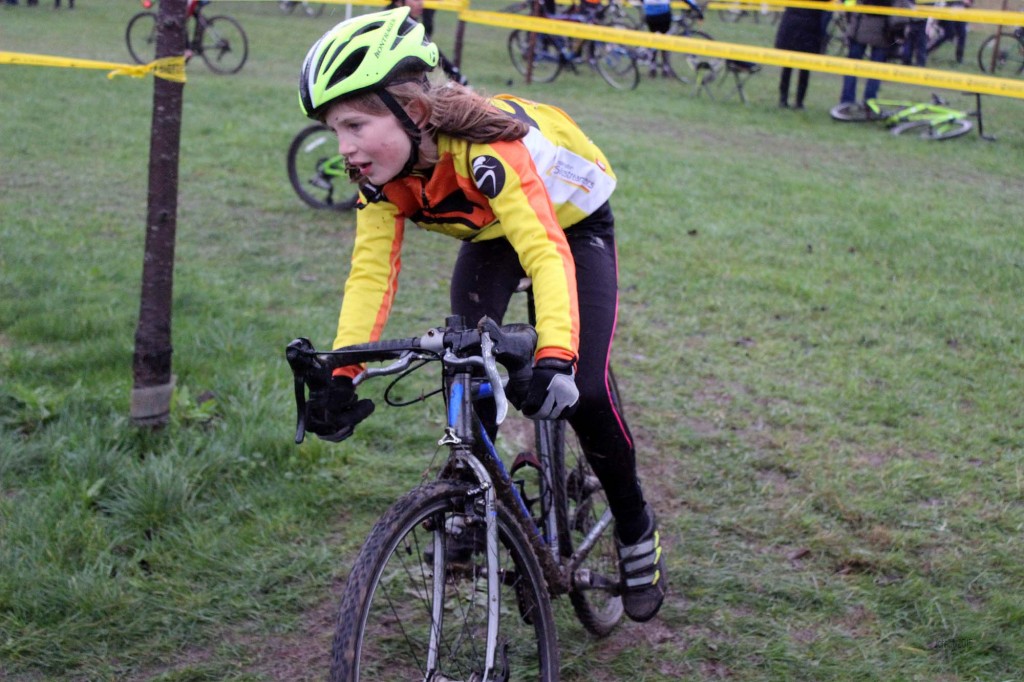 This Winter I've been doing the Central Cyclo-Cross League. I finished top girl in 12 of the 13 races I did, with only three boys ahead of me in the overall standings. I was awarded my medal and trophy for 1st U10 girl at the Central CX League awards in March 2016. My Dad introduced me to Mac's training sessions in Richmond. They are mainly for adults, but I have been doing them since September (2015). I would recommend them to any rider, as they make you improve massively. Another reason I recommend them is that Mac is very nice. Sometimes cross has been hard and frustrating, but it is still fun. I recommend cyclo-cross to any rider at any standard. I also hope that if you do try cyclo-cross you will come to Mac's training sessions, and most of all I hope you enjoy cyclo-cross!
By Erin Loveless, U10 & Caitlin Loveless, U12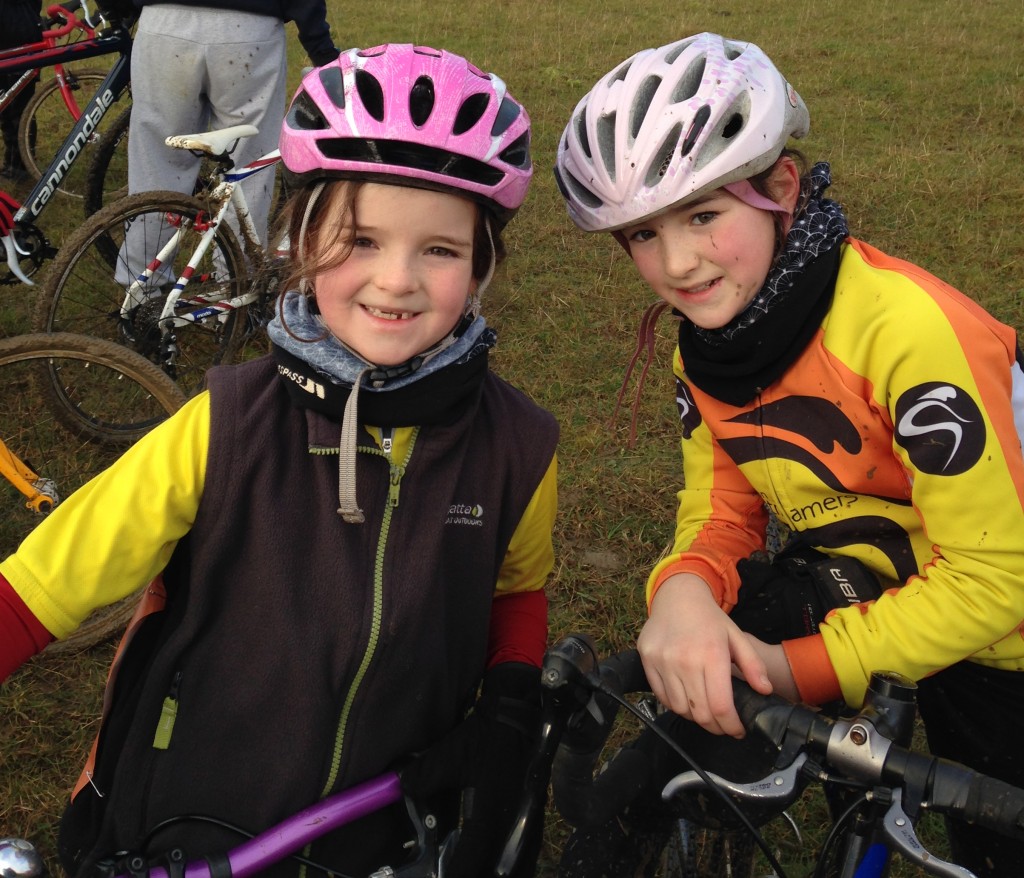 Erin Says…
My cyclo-cross season went well. My favourite race was the one that I just beat one of the girls at the end whom I had been behind in most of the races. My least favourite was the Milton Keynes race because I had a bad start and bad ending. I enjoy the fact that you get nice and muddy and can enjoy a warm bath afterwards. I have learnt that the most important thing about cyclo-cross is …  its about having fun whilst trying your best and to congratulate the other opponents at the end of the race!
Caitlin Says…
This year my cyclo-cross experience has been a lot more challenging because I have moved up and am against older and stronger riders but in some races I was able to hold my position and win despite the hard competition. My biggest disappointment this season was that I did not manage to win at the Slipstreamer's track, as the conditions were extremely muddy and I did not have my mojo on. My best race was when I used my head and tactics to beat my opponents. I learnt new skills but I still need improve. Overall I love getting muddy and having fun.
Wow! What fantastic reflective reports that we hope you find as inspirational – and aspirational – as we do. If you've never raced before and would like to get started, click this link here to find out more, or come and talk to any one of your Club Coaches during a Saturday session for some advice and guidance – click here to see who they are.
For more inspiration and rider reports, do click on over to the Slipstreamers in Action section of our News Hub and enjoy!