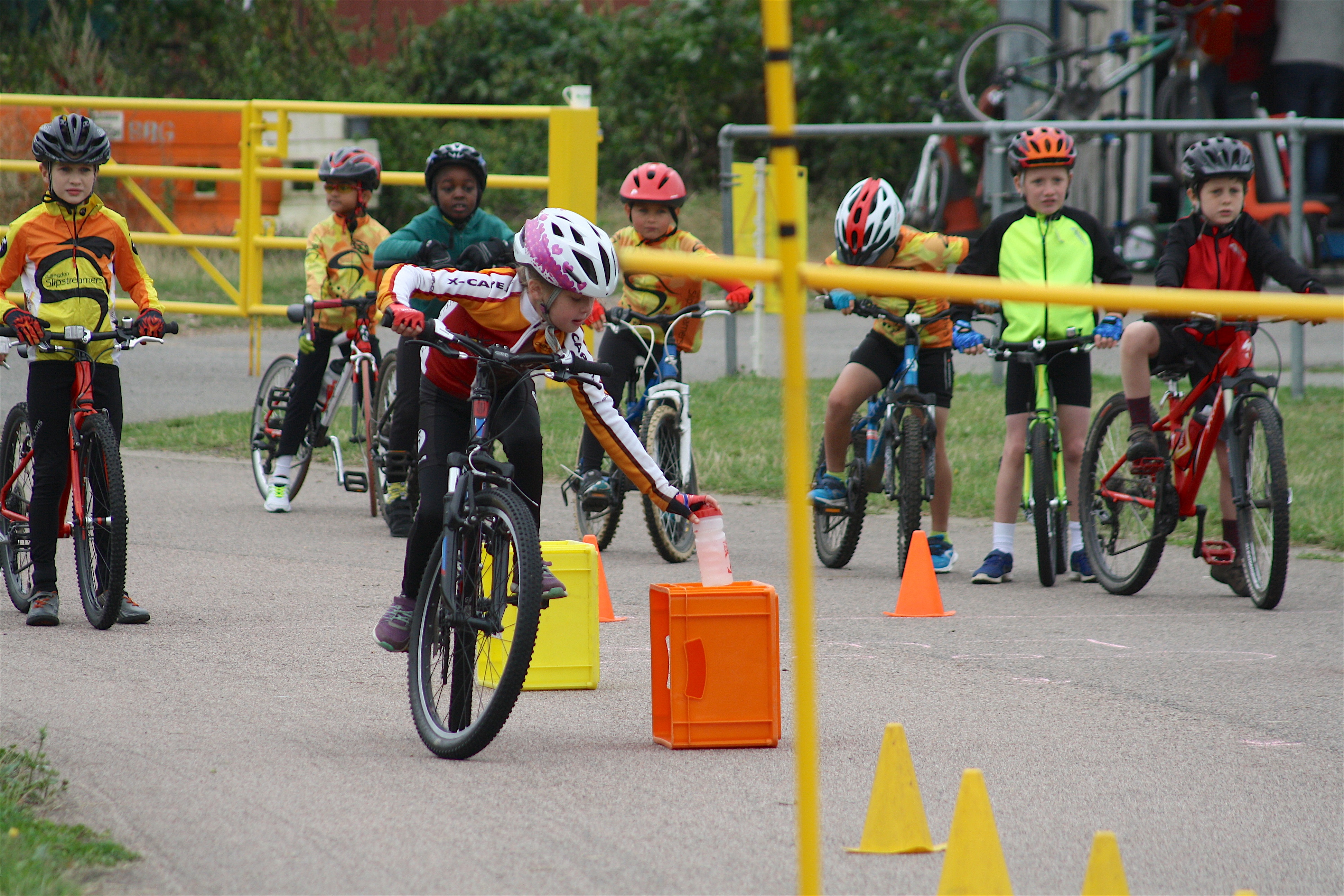 It's that time of the year again when we kick off our annual Club Championships with the first event – Skills Challenge – alongside Family Fun Day. A very special day in the Club Calendar, we do hope all our Members will be joining us along with siblings, grandparents, cousins, aunts, uncles, friends – all are welcome – on Saturday, 30th September from 9am until 12pm for an action packed day of camaraderie, a bit of friendly competition and a whole lot of fun.
It promises to be a great morning and even the weather looks like it may just be cooperating to ensure a bright and sunny morning, so scroll down to find out more about what's happening, what to expect and how sign on will work…
Skills Competition, Pump Track, Fun & Games, Barbecue… And MUCH More!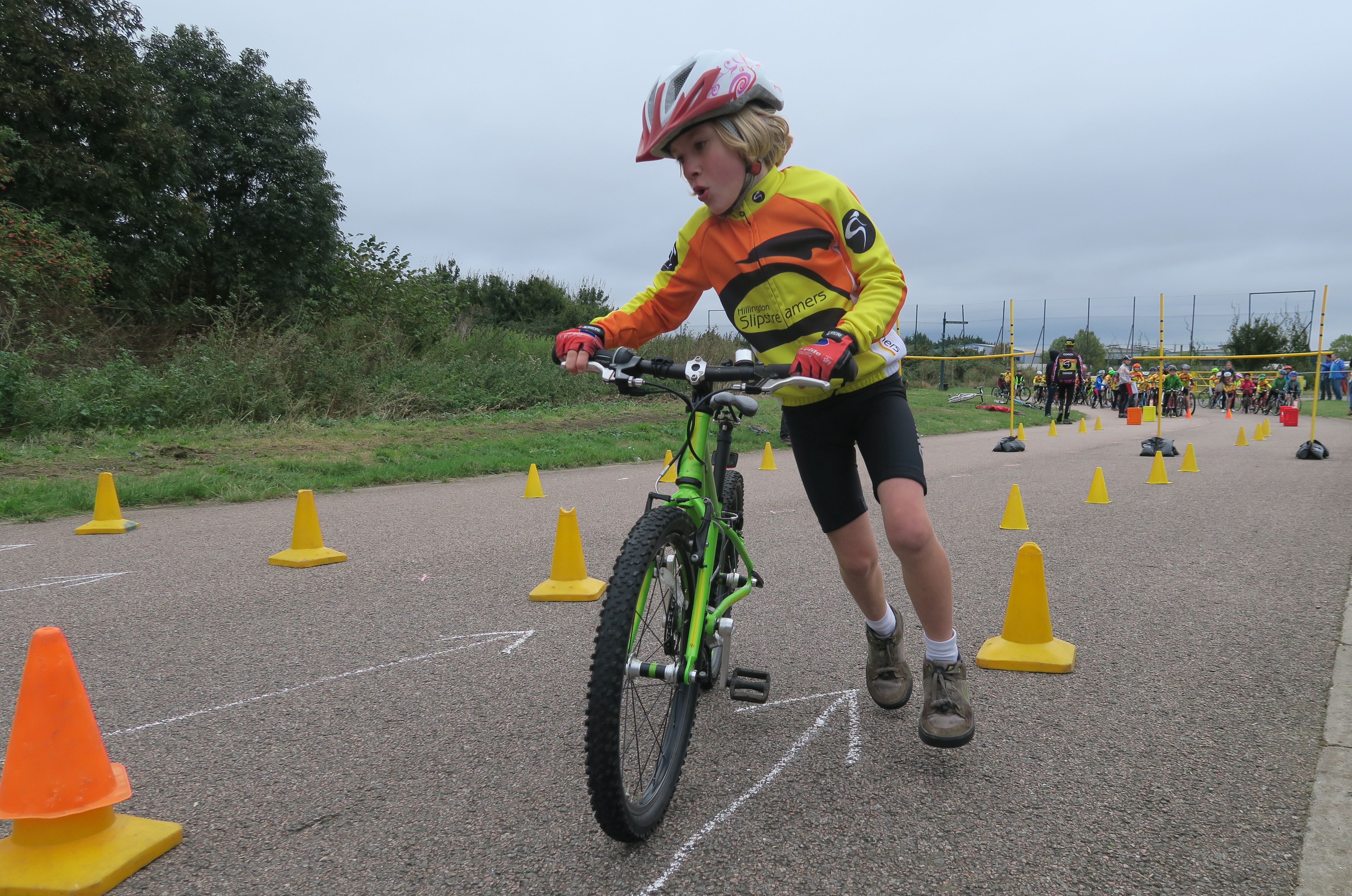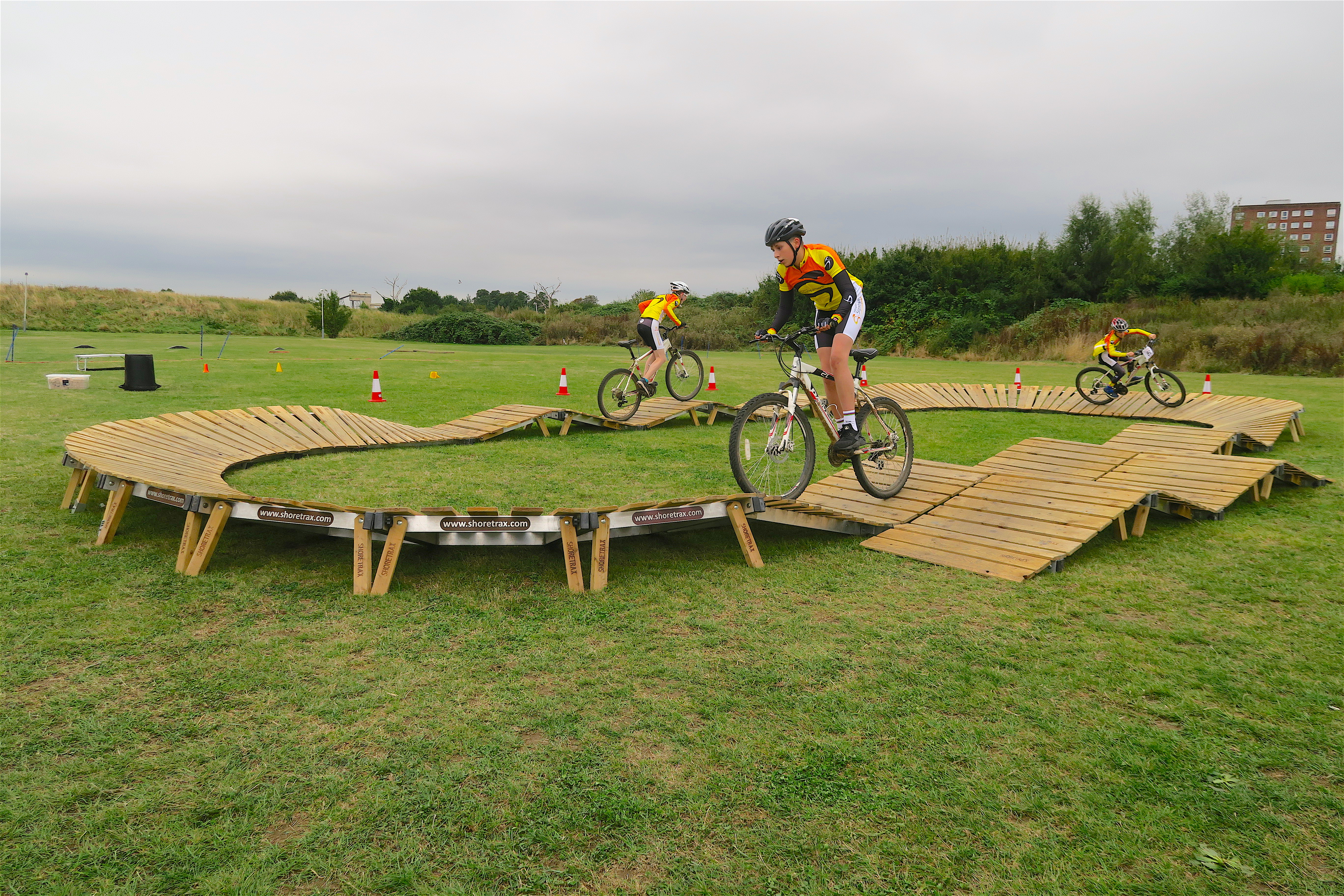 Skills Challenge
Whether you are planning to compete in the Club Champs or not, the Skills Challenge is always great fun and we would encourage you to give it a go – check out the album here for some great photos of last year's competition (featuring a number of snaps of Coaches giving it a go too) for some visual inspiration. To find out more about what to expect from the Skills Challenge, including the all important rules, follow this link here to visit our dedicated page on the event.
Pump Track with Firecrest MTB
For the second year in a row – click here for snaps and videos from last year's action – we are very fortunate to have Ian Warby from Firecrest MTB coming along again to set up his fantastic Shoretrax MTB wooden pump track for you all to enjoy. If you've never experienced a pump track – let alone a wooden track, this is great opportunity to try something different that has been designed by professional mountain bike riders and inspired by the timber mountain bike trails in Canada. The track will be set up behind the clubhouse where the majority of the fun and games will be taking place, so do join Ian and the Club MTB Coaches before and/ or after your Club Champs events to learn a few skills and have some fun.
Important Note: Any family members (brother, sisters, cousins) who are not current Slipstreamers members wanting to ride may do so on the condition a disclaimer is signed – these will be available on the day.
Fun and Games Galore
If competition is not your thing, that is absolutely fine and there will be plenty for you and the family to enjoy during the morning. Our Social Secretary and his helpers have – as usual – planned a set of activities behind the clubhouse to keep everyone entertained, including – but  not limited to – the following:
Bike Jenga! If you've never tried it, now's your chance.
Classics such as tug of war, sack races and egg & spoon races!
Bike relays and MTB skills madness.
Face painting and tattoos for those of you who would like to give yourselves a bit of colour and facial pizzazz.
Click here to view some great snaps from last year's fun and games which we hope will convince you to join us.
Food Glorious Food!
There will be a canteen operating inside the Clubhouse, serving tea, coffee and juices; healthy snacks, fresh fruit and treats; as well as fresh samoosas for lunch. For those who prefer something hot of the grill and a bit more meaty, there will also be a BBQ on the go outside the clubhouse. Alternatively, do bring your own picnic and feel free to enjoy this whilst watching all the activities!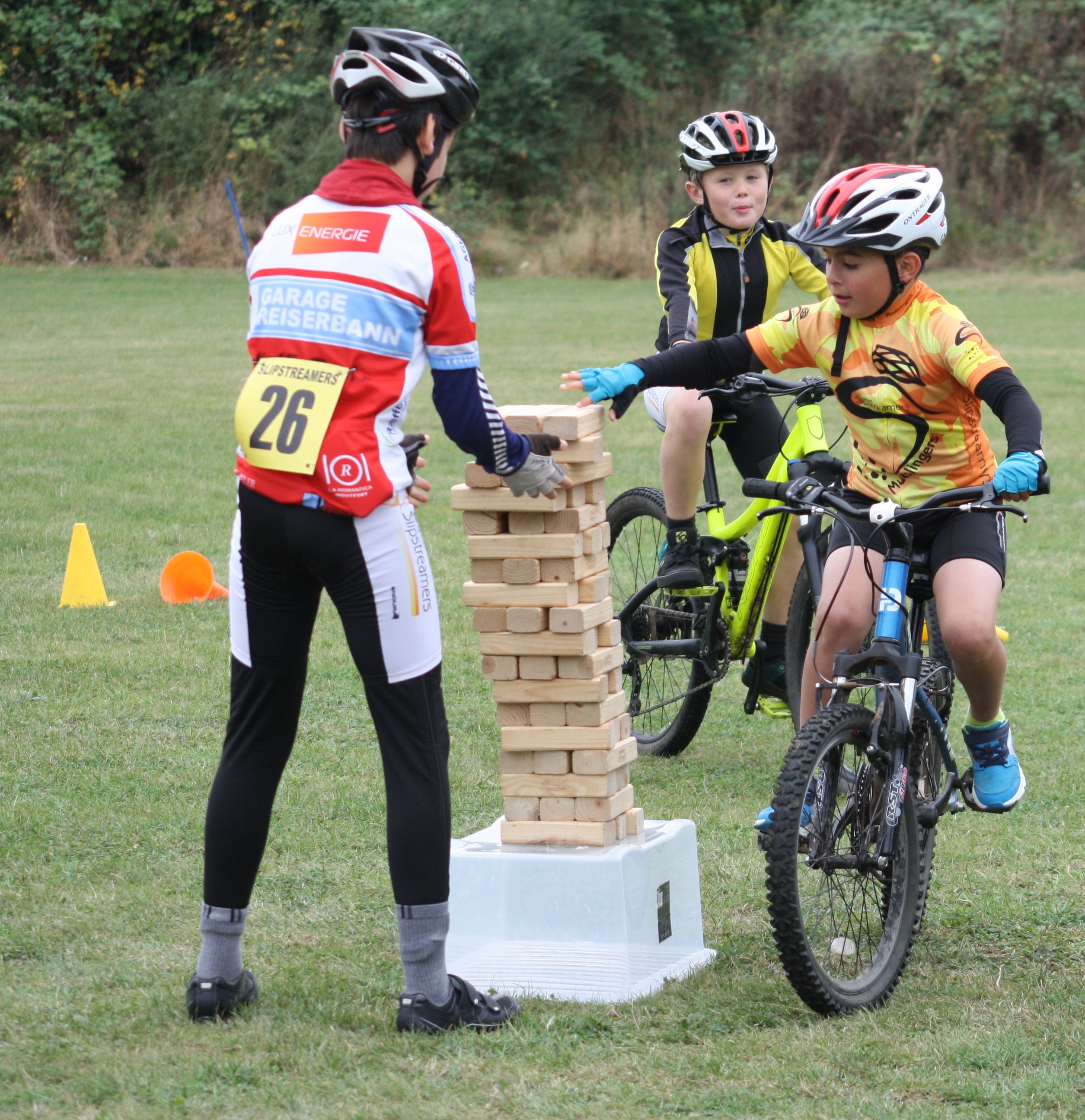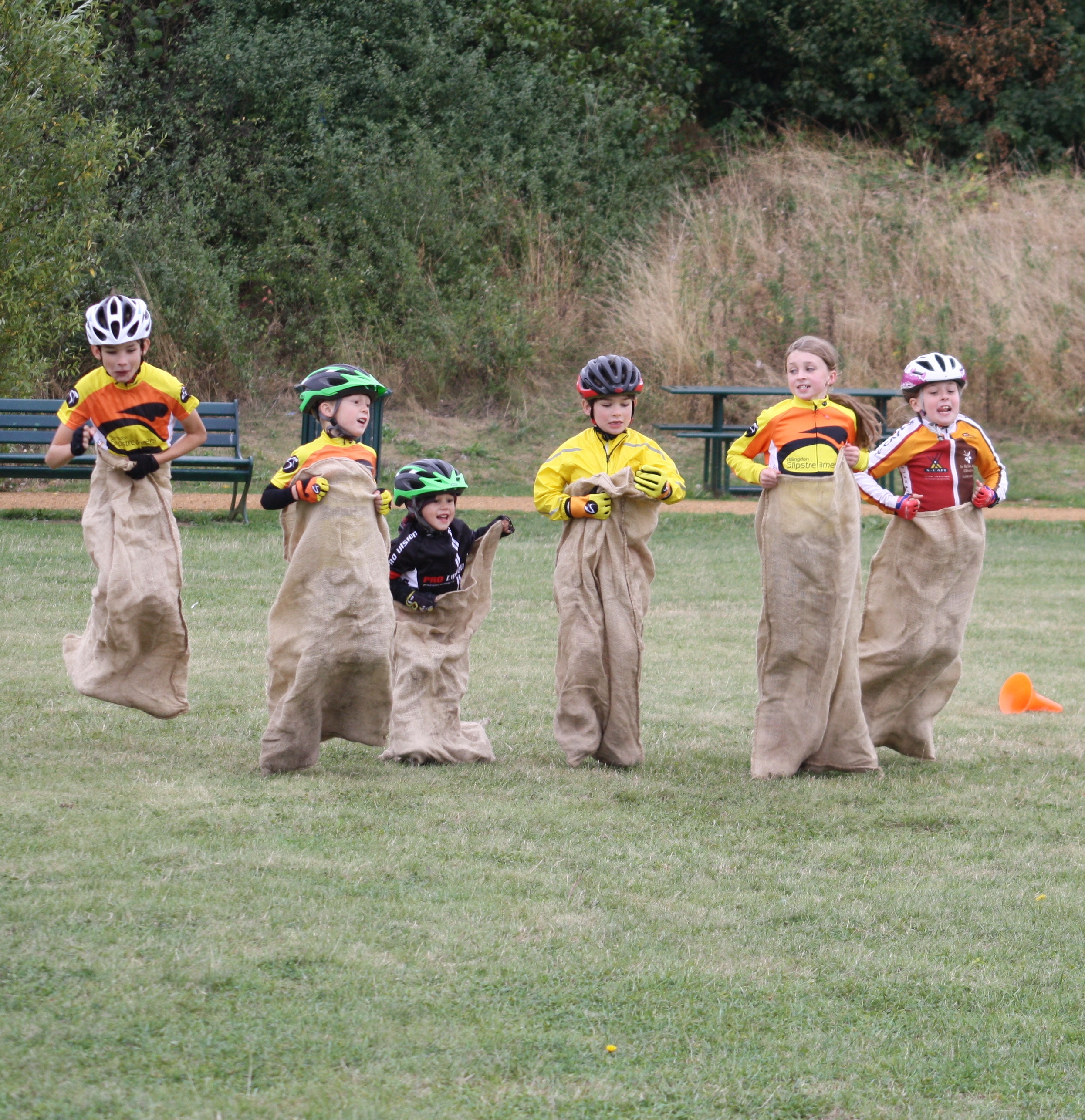 Fun Day and Club Champs Sign On Process
ALL members must please sign on as normal with payment and take a number as you normally would.
Sign on times for the main session are from 8.45am until 9.20am.
Latecomers who arrive after 9.25am will not be able to participate as we have a lot to get ready for skills judges.There are no exceptions.
Remember this is not a regular coaching session!
To avoid disappointment please ensure you plan your journey with some contingency, and arrive in good time so members can sign on and get ready with minimal fuss.
What is the Schedule for the Day?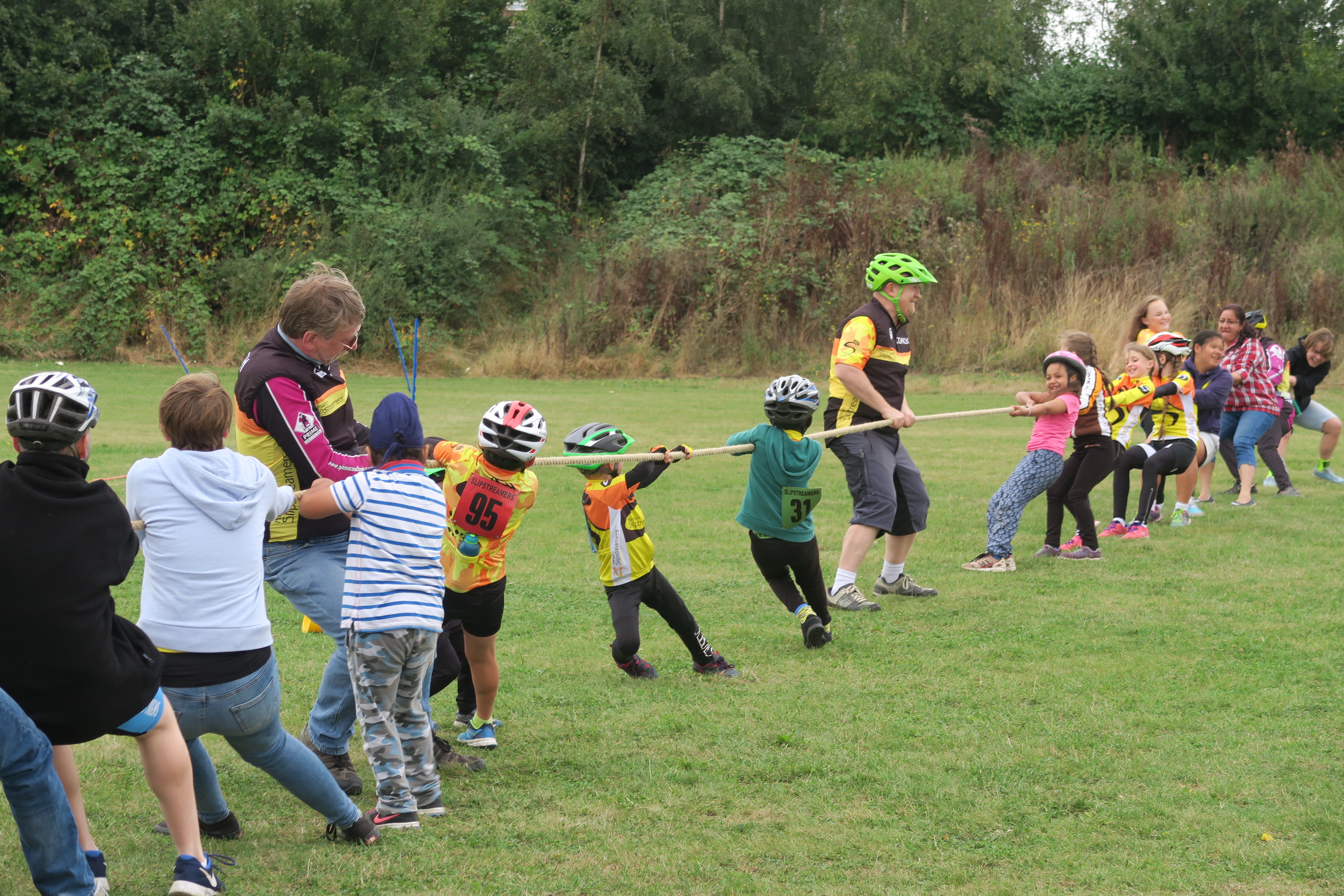 This is an ALL MORNING EVENT with activities spread out, and including fun and games planned to ensure everyone gets a go, and has a great session. Saturday is going to be super busy, with lots going on. Our aim is to keep things within a schedule, and as such we've planned the morning accordingly, but if things do run behind or are delayed we thank you in advance for your patience!
Please make sure you are clear on the time slots and what to expect, and parents do kindly pass this information onto our members – they are the ones who need to know what is happening!
Running Order & Event Times - Click to Expand
Club Champs Activity

Time

Fun Day Activities

Sign On – Main Session. ALL AGES – 08:45 – 09:20

Volunteers set up skills area
08:45 to 09:20

What Else Is On?

Bike Pump Track with Firecrest MTB


Bike Jenga, Tug of War, Relay Races, & more!

MTB Skills Course


Face Painting & Tattoos

Music

BBQ, Canteen


Briefing and Welcome Address

ALL Ages – Front of Clubhouse

9:20 to 09:30

Skills Challenge Event


Station 1: U16/

U14

Station 2:

U6

/

U8

/

U10

/

U12

09:30 to 12:00

 Pack up and clear away
 12:00 to 12:15
All Hands on Deck – Volunteers Needed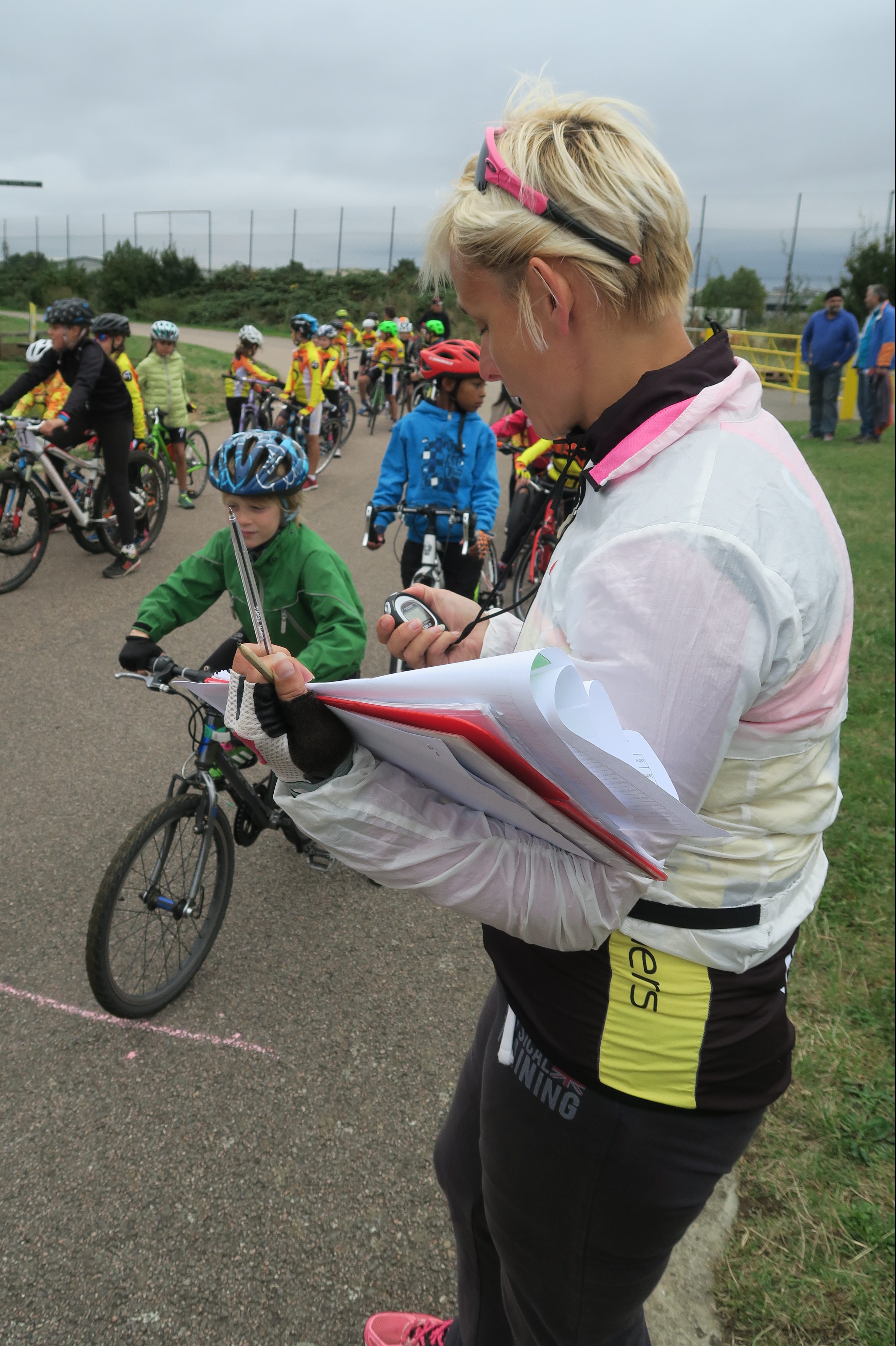 We will need as much help as possible from parents throughout the session to support activities such as setting up the skills courses, timing and recording for the skills challenge; as well as helping with getting the pump track built, setting up the fun and games behind the clubhouse, and any other jobs that need doing. We will also need a few helpers to get creative with some face painting, and the canteen and barbecue team will need assistance. There is no need to email us in advance – when you turn up on Saturday, simply let us know you're available to help and we'll delegate accordingly.
Finally…
Please remember that Family Fun Day is all about having a good time, getting to know fellow members, and keeping in the spirit of camaraderie and friendship – all the while enjoying a bit of healthy competition with your peers. If you miss the Skills event and cannot attend on Saturday, there are still 4 more events to join in with so don't be too disheartened – click here for a reminder of the remaining 2017 Club Champs dates. If this is your first time participating in the Club Championships, be sure to visit this page here to find out more about how the competition works and what it's all about.
We would love to see you all taking part this year – so participate, give it your best, and let's all have a good time!
As usual, keep an eye out on Twitter for the latest updates and if you have any questions, please contact the Admin Team.